Donald Trump's Not Slowing Down: He's Up Big in New Hampshire, and Close in Iowa
New NBC/Marist polls show that the mogul-candidate's boomlet isn't being quelled by controversy.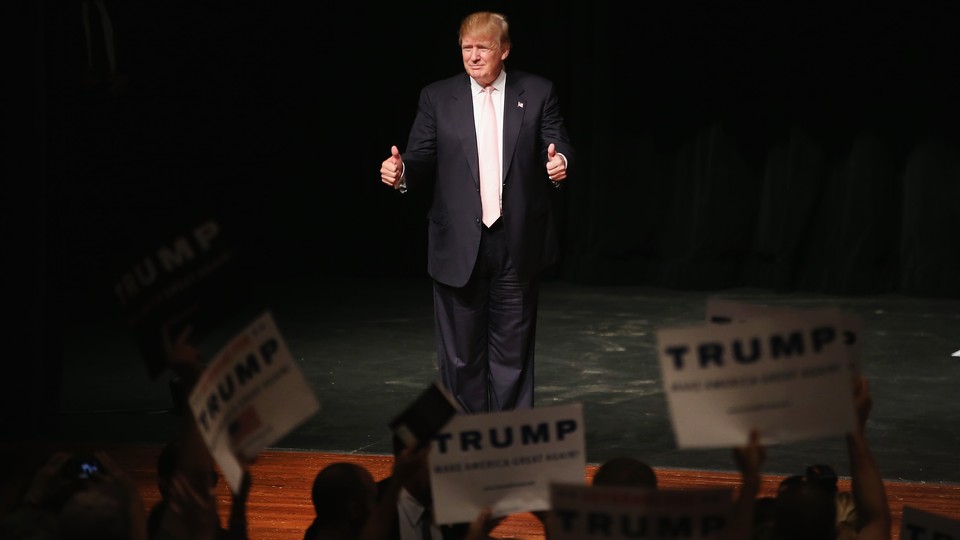 Belittling a longtime senator's military service is usually a good way to end a political campaign. In Donald Trump's case, a set of polls released Sunday morning from NBC/Marist suggest that it's not stopping the business mogul's rapid rise in the GOP field.
In New Hampshire, Trump comes in first with 21 percent; his closest competitor is Jeb Bush, who's at 14 percent. Scott Walker comes in third with 12 percent, then John Kasich at 7 percent, Chris Christie and Ben Carson at 6 percent, and Marco Rubio and Ted Cruz at 5 percent.
And in Iowa, where Trump made his now-infamous comments about McCain this month, the business mogul comes in a close second to Walker. Walker takes 19 percent in the poll, compared with Trump at 17 percent. They're followed by Bush (12 percent), Carson (8 percent), Huckabee (7 percent), and Rand Paul (5 percent).
The pair of polls were taken just as Trump was questioning McCain's war hero status at a GOP cattle-call event in Iowa. There, his support actually rose (within the margin-of-error) after he made the comments: he was getting 16 percent in the interviews conducted beforehand, compared with 18 percent in the ones done after. (The comments do seem to have hurt him in New Hampshire, though not enough to take him out of first place: he was getting 26 percent in the interviews before his McCain comments, compared with 14 percent afterward.)
Nationally, too, Trump is on top: Another poll out Sunday, this one from CNN/ORC International, found him in first with 18 percent of the GOP primary vote. Bush is close behind at 15 percent, which is within the poll's margin of error; the only other candidate to reach double digits in that poll is Walker. Asked if they want Trump to continue his candidacy for president, 52 percent of potential GOP primary voters said yes — and 22 percent of those surveyed think he'll eventually win the nomination, second only to Bush.
Still, an obstacle for Trump is that his favorability ratings are fairly low with GOP voters in both states, especially in New Hampshire, according to the NBC/Marist poll. There, 39 percent of GOP primary voters have a favorable view of him, compared with 53 percent who view him unfavorably; in Iowa it's slightly better, with 45 percent favorable, 44 percent unfavorable.
The poll also surveyed Democratic primary voters, finding Hillary Clinton still on top in both states — but with Bernie Sanders gaining steam, especially in New Hampshire. There, Clinton leads Sanders by just 13 points, 47 percent to 34 percent, with Martin O'Malley at 5 percent and Lincoln Chafee at 2 percent. Back in the February NBC/Marist poll, Clinton led Sanders in New Hampshire 69 percent to 13 percent.
In Iowa, Clinton's lead is considerably bigger. She took 55 percent of likely Democratic caucus-goers in the poll, compared with 26 percent for Sanders, 4 percent for O'Malley, and 2 percent for Jim Webb.
The worst news for Clinton might be her favorability rating among all registered voters in both states. In New Hampshire, it's 19 points underwater (37 percent favorable, 56 percent unfavorable) and in Iowa it's 20 points underwater (37 percent favorable, 57 percent unfavorable).
The polls surveyed 919 registered voters in Iowa from July 14-21 (margin of error +/- 3.2 percentage points), including 342 potential Republican caucus-goers (+/-5.3 percentage points) and 320 potential Democratic caucus-goers (+/- 5.5 percentage points). In New Hampshire, the poll surveyed 910 registered voters (+/- 3.2 percentage points), including 401 potential GOP primary voters (+/- 4.9 percentage points) and 329 potential Democratic primary voters (+/- 5.4 percentage points).