Real Americans Give Donald Trump 2.5 Stars
Taking the measure of the presidential candidate using the Yelp reviews of his customers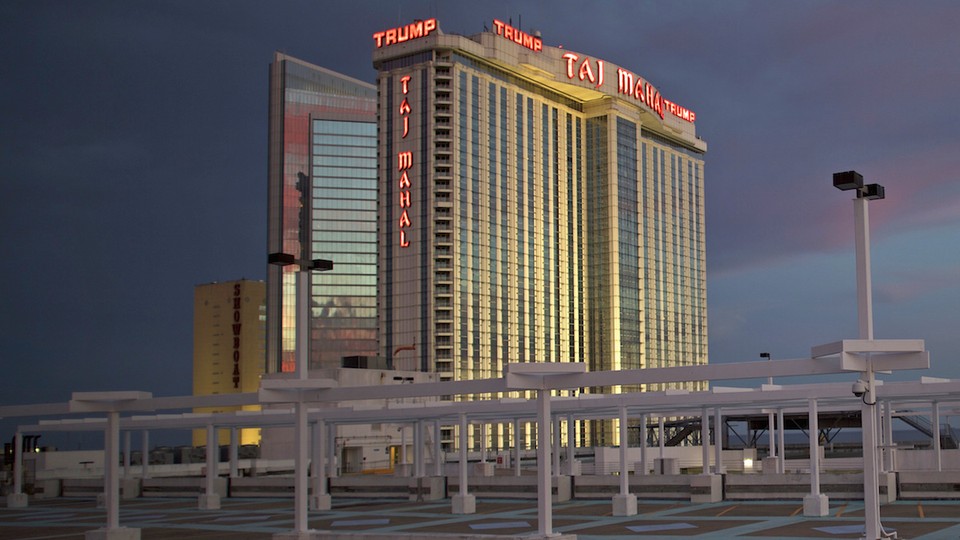 With Donald Trump atop the Republican presidential field, leading CNN's national poll even as he runs first in New Hampshire and second in Iowa, it's clear that prospective voters aren't listening to the GOP establishment, members of the mainstream media, or even the flagship publication of the conservative movement. And why would they trust us coastal-elite losers? Maybe we're just jealous that our names aren't prominently atop any buildings in shiny golden letters or that our expertise is useless in evaluating such an unconventional candidate.
If elected, Trump will run America like the winner that he is––not like a politician, but a businessman. Americans will be his customers. That seems to be the theory. Fine. I give up. To see what I'm in for once Donald Trump is sworn in as president in January 2017––without any history in elective office––I stopped looking to fellow journalists, politicians, or anyone else who just doesn't get it. I sought out people who are drawn to the man, who signaled their faith in the Trump brand long ago with their hard earned dollars, and who weighed in afterwards with real American thumbs up or down.
For this first installment, we go to Atlantic City, New Jersey, and the property that comes as close as anything else to hinting at what President Trump's India policy might be like. We go to the The Trump Taj Mahal Casino Resort––an investment that Trump once touted with confidence and enthusiasm—and to its Yelp reviews: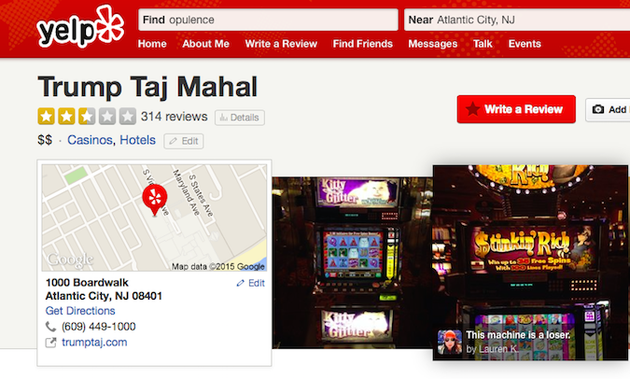 The hotel touts itself as, "unprecedented in craftsmanship and opulence." Originally opened in 1990, the "awe-inspiring architectural masterpiece" covers "17 acres of prime Boardwalk real estate, with 4.2 million square feet of enclosed space." Despite those self-reported advantages, it filed for bankruptcy in 2014, when Trump and his daughter, Ivanka, sued to have their family name removed from the property, which now operates under a new owner.
In fairness to the candidate, I've sought out reviews published in the aughts, when Trump was still willing to have his name atop The Taj. The ones I've considered start in 2005 (when the Yelp trail begins) and end in 2010. In that period, the property was run by Trump Hotels and Casino Resorts, a publicly traded corporation that the billionaire founded back in 1996. He served as the Chairman of its Board of Directors until his resignation in 2009. (The 2010 reviews hint not at America as it will be under Trump, but the U.S.A. as it will be in the year after he leaves office.) Yelp displays 47 reviews in the 6-year review period.
The average of those reviews: 2.59 stars.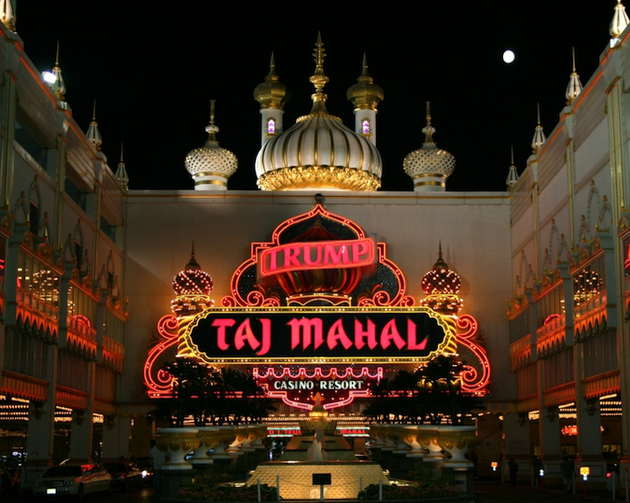 Reviewer Kap rated the property higher than most, giving it four stars. "All in all the place is great," he wrote,  "considering it is on the east coast." Another 4-star reviewer, Brendan P., had a stay that bodes ill for information technology after 2017, writing, "So far the place looks run down on the outside and the Sony Bravias they brag about on their website pull in a terrible picture. I wonder if the Chairman Tower tvs are in HD? We couldn't pull up a wifi signal in the room either." An impressed Dante F. raved, "Better than all the Casinos I've been to on the Gulf Coast except the Hard Rock in Biloxi." But the 4-star review that offers us the best glimpse at a plausible benefit of a Trump Administration was offered by Dennis A., who declared, "A good time, hospitable to even the silliest requests."
April C. of Boston, Massachusetts, is one of many who gave the Taj Mahal three stars. She loved the food at the Il Molino restaurant, the quick check-in, and the table staff in the casino, but felt poorly about her fellow patrons. "The clientele were a little scary, regardless of where I might have encountered these people anywhere else in life," she wrote. "Many of them were so old or so obese that they were riding hover-rounds on the casino floor, sweat and food crumbs setting on top of their stomachs. Others looked like crack fiends roaming around in their raggedy velour jump-suits just trying to win their next hit… I was most certainly watching my ass—literally (sleazy men try to brush against you walking by and laugh) and hanging onto my little tin wallet tighter than I have anywhere else before."
Laila L., who also gave three stars, concurred. Her friends "raged all night without hearing complaints, so I can't complain about hotel policies,"  she granted, but in the wee hours "you'll see people with gambling problems who are not having fun. You'll see many, many prostitutes and their pimps. I saw one of those prostitutes who was more than 7 months pregnant haggle with a would-be customer over the price of fellatio. After that I decided it was time for a room party and room service, because the temperature on the gaming floor had dropped to 30 degrees below seedy." And Robert B., who also gave three stars, declared that "the pool was decent, although a little crowded. Some parents did not understand it was a family pool and foreplay is not appropriate with lots of kids. That is why you have a room, no need to entwine for a long period of time in the 'family' pool area."
These reviews raise the possibility that Trump is planning a border wall not because he's averse to typical immigrants––think of his rhetoric as a PR feint on this theory––but because he worries that an America married to his brand might start attracting the same bad element that some of his Atlantic City patrons reported.
Then again, three-star reviewer Jason W. lamented a 2008 rumor that they were tearing The Taj down. "I played a lot of blackjack and roulette," he explained. "I admit that the whole place smells a little like piss but it is also comfortable." If accurate, that could be a hit country lyric in a Trump Administration. And Hank C. wrote, "The place has stayed opulent in a kind of degenerating spiral downwards."
Two-star reviewer Katina M. described a room "decked out in animal print, or in some places (most notably the bedspread) both gold tone AND leopard print.  What a decor motif! The TV cabinet had elephants painted on it for an equally tacky touch."
Who says Trump isn't really a Republican?
She also commented on a branding decision at the property. "Another nice aspect of the ol' Taj is that you are hard-pressed to buy anything without The Donald's face on it," she wrote. "For instance, I purchased a ($3!) bottle of water at the noodle bar downstairs (decent soup btw) called 'TRUMP ICE.' Donald sort of scowls on the label, looking serious, and with much more hair than he has in real life.  Only 'Trump Ice,' and no other brands of bottled water are available at the Taj." Perhaps if the Pacific Northwest earthquake hits in 2019, the haggard survivors will stumble to the back of a FEMA truck, where they'll get a three-day supply of Trump Ice.
Charde S. gave the property two stars, too. "If I were Donald Trump, I would be seriously embarrassed to have my name attached to this hotel," she presciently wrote. "The lobby was quite nice despite the stained carpets. Once we arrived on the floor of our hotel room it was a different story ... Our comforter had a hole burnt in it from a cigarette it appeared. Our soap dish was missing and all that remained was a single screw and a few holes. Our maid didn't clean the remnants of the last guests so when we went to store away items in our fridge we found old food and a bottle of vodka."
Said Daniel X., who gave the property one star and ended with a mysterious allusion, "There's enough lights bouncing off gold and mirrors here to completely blind you, and the slots couldn't be louder. Tables are always filled. About the only good thing is the extremely stupid security staff, so if you're looking to... *mumble* *mumble*..." And one-star reviewer Victoria L. stated, "Trump should be ashamed."
So there you have it: These Americans put their faith in the Trump name, and some came out better than others. Of course, the Trump Taj Mahal Casino Resort is just one of many business that has tested the billionaire's ability to execute a vision and deliver on his promises over the years, so don't judge him on its performance alone.
But if the Taj is representative and its fans are right, a Trump presidency may leave America "in a better position than all the casinos on the Gulf Coast except the Hard Rock in Biloxi."
That seems plausible.