Democrats Facing Tough 2016 Races May Not Get Tom Steyer's Money
The environmental billionaire wants candidates to pledge a transition to 50 percent clean energy by 2030.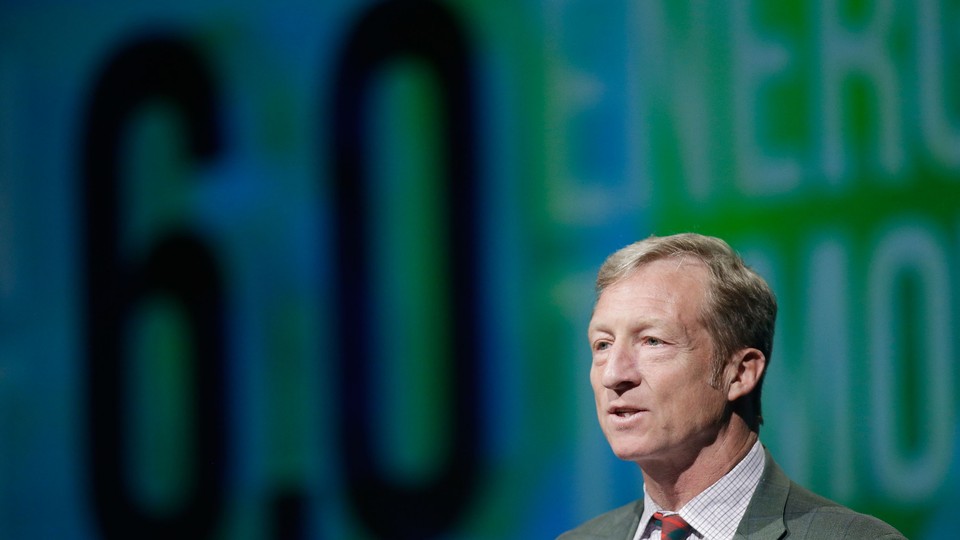 Tom Steyer just set a high bar — and it could cost Democrats in tough 2016 races.
The financier-turned-environmental mega-donor announced Friday that his super PAC and money machine NextGen Climate wants all candidates and elected officials to outline a plan to get more than half of all of America's power from clean energy by 2030.
That's a lofty goal. Steyer's target goes above and beyond President Obama's pledge to ramp up the amount of energy that America gets from renewables to roughly 20 percent by 2030, a commitment the White House intends to highlight during make-it-or-break-it United Nations climate negotiations in Paris later this year.
The obvious target of such a threat is Hillary Clinton. The 2016 Democratic front-runner has not taken a position against the controversial Keystone XL pipeline (which Steyer opposes). Last month, Steyer effusively praised Clinton's liberal challenger Martin O'Malley after he pledged to zero out all fossil fuels by 2050.
But the real impact of Steyer's demand may be felt in the swing-state races that Democrats desperately need to win to take back the Senate — states such as Colorado, Ohio, Pennsylvania, Illinois, and Wisconsin.
Announcing a bold plan for climate action — let alone taking a strong stand against the controversial Keystone XL pipeline — would carry heightened political risk in the battleground states likely to play host to the most competitive and crucial contests for Democrats.
But if moderate Democrats don't lay out a climate plan according to the criteria that Steyer has now set, they're unlikely to win any of NextGen's cash.
"NextGen Climate fully expects all candidates up and down the ballot to show the leadership we need, so it's hard to imagine supporting a candidate who doesn't embrace this goal," a NextGen Climate spokesperson said.
Steyer has deep pockets. He spent more than $69 million during the 2014 midterm elections in a bid to make climate change a high-profile issue in the race, enough money to make Steyer that cycle's most generous public donor.
All that spending didn't yield as many victories as Steyer and his allies had hoped. But NextGen is promising decisive action in support of candidates willing to champion climate change in the 2016 races, though the super PAC has not yet announced how much it intends to spend.
The New York Times first reported Steyer's clean-energy target on Friday morning.
NextGen already has staff on the ground in battleground states such as Florida, Iowa, and New Hampshire with plans to expand their efforts in the coming months. The group intends to engage in targeted outreach aimed at voters, including young voters, using a wide array of tools such as TV and digital ads in states across the nation.
Steyer is hard at work amassing a war chest. He hosted a climate-change fundraiser last month, with Obama and House Minority Leader Nancy Pelosi as the guests of honor, and opened the doors of his San Francisco home to Clinton for a fundraiser earlier in the summer.
Still, getting voters to care about climate change won't be an easy task. Polling conducted by the Stanford environmental think tank Resources for the Future and The New York Times in January found a majority of American voters prefer a candidate who says that global warming is real, caused by human activity, and that the country should ramp up its use of clean energy. But public-opinion surveys consistently rank climate change near the bottom of the list of overall voter priorities.