Cruz: McConnell Told 'Flat-Out Lie' to Conservatives
Some Republicans erupt after majority leader announces a vote on attaching Ex-Im Bank reauthorization to the highway bill.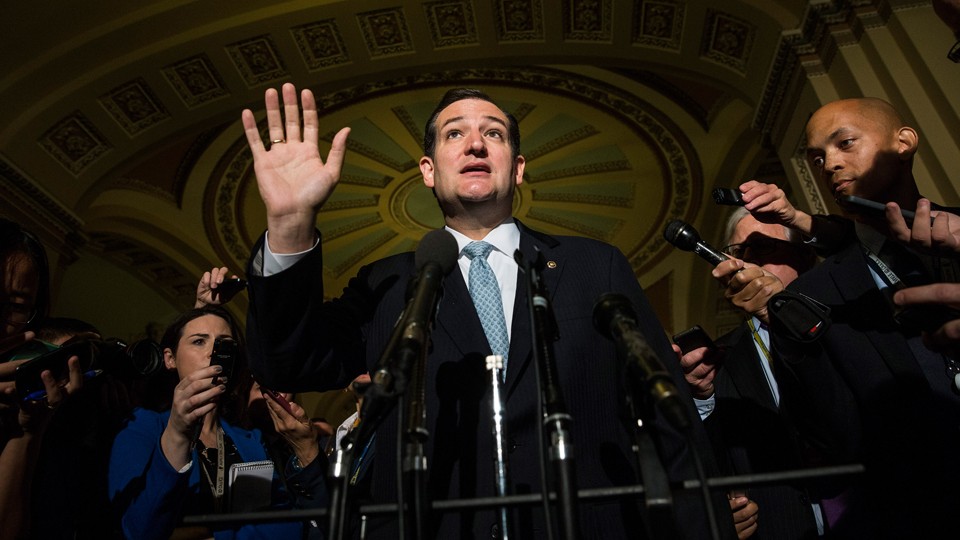 In a striking breach of typical Senate decorum, Sen. Ted Cruz suggested the Senate Republican leader was a liar on the chamber floor Friday over an economic issue that inflames conservative activists.
"I cannot believe he would tell a flat-out lie," said Cruz, a 2016 presidential contender, on the Senate floor. "What we just saw today was an absolute demonstration that, not only what he told every Republican senator, but what he told the press over and over and over again was a simple lie."
Cruz's target, Senate Majority Leader Mitch McConnell, announced Friday that there would be a vote on reauthorizing the Export-Import Bank, which has helped finance U.S. exports for 81 years. In June, the bank's charter expired amid conservative opposition and right-wing claims that it represents, as Cruz said Friday, a "classic example of cronyism and corporate welfare." Cruz has claimed that McConnell told him and others that there was not a "deal" to hold a vote on Ex-Im during last month's debate over free trade.
McConnell also announced Friday a vote on an amendment to repeal Obamacare, although that failed to assuage conservatives. Cruz called it "empty showmanship," as it will obviously fail to reach the 60-vote threshold. Sen. Jeff Sessions described the two amendments called up as "business as usual in the Senate" and a form of "horse-trading."
"I think we're spending a lot of time on inside baseball [on] what big business want and other people want, instead of asking what the average American wants. We need to do better about that," he added.
But many senators will be happy to vote on the Ex-Im Bank; 65 senators voted in favor of it in a test vote last month. Sen. Lindsey Graham, a Republican presidential candidate who represents South Carolina, a state with a heavy presence of Ex-Im's top beneficiary, Boeing, told National Journal, "This is great."
"That was the agreement we had," he said. "Mitch promised a vote on the highway bill, which is a must-pass bill, and he kept his word as he always does. So I think we'll get cloture and it will pass."
Outside of presidential campaign theatrics, the amendments to the highway bill may not matter much: The House has passed its own version, a five-month patch that Congress could resort to in order to fund the nation's transportation projects ahead of a crucial end of the month spending deadline.
And as for Cruz's accusations, Utah Sen. Orrin Hatch, the most senior Republican in the chamber, said to "keep in mind he's running for president."
"I don't condone the use of that kind of language against another senator unless they can show definitive proof that there was a lie," he added. "And I know the leader didn't lie."
McConnell's office did not respond to a request for comment.
This article has been updated.