Congress Punting Highway Fight Until October
The battle over transportation funding and the Export-Import Bank will have to wait for three months.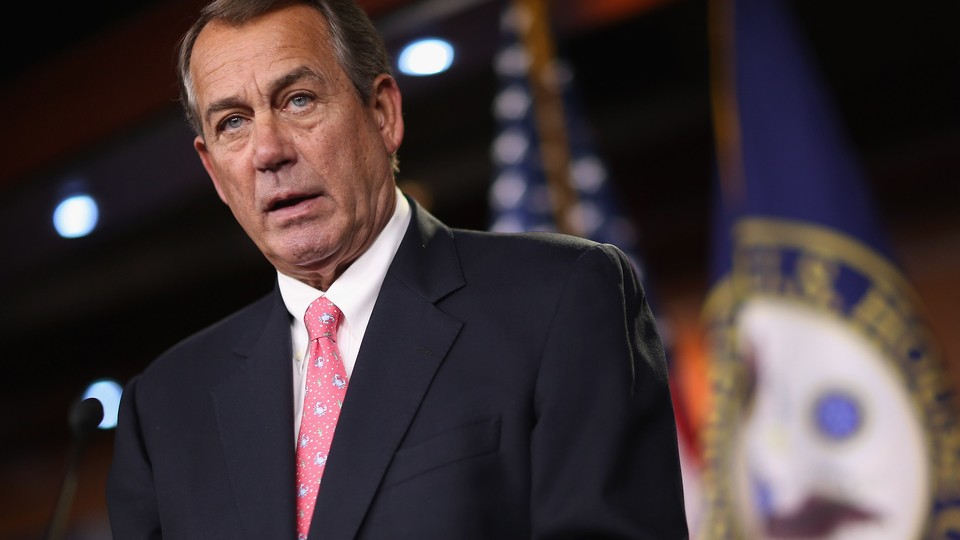 With members itching to get back to their districts, House and Senate leaders have decided to stop fighting about highway funding and the Export-Import Bank — so they can have the same fights again in October.
Senate Republican leaders signaled Tuesday that they would vote on a three-month extension of the Highway Trust Fund, just hours after the House announced it would vote on the legislation Wednesday and scale back its ambitions from a five-month bill.
The hope is the two chambers can move into a conference committee later this year, and House aides said their chamber would try to pass a multiyear bill of their own to match the Senate's product.
Senate Republican leaders emphasized Tuesday that even though their chamber would vote on the House's three-month patch, Congress is much more likely to pass a long-term bill in October because of the groundwork that the upper chamber laid.
"The good news is the House of Representatives, as a result of our passing a multiyear bill, now feel they should pass a multiyear bill," Senate Majority Leader Mitch McConnell said. "That's a good first step."
But lawmakers do see potential pitfalls down the road, including how to pay for the bill.
House Ways and Means Chairman Paul Ryan and other members have looked at taxing overseas corporate income as a source of funding a long-term bill. Ryan said Tuesday that the three-month bill still gives him time to accomplish that, but McConnell said he was "skeptical" of that approach.
"I'm skeptical that that can be shoehorned into a multiyear highway bill by the end of the year," he said. "But if it's an emergency, we ought to deal with it. We ought to bring it up freestanding and deal with the emergency if we're continuing to lose businesses as a result of it."
House Republicans have their own problems with the Senate's bill, chiefly that only about half of the six-year authorization is offset with spending changes elsewhere.
"I want a long-term highway bill that's fully paid for," House Speaker Boehner told reporters Tuesday. "That's been the goal all year. It's time to get it across the finish line."
House Transportation Committee Chairman Bill Shuster and members of his panel are frustrated. They want to go to conference and incorporate his committee's voice into any final legislation, and a short-term patch gives them time to do so.
"This is a good path forward, and we should be able to do our work," Shuster said. "What [the Senate] has produced so far is not a good bill. "¦ But I believe the message is now strong and clear: We're not going to take the bill. The House will be heard on this issue."
Notably, the House's short-term bill will not include a reauthorization of the Export-Import Bank, taking off the table, if only temporarily, an issue that has split the conference and the top four GOP leaders. Proponents of the lending institution met Monday to strategize about how to authorize the bank, which lapsed about a month ago. Yet conservatives are staunchly against doing so, and now the issue will remain unresolved for at least another month.
"Ex-Im is the issue for me," said Rep. Jim Jordan, chairman of the conservative House Freedom Caucus. "Each day that Ex-Im is not resurrected, not restarted, is a win for the taxpayer. So I'm looking seriously at the three-month [highway-funding extension]."
Still, Ex-Im proponents, who include a majority of members in both chambers, will live to fight another day. Whether or not the issue gets taken up in a conference report, Boehner has promised his members that he will allow debate on the bank independent from any issue the Senate attaches it to. That could give Republican Ex-Im Bank backers a chance to band with Democrats to extend it later this year on the highway bill or other must-pass legislation.
The House's highway extension also will clear up another outstanding issue with several provisions dealing with veterans, including a funding injection for the Veterans Affairs Department, which is facing a shortfall due to high demand and an expensive new drug that treats Hepatitis C. A measure included in the bill will allow the department to draw $3 billion from a program authorized last year that allows veterans to seek care at hospitals outside the VA system.
---
Nora Kelly contributed to this article