Congress' Jeopardy Hero Has A New Pursuit
Former New Jersey Congressman and Jeopardy enthusiast Rush Holt is on a mission to change the way people think about science.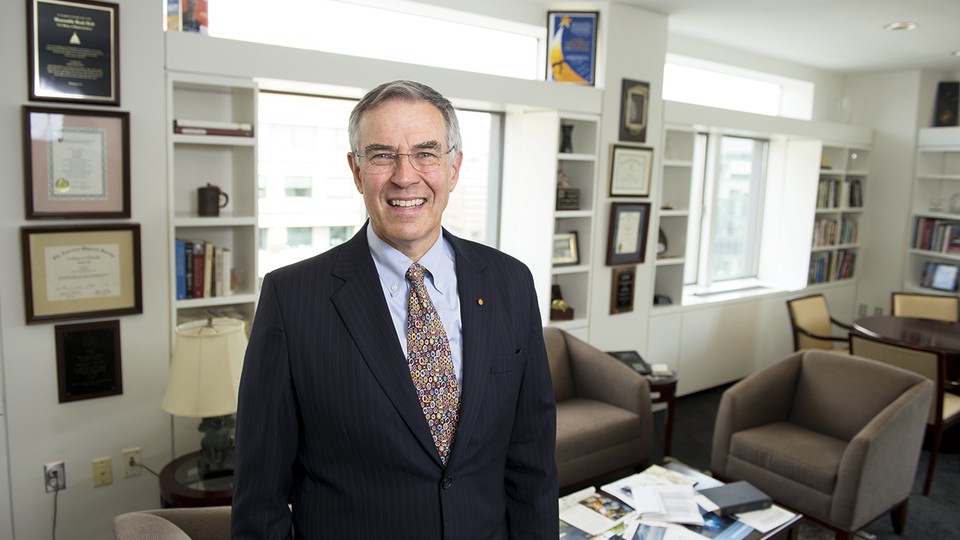 Back in 2011, only a handful of lawmakers had the nerve to sign up for the congressional Jeopardy! tournament and test their game-show mettle against "Watson," IBM's famed supercomputer. Rush Holt, a Democrat who represented New Jersey's 12th District, was one of them. He is, he tells me, "hard to embarrass" — and, as it turned out, he was also hard to beat. He was the only member to best the computer, and his man-over-machine victory warmed hearts across the nation. Although he served in Congress for 16 years before retiring this past winter, he says, "Whatever I do in my life, that's probably what's going to be on my tombstone."
Rush Holt is the chief executive officer and executive publisher of the Science family of journals for the American Association for the Advancement of Science. (Chet Susslin)
His latest endeavor may be less colorful, but Watson would surely approve: In February, Holt, 66, joined the American Association for the Advancement of Science as CEO and executive publisher of the Science family of journals — a position that marries his lifelong love of science and public policy. His mission at the 450-employee organization, which boasts a membership of roughly 110,000, is both to "energize and organize scientists in America" and to "build on and expand the tradition of AAAS involvement in public issues" to make science more accessible to everyone. "I want history to show that AAAS made understanding of science available for all Americans," he says.
To Holt, this means promoting a different attitude toward science and its purpose. "We have a serious problem in this country in the understanding and appreciation of science," he tells me over lunch near his offices. "It's not to give us gadgets and new techniques," he says. "It's to help us think clearly about how the world works." The reason too few lawmakers speak out in favor of vaccinations, for example, is that they're "not quite confident enough" with the statistics, he explains. Indeed, among the AAAS programs he says he's most proud of is the organization's fellows program, which puts more than 200 academically trained scientists with an interest in public policy to work in various offices on the Hill and at federal agencies for a year.
Born in Weston, West Virginia, Holt came to his love of politics and science early. At 29, his father, Rush Holt Sr., became the youngest person ever elected to the Senate. His mother, Helen Holt, was a college science teacher and the first woman ever to hold statewide office in West Virginia. (She died on July 12, after I interviewed Holt, at the age of 101.) Holt says that, as a seventh grader, he subscribed both to Scientific American and The Washington Post.
Holt earned a bachelor's degree in physics from Carleton College and a master's degree and doctorate in physics from New York University. His early jobs included work as an environmental consultant and a stint on the faculty of Swarthmore College, where he taught physics and public policy. (In 1982, he was himself an AAAS congressional science fellow.) In the late 1980s, he became acting head of the nuclear and scientific division of the Office of Strategic Forces at the State Department, and then, for the better part of a decade, he was assistant director of the Princeton Plasma Physics Laboratory. Then, after a failed House bid in 1996, in 1998 he ran again and won. He held his seat in Congress until the end of 2015, focusing his energies on reforming the intelligence community and "putting us on a more sustainable energy path." He sought the Democratic nomination for the Senate in 2013, in a special election to fill the seat of Sen. Frank Lautenberg, but he lost to Cory Booker in the primary.
After that, it dawned on him that if his "Final Jeopardy" answer was "To exit Congress other than by electoral defeat or death," the correct question had to be, "What is: 'Leave Congress'"Š"? And so, he did. "Congressional service shouldn't be forever," he says. "Person for person, the U.S. Congress is the greatest instrument for advancing human welfare there is — but you can't do it forever."