Common Ground on Climate Change
When billionaires Tom Steyer, a climate-change activist, and David Koch, a confirmed skeptic, met for the first time, they found a basis for conversation.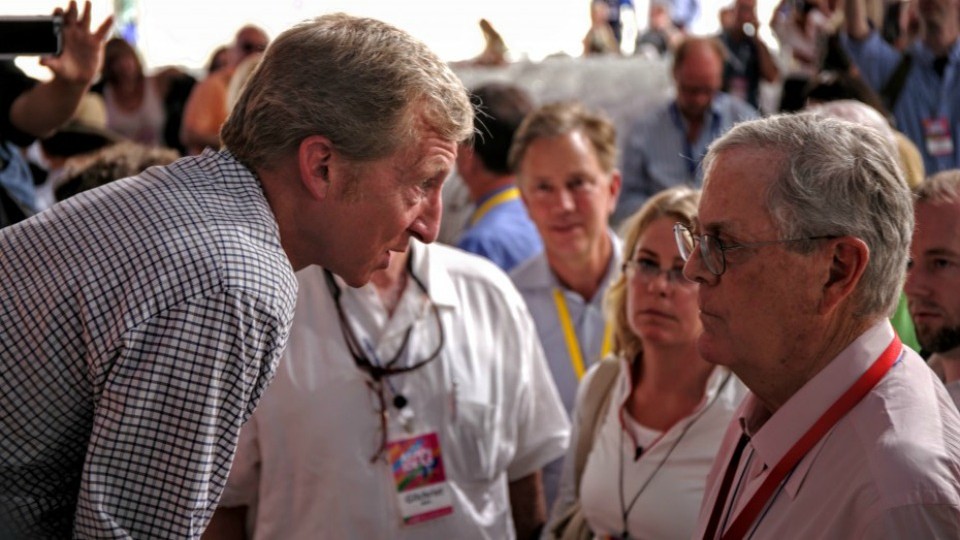 Tom Steyer and David Koch, the billionaires who waged bitter battles across the airwaves over climate and the environment during the 2014 election, struck conciliatory notes when they met for the first time on Wednesday during a session of the Aspen Ideas Festival.
Koch sat in the first row for an interview I conducted with Steyer, the environmental activist and former investment manager whose NextGen Climate Action Committee spent about $75 million in the 2014 election to support candidates committed to action against climate change. Koch, the executive vice president of Koch Industries, is a key figure in the constellation of family-connected political organizations, including Americans for Prosperity, which spent about $100 million over the cycle to support conservative candidates—frequently opposing those Steyer supported.
The competition became unusually personal, with the conservative group American Commitment—which had received funding from organizations in the Koch network—running ads attacking Steyer and his brother Jim, also an activist on issues relating to children. Meanwhile, a wide array of Democrats, led by then-Senate Majority Leader Harry Reid, condemned Koch's role in the election.
In an April Huffington Post article, Steyer sharply criticized the Koch brothers' political activities. "As we stand at this energy crossroads, the Koch brothers appear to have a strong self-interest in maintaining the status quo—they seem to have no qualms about peddling falsehoods and obscuring the facts," Steyer wrote. "Do they really intend to keep profiting from pollution that endangers our families?"
But toward the end of our interview Wednesday, Steyer struck a more conciliatory tone when I noted that Koch was in the audience and asked Steyer whether he thought the two could ever find common ground on the issues of climate, energy, and the environment.
"I'm not sure he's skeptical of my views and I'm not sure I'm skeptical of his views," Steyer said. "My point would be that I think what I'm saying is basically common sense and asking the market to solve a problem that we have. I don't view this as an ideological issue, actually. I would bet that Mr. Koch thinks that the market is something that is very efficient in allocating capital and getting positive outcomes for the people who work and for the people they're trying to serve by producing products and services cheaply and efficiently. And that's what I want."
After the session, Koch chatted amiably with Steyer for several minutes at the foot of the stage. The two then posed for pictures, some with leading venture capitalist John Doerr, another prominent supporter of action against climate change. Later, Steyer and Koch met privately for coffee.
Koch is a trustee of the Aspen Institute, which cosponsors the ideas festival with The Atlantic.
During the session, Steyer said that he believed the key to breaking the ideological stalemate over climate is "not that … we have to agree on the policy; you have to agree on the problem. Once we agree on the problem, then the fact that someone wants a bigger government and someone wants a smaller government ... no, that's normal American politics. We've been doing that for 250 years together; that doesn't remotely bother me."
Steyer closed with a pitch for American business to take a lead role in driving the transition to a low-carbon economy. "I'm surprised it hasn't happened [yet] but … I believe we will end up pulling on the same oar to solve this and it will be good for American businesses, it will be good for American workers, and it will do something that we're proud of," he said. "If we think we're doing this without the people who are sophisticated in energy, that's dumb. We're going to do this with the people who are sophisticated in energy."
In a meeting with donors earlier this year, the Koch brothers signaled that they hope to donate and raise about $900 million for a network of conservative advocacy groups in the 2016 election cycle. Steyer said in the interview that he also intended to remain active in the 2016 election, but said he had not finalized specific plans on how to do so. But asked if he was in a spending "arms race" with conservatives, Steyer demurred, saying: "If we're in an arms race, we're in a lot of trouble."