Clinton Aides Moonlight as Models
Yes, those are aides in her online store's photos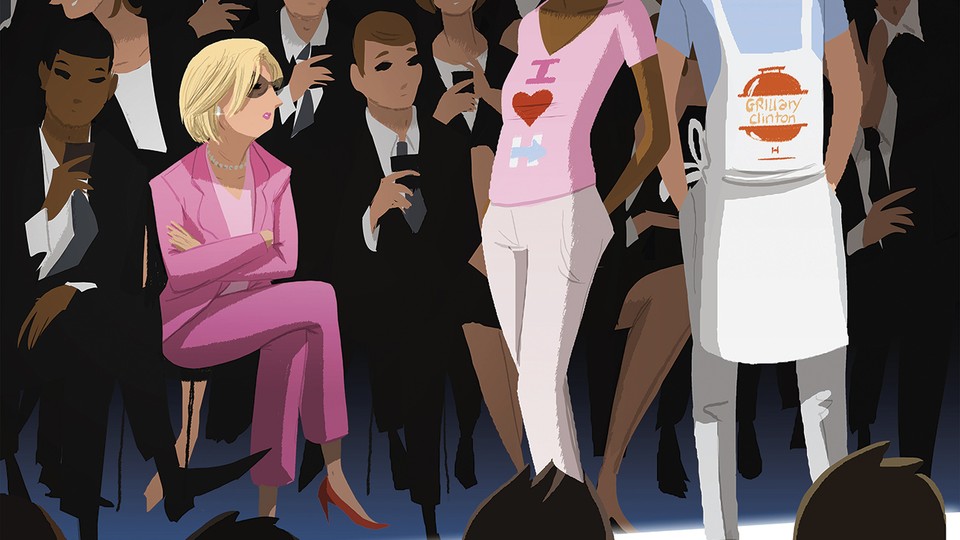 Half a dozen Hillary Clinton staffers lounged on a backyard patio in Brooklyn's Bushwick neighborhood one afternoon in June, sporting campaign T-shirts as they chatted and laughed. Communications staffer Ian Sams stood by the barbecue, wearing sunglasses, skinny black jeans, and an apron emblazoned with a play on his boss's name: "More Like Grillary Clinton." Sams watched hot dogs sizzle on the grill as he talked with Amanda Renteria, the campaign's political director, whose son, Diego, played nearby. Others sat around a table that had been set with place mats and plates.
A midsummer staff get-together? Not exactly. The occasion was a photo shoot for Clinton's online campaign store. Launched in May, the store has everything from bumper stickers and T-shirts featuring the campaign's "H" logo to branded grilling spatulas and beer koozies that say "Chillary Clinton." And every single model on the website works for the campaign or, in the case of the children, is related to someone who does.
The barbecue scene, which now tops the campaign's store page, was shot over the course of about an hour in the Bushwick backyard of a Clinton staffer's friend. (There was no food budget; an aide picked up the hot dogs at a nearby convenience store.) But most of the photos on the site were taken by staff photographers at the campaign's Brooklyn Heights headquarters, in a glass-walled conference room that gives other campaign workers a chance to peer in and cheer on their colleagues as they pose.
For some, the practice has added a new—and unexpected—dimension to working for Clinton. Communications staffer Jesse Lehrich says he was used to being behind the scenes and modeling had never crossed his mind—until the campaign solicited volunteers for a photo shoot, and someone from the merchandise team handed him a shirt from the campaign's "Pride" collection. "What can I say? I'm a team player," he tells me. "Our photog grabbed me and asked me, and between my willingness to do anything for the campaign and the room full of people egging me on, I capitulated." (A photo of the blue-eyed, bearded Lehrich rocking a tank top adorned with a rainbow version of the campaign logo went up on the site in June.) Others are more openly enthusiastic about their moment in the sun: "My family was very excited to see me modeling items in the store," says Alexandria Phillips, a press assistant with springy brown curls and a broad smile, who on the website wears a purple T-shirt that says, "Women's rights are human rights." "Even my grandmother, our family matriarch and last Republican holdout, had to admit that she thought I made the Hillary items look good!"
But the arrangement has earned the staffer-models a certain amount of good-natured ribbing as well. Political operatives and reporters have recognized the aides in question and teased them on Twitter about their moonlighting. The photos have even popped up in snarky articles. One post from New York magazine, titled, "Hillary Knows Exactly What Kind of Dumb Beach-Themed Merch You Want," featured a large photo of Ian Sams in the "Grillary Clinton" apron. (He didn't get to choose his apparel either, he tells me: The merchandise team gave him the apron and that's what he wore.) "I never thought I'd be compared to an Urban Outfitters model by New York magazine," he says. "But cross that off the bucket list."
No other 2016 campaign is using staffers to show off its apparel in quite this way; the closest is Rand Paul's, which has several photos of young people—some of whom are staffers—in "Rand 2016" gear at the top of its merchandise page. But individual items aren't displayed on models, professional or otherwise.
The Clinton campaign's official answer for why it went this route was that using in-house talent was a cost-cutting measure cribbed from Obama 2012. But they could have done without the human mannequins entirely, as most other campaigns have. Cost-consciousness aside—and with Clinton's record $45 million fundraising haul from her first quarter in the race, she's not exactly hurting for cash at the moment—the decision to use staffers as models is also, clearly, a marketing move. The question is: What does this marketing move actually communicate?
"Everyday items made by everyday Americans" is the tagline of the store, and the phrase "everyday Americans" is one that Clinton frequently invokes on the stump. As a group, however, these young, Brooklyn-based Democratic operatives give off more of a hipster vibe; they seem, in short, like the kind of people you're likely to see hanging out at a Bushwick barbecue.
Meaghan Burdick, who ran merchandising for the 2012 Obama campaign and herself modeled for the Obama store (as a redhead, she frequently showed up in the St. Patrick's Day—or O'Bama—apparel section), says the site "shows youthful energy" and is in keeping with the campaign's efforts to cultivate a looser, more laid-back image. "It's the whole, 'This is fun,' trying to take the edge off the serious aspect of it, I think," she says. Sean Duffy, a brand marketing expert, says it's about projecting diversity and youth: "There's the obvious demographic thing going on: a more or less youthful group of people, racially diverse, you've got kids, so it hints at the family thing. For me "¦ it just said she's trying to portray this kind of young normalcy." Jasmine Sandler, a digital marketing strategist, looked at the photo of Sams and said it brought to mind "a techie dad, who is as comfortable managing the grill as he is his tech team at work. He has a sense of domestic stability to him and good employment."
Will the strategy sell shirts? The campaign wouldn't talk about how many apparel items had been purchased thus far, or whether the images on the site were getting as much attention from potential buyers as they were on social media. But some have their doubts. "I keep saying, they may have saved money by using me as a model," says Lehrich, "but there ain't nobody that's going to buy that tank top now."