Chris Christie Went to Cleveland for an NBA Finals Game. Then the Owner of the Cavaliers Wrote a Check.
Three weeks after the governor attended a Cleveland Cavaliers game during the NBA Finals, the team's owner donated $750,000 to a pro-Christie super PAC.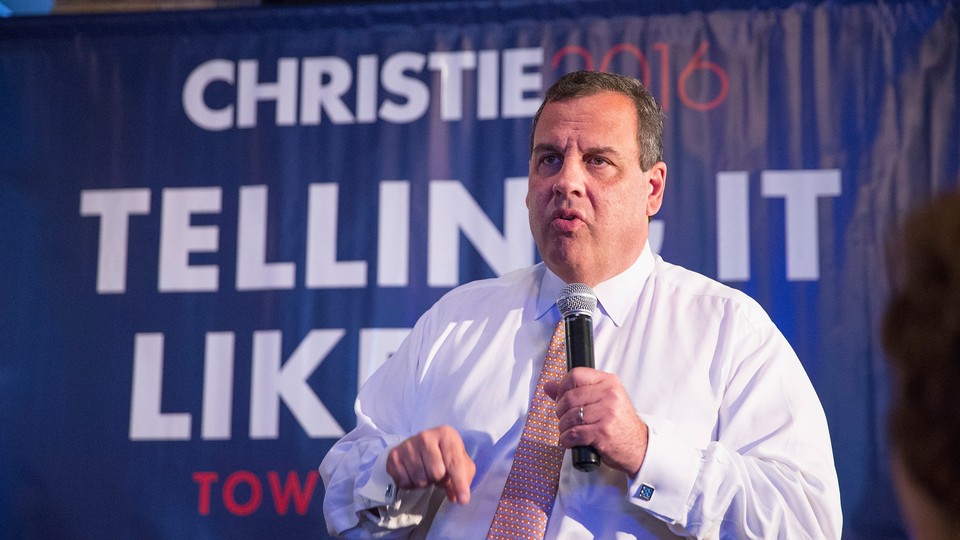 Chris Christie may've gotten a little bit more than the chance to take in an NBA Finals game when he went to Cleveland in June.
Three weeks after one pro-Christie political action committee sent the New Jersey governor to Game 3 of the NBA Finals, another pro-Christie organization received a sizeable donation: $750,000 from Daniel Gilbert, the owner of the Cleveland Cavaliers.
According to Federal Election Commission filings made public Friday, the group Leadership Matters for America paid $2,650 to the Cleveland Cavaliers within days of the NBA game, presumably the cost of at least one ticket for the governor. The filing calls the disbursement a "fundraising/prospecting expense." The PAC also paid a little over $700 to the Marriott Downtown Cleveland.
On June 30, Gilbert, who's also the founder of Quicken Loans, contributed to America Leads, a super PAC supporting Christie's presidential candidacy.
Leadership Matters for America has taken in about $11 million from donors, and spent about $266,000.
The PAC's payments aren't a surprise: When National Journal inquired last month about why Christie attended the game — he was spotted in the crowd by some on Twitter — a PAC spokeswoman said the group funded his ticket and travel there. (Because of the sheer volume of travel expenses in the Leadership Matters for America filing, it's difficult to discern how the governor got to Cleveland and how much his travel cost.)
Just ahead of the contest, the near-courtside seats where Christie watched the game were going for tens of thousands of dollars. He took in at least part of the game beside Urban Meyer, head football coach at Ohio State University, and close to cornerback Joe Haden of the Cleveland Browns. At the time, Leadership Matters for America spokeswoman Samantha Smith said Christie was attending private and fundraising meetings in the area, but declined to provide further information about the meetings or how they had anything to do with the game.
On Friday, Smith, who has since moved to the official Christie campaign, declined to comment on the governor's specific meetings.