Can Hillary Clinton Make Her 2016 Bid Carbon-Neutral?
The campaign promised to offset its carbon footprint. But it's not an easy task, and details are few and far between.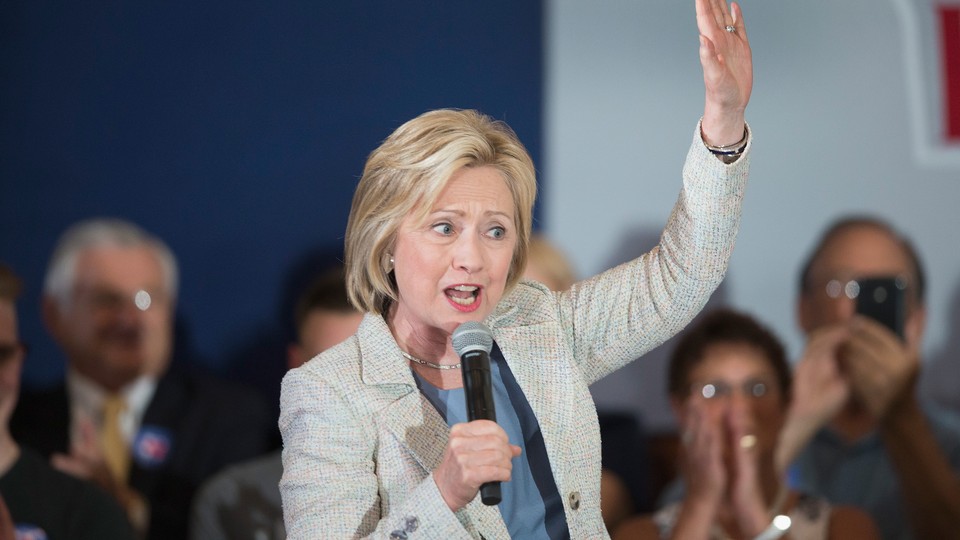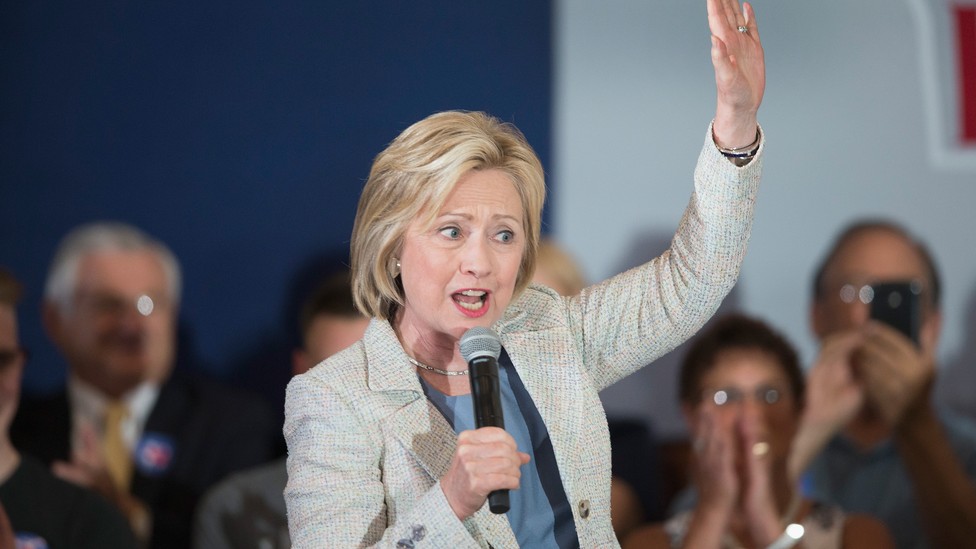 Hillary Clinton wants to make sure her presidential campaign doesn't hurt the planet.
The Clinton campaign announced on Tuesday that the former secretary of State's White House bid will be carbon neutral. "We'll be offsetting the carbon footprint of this campaign, and that includes travel," said Jesse Ferguson, a campaign aide.
The announcement arrived just days after Clinton started rolling out her green-energy and climate-change platform — and after Republican opposition research firm America Rising released a video of Clinton boarding a private jet hours after talking up her environmental platform in Iowa on Monday.
Clinton's carbon-neutral pledge also stands as the latest effort to prove the Democratic contender's green bona fides, as she faces fierce criticism on the Left for refusing take a stand on contentious issues, including the Keystone XL pipeline. A green campaign could also allow Clinton to take more digs at Republican candidates who question whether global warming is happening at all.
But what will it take for Clinton to go green, how much will it cost, and will it make a difference?
So far, the campaign hasn't provided details, but offsets can get expensive. In 2007, Clinton's presidential campaign pledged to neutralize its carbon footprint and paid out more than $80,000 to Vermont-based firm Native Energy over the course of 2007 and 2008, Federal Election Commission filings indicate.
(Native Energy also worked with John Edwards to make his presidential campaign carbon neutral. Company vice president Tom Stoddard said that they have not yet been contacted by the Clinton campaign this time around.)
Travel, by plane and by car, would likely make up the largest segment of total emissions that a carbon-neutral campaign would need to offset. After that, electricity to keep the lights on at campaign headquarters and field offices all the way on down to emissions generated by campaign staff and volunteers as they commute and canvas would need to be tallied and neutralized.
Of course, the best way to limit emissions is to curb the number of fuel-guzzling plane and automobile rides. But "you can't virtually shake hands or kiss babies," notes Jeff Swenerton, communications director with Green-e, a San Francisco nonprofit that certifies offset projects.
If a campaign takes steps to curb emissions, the next step would be to offset the remaining carbon footprint with some kind of credit. Common offset projects include initiatives to plant trees or stem deforestation, support renewable-power projects that help displace fossil fuels, and capture methane from landfills, among others.
All that could add up. The going rate for carbon offsets varies based on the company, the amount of credits needed, and the type of offset purchased. (For instance TerraPass, a longtime provider, charges businesses $13.12 per metric ton of carbon-dioxide offset.)
The plane that Clinton reportedly flew from Iowa to New Hampshire earlier this week burns 347 gallons of fuel per hour. A round-trip flight from New York City to Des Moines, Iowa, on that plane would burn roughly 38 metric tons of carbon emissions and cost around $185 for bulk purchases of carbon offsets, according to Native Energy's Stoddard.
Swenerton said there are now well-established ways for organizations to track the amount of pollution they're creating. "Figuring out your carbon footprint is a pretty mature discipline right now," he said. "There are a lot of ways to figure out with some level of specificity what your carbon output is from flying and driving."
Sen. Bernie Sanders and former Maryland Gov. Martin O'Malley, who are also seeking the Democratic White House nomination, are both outspoken on climate change. Aides to their campaigns did not respond to inquiries about whether their operations are offsetting emissions, too.
Regardless of the desire to offset CO2 emissions, experts caution that purchasers of offsets must be diligent about ensuring that they're supporting real projects that would not otherwise be happening anyway. Buying the absence of emissions can be tricky, says Michael Wara, an expert on energy and the environment at Stanford Law School.
"It is a very complicated topic, particularly when you get into the voluntary markets, because there is much less of a cop on the beat than in the regulated or compliance markets," he said, contrasting voluntary offset purchases with offsets obtained under regulatory programs like the cap-and-trade systems in California and the European Union.
But Yale's Daniel Esty says the offset market has become increasingly well structured over the last decade and that buyers can now be "quite confident" that established players such as TerraPass will translate offset payments into actual emissions-cutting projects.
"These programs have been in place now for more than a decade, have been carefully reviewed, have been audited — at least the best of them — and as a result provide a high degree of confidence that offset dollars are being appropriately spent," said Esty, who is director of the Yale Center for Environmental Law and Policy.