Bringing the Pell Grant Back to Prisons
The Obama administration is set to end a ban on allowing prisoners to access Pell grants to earn a college education.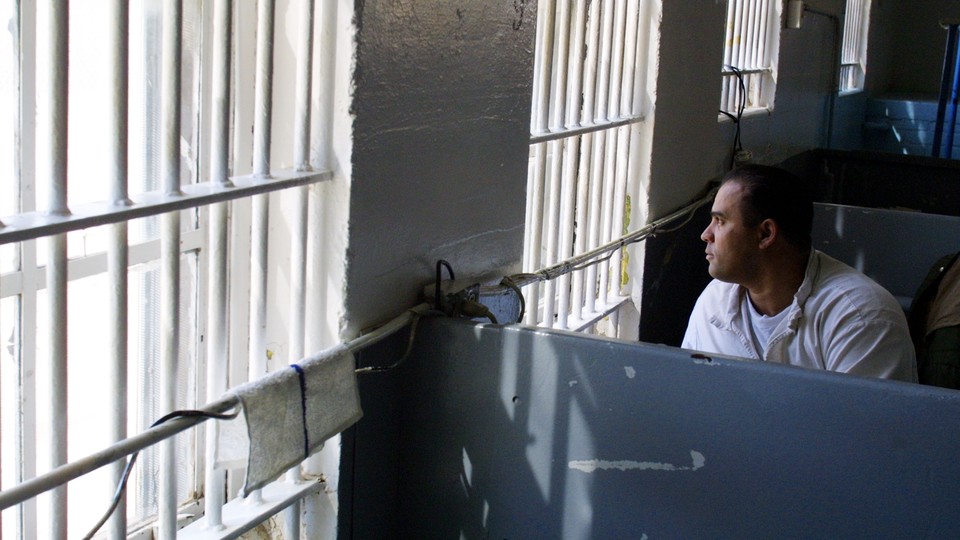 In a not-unfamiliar end-run around Congress, the Obama administration is set to use a small loophole to effectively end a policy that has prohibited prisoners from accessing federal financial aid for the past 20 years.
And Republicans aren't going to like it.
On Friday, Education Secretary Arne Duncan and Attorney General Loretta Lynch will reveal plans to restore some prisoners' ability to access Pell grants, the federal subsidy for low-income students, through a pilot program.
The Education Department has the ability through a provision in the Higher Education Act to suspend certain rules, like the Pell grant ban, to study their effectiveness. While Republican leaders may bristle at the move — after all, a vocal cohort called for Obama's impeachment after he announced executive action on immigration reform in 2014 — the White House is looking to act on criminal justice reform before the president's time in office disappears.
"The administration believes equipping incarcerated individuals with the skills they need to successfully reenter the community is one of the most powerful — and cost-effective methods to ensure they avoid future contact with the justice system and become productive members of society," a department official said.
Prisoners who participate in correctional educational programs are 43 percent less likely to return to prison and 13 percent more likely to have a job after they are released.
The pair will announce a pilot program to collect data on recidivism rates. The Education Department will put out a call for proposals from colleges that want to participate, the department official said.
Currently set just below $6,000 a year, the grants are the centerpiece of the nation's aid for students from poor backgrounds, and millions of students have taken advantage of them to earn degrees.
But for the past 20 years, federal and state prisoners have not been able to access Pell grants.
Lawmakers banned prisoners from obtaining the grants in the mid-1990s. Prison-reform advocates said it was a disastrous move that has prevented inmates from furthering their education and setting themselves up for a productive life upon release. In the following years, studies indicate, the percentage of prisoners enrolled in postsecondary education programs fell back to pre-Pell levels, and in 2003-04, only about five percent of prisoners had access to such courses. A 1995 American Correctional Association study found that in one year after the ban, the number of states offering postsecondary correctional education dropped from 37 to 26, and prisoner enrollment declined almost 40 percent. Two years later, just 21 states offered programs, and those programs enrolled fewer than 2 percent of the nation's prison population.
Those impacted were disproportionately men of color.
According to Justice Department statistics, at the end of 2012, one in every 108 adults was incarcerated. Black men were six times and Latinos were two and a half times more likely to be imprisoned than white men. For black men ages 18 and 19, that figure is nine and a half times more likely. They are disproportionately less likely to be educated. As a Rand study on prison populations and education noted, 36 percent of state prisoners did not have a high school diploma, compared to 19 percent of the general population. Prisoners also are more likely to lack job skills and to have been employed only sporadically.
Yet studies indicate that inmates who take classes are far less likely to end up back behind bars.
As the prison population has swelled, there is more bipartisan support for changing prison policies and attempting to reduce recidivism. Rep. Bobby Scott and a handful of other Democrats sponsored a bill in May to end the Pell ban, saying that prisoners who participate in correctional educational programs are 43 percent less likely to return to prison and 13 percent more likely to have a job after they are released.
Rand estimated that for each dollar invested in correctional education programs, five are saved on three-year reincarceration costs. "We have a choice: reduce crime and save money, or suffer increased crime and spend more money," Scott said in a statement.
Actual reforms have been slow, so the administration is moving ahead.
Duncan said at a University of Maryland speech Monday that "we want to do even more, developing experimental sites that will make Pell grants available to programs that award credentials based on demonstrated competency, to incarcerated adults seeking an independent, productive life after they get out of jail, and to adult learners who enroll in short-term certificate programs that provide meaningful job-ready training."
College is increasingly seen as a path to success, but prison populations have traditionally been left behind. Ending the ban on Pell grants could open doors to higher education for thousands of people behind bars.