Body-Camera Footage Gets an Officer Indicted for Murder
After the video contradicted his account, a campus cop in Cincinnati is charged in the fatal shooting of an unarmed black motorist.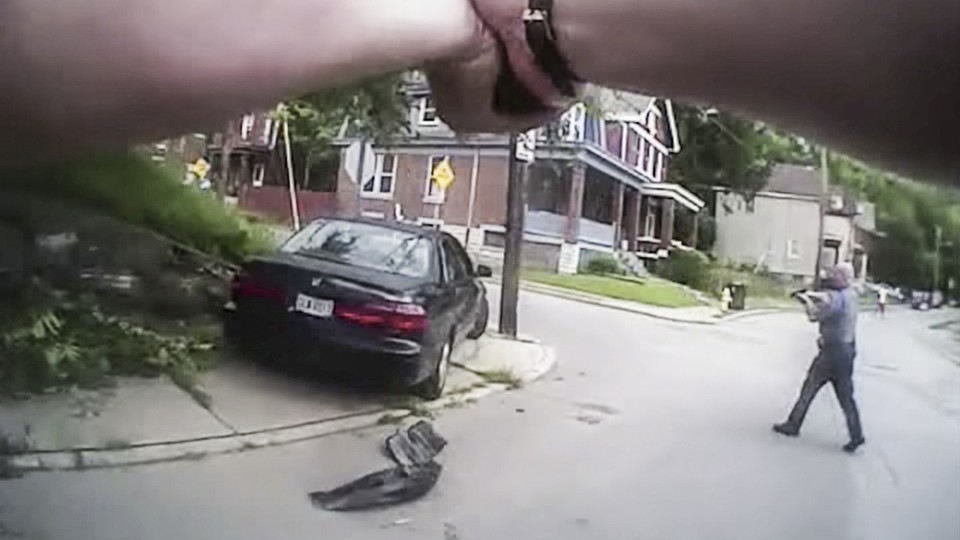 On July 19, 2015, a 43-year-old Cincinnati man named Samuel DuBose was pulled over by a University of Cincinnati police officer, Ray Tensing. Tensing was white. Dubose was black. His car was stopped for missing its front license plate.
Minutes later, Tensing shot DuBose in the head, killing him.
What happened between getting pulled over and DuBose's death?
Now, thanks to footage from Tensing's body camera, we know.
After the two men briefly exchange words, DuBose's vehicle is seen to roll forward. Tensing then shoots him in the head. Tensing was indicted Wednesday on charges of murder and voluntary manslaughter.
"This is without question a murder," said Joe Deters, the prosecutor for Hamilton County, Ohio, at a news conference Wednesday. "He didn't do anything violent toward the officer. He wasn't dragging him. And [Tensing] pulled out his gun and shot him in the head."
"He purposely killed him. He should never have been a police officer," said Deters.
During the 10 days between the killing and the announcement of the indictment, Cincinnati had seen protests calling for the release of Tensing's body-camera video. City officials said they planned to release the video once the investigation was complete; the city's chief of police would say only that he had seen the video and "the video is not good." The video was released Wednesday.
"This is the most asinine act I've ever seen a police officer make," Deters said. "It was unwarranted. It's an absolute tragedy that, in the year 2015, anyone would behave in this manner."
"He wasn't dealing with someone who was wanted for murder. He was dealing with someone who was wanted for not having a front license plate," he added. Even if DuBose had fled the scene, it was a minor traffic stop, said Deters, and Tensing should have let him roll away.
"It was so unnecessary for this to have occurred. This situation would never have escalated like this."
Over the past 12 months, experts and activists have called for the nationwide adoption of body cameras by police forces. They have acquired wide support, including from Hillary Clinton and the family of Michael Brown, the 18-year old man who was killed by a police officer in Ferguson, Missouri, last year. But the adoption of body cameras is rife with complexities and privacy concerns, including who gets to view a video and whether they are a matter of public record. The case of DuBose provides a hint at the roles they will play in the American justice system, both as records that activists will fight to obtain, and as documents that will set the record straight.
On Wednesday, Deters said he probably would have believed Tensing's version of the story had the body-cam footage not existed. But after watching it, there could be no doubt.