Bernie Sanders Is a Loud, Stubborn Socialist. Republicans Like Him Anyway.
His achievements include the bipartisan VA reform bill: "Frankly, without him, I don't think we would have gotten it done."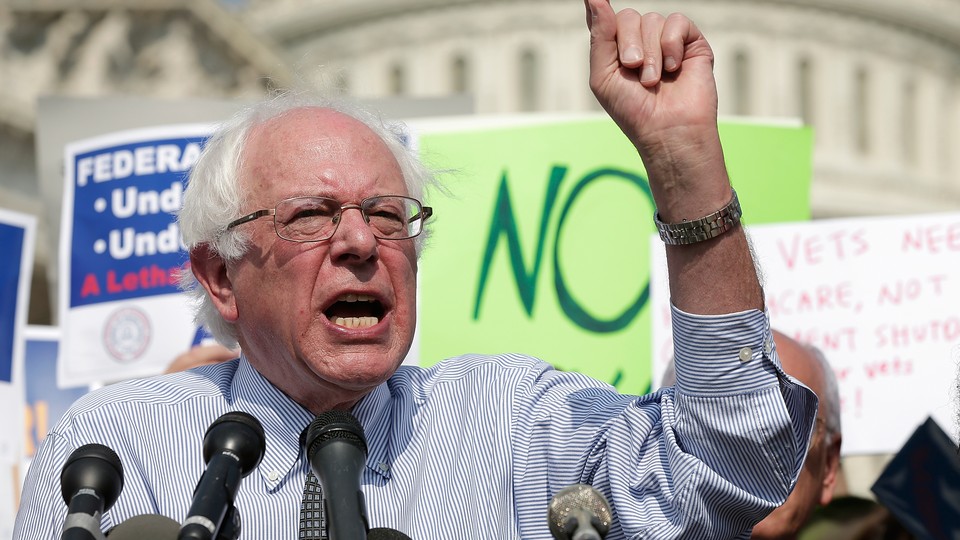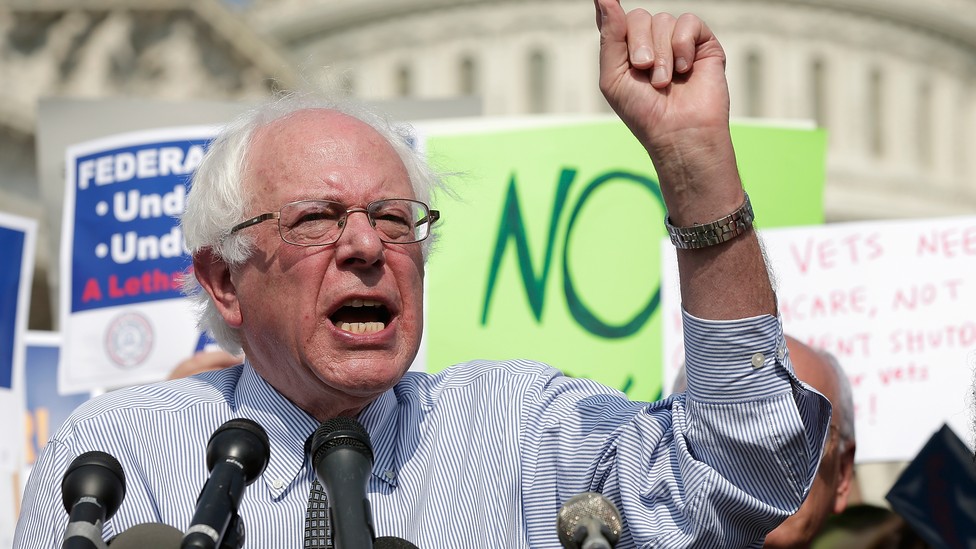 In the Senate, Bernie Sanders should be all alone.
Sanders is constantly ribbing Republicans in his trademark condescending Brooklyn-accented tone. He offers up legislation that's so far to the left that it couldn't get a vote even under Majority Leader Harry Reid. He's the curmudgeon in the Senate Democratic conference, rarely satisfied with how far his leadership will go to pursue progressive policies, and not afraid to vote 'nay' when his leaders come up short. And none of his Senate colleagues, on either side of the aisle, think he could ever be elected president of the United States; most of them even believe he shouldn't be.
But rather than earning the frustration and ire of his peers in the vein of other Senate hard-liners such as Sen. Ted Cruz, Sanders has managed to be respected — even liked — by much of the chamber, according to members on both sides of the aisle. The Vermont independent actually has much more in common with Sen. Tom Coburn, the now-retired "Dr. No," whose hard-line opposition killed many bills in the Senate but also earned him the respect of his colleagues on both sides of the aisle.
Sanders also has been able to work well with his colleagues. He's passed bipartisan legislation and forged strong relationships with members of both parties in nearly 25 years on Capitol Hill. But most of all, members say, even when Sanders is ideologically an outlier, he lets others know where he stands. He's not the type to suddenly stab a colleague in the back. And that's earned him respect both on and off the Hill.
"A lot of people here talk about what they believe in, but they don't act on it," Sen. Mark Warner said. "He always acts on what he believes. "¦ We can agree or disagree, but you know where he stands."
Lawmakers on both sides of the aisle, including Sanders himself, point to last year's deal to improve the disastrous, scandal-ridden Veterans Affairs Department as a highlight. After weeks of negotiating with a cadre of Republican colleagues, Sanders helped pass the deal on a 91-3 vote in the Senate. "In a pretty dysfunctional Congress I helped pass, in a bipartisan way, the significant veterans bill, which increases health care to veterans and lowers waiting times, and I'm proud of that," Sanders said. "That was a significant step forward."
"He knew when to hold and knew when to fold and, I think, maximized what we could get for veterans," said Sen. Chuck Schumer, who also participated in the VA talks.
Sanders has also passed an amendment to the Dodd-Frank bill that led to the first audit of the Federal Reserve. He and Sen. Robert Menendez secured funding in the 2008 stimulus bill for clean-energy initiatives. And he inserted language into the Affordable Care Act to increase funding for community health centers.
Those legislative wins are roughly on par with those of his fellow classmates of 2006, including more moderate members whose ideological leanings more easily lend them to compromise with the other side, such as Sens. Jon Tester and Bob Corker.
But as with Coburn, Sanders' willingness to stand up and say no has also helped him to score victories on Capitol Hill. Sanders highlights his battles to prevent Republicans from cutting Social Security benefits as well as "the complete decimation of the U.S. Postal Service."
Despite those rough moments, Republicans still say by and large they like the senator. Sen. Jeff Sessions, who served on the Budget Committee with Sanders, said that while the two couldn't be more opposite ideologically, they still share a mutual respect. "So often he would articulate the liberal — very liberal — line. And I would articulate the conservative line. And it would go something like, 'We need to tax the rich, we've got too many poor.' And I said, 'That's right. We've got so much government, so much taxes, we really, you know, created the poor. It's your problem,' " Sessions grinned. "But you know, I've always respected Bernie and we've gotten along personally well."
Sen. John McCain, who negotiated the VA deal with Sanders after Sen. Richard Burr, then the ranking member on the Veterans Committee, said he couldn't get any further in the negotiations with Sanders, gave the independent high praise, noting that "his word is good."
But he acknowledged that Sanders can be cantankerous, adding with a laugh: "Both of us have that reputation."
"We worked very, um — with a lot of contention and a lot of spirited debate. We were able to come to an agreement because both of us wanted an agreement. And I found him to be honorable and good as his word. And his word was good. So I found it a very satisfactory and sometimes, shall I say, colorful experience," McCain said.
Sen. Jack Reed used the term "extremely energetic" to describe Sanders, a friend and longtime colleague whose relationship with Reed goes back to their days in the House. "Last year when we had the scandal at the VA, he was incredibly effective, engaged in getting the legislation passed, in getting it funded. Frankly, without him, I don't think we would have gotten it done because there was a lot of name-calling but there wasn't a lot of constructive, 'OK, here's the resources. ...' And he did it," Reed said. "And it was a great testament to his skill as a legislator."
Sanders has a system, said Sen. Sherrod Brown, who served with him in the House before both were elected to the Senate in 2006. "He would call them 'tripartite amendments' because we'd have him and he'd get a Republican, he'd get a Democrat and he'd pass things. He's good at building coalitions," Brown said.
Sanders says it's all about doing things "the old-fashioned way," finding "people from both parties who you can work with."
In that, Sanders has been surprisingly successful.
"I learned early on not to be automatically dismissive of a Bernie Sanders initiative or amendment," said Republican Sen. Roger Wicker, who served with Sanders in the House for more than a decade. Wicker said that he has been surprised by how often their ideological interests align, given that both are from rural states.
"Now obviously, he's very much to the left, and I think much more liberal than the American public, as a matter of fact," Wicker added. "But he's tenacious and dogged and has determination, and he's not to be underestimated."
Still, Sanders's bipartisan bona fides have shifted in his years in Congress. "When I was in the House way back when, there was a period when I got more amendments passed in a bipartisan manner than any other member," Sanders told National Journal. Now, GovTrack ranks him in the bottom 2 percent of senators in writing bills with bipartisan cosponsorship, and the Lugar Center (founded by former colleague Sen. Richard Lugar) ranked him 90th on its Senate Bipartisan Index.
Part of that is explained by Sanders' introduction of legislation that advances his ideological principles but has no hope of getting through a Republican-controlled Congress, such as his recent $15-minimum-wage bill, which his presidential campaign has touted in recent fundraising missives.
But even Republican members who balk at those ideological pushes say that when Sanders sees something that needs to get done, he's more than willing to do what it takes to get there.
Burr, who said that he and Sanders reached an "impasse" in the VA talks before McCain volunteered to take the lead, said, "Senator Sanders understands what it takes to get legislation across the goal line."
"I think he's very outspoken in terms of where he is ideologically," Burr said. "But when he gets down to the need to get legislation into law, then I find him to be one who's willing to sit down and compromise and negotiate to get to a final product."
Wicker added, of the final VA deal: "Obviously, he agreed to some things that in a vacuum would have been abhorrent to him — choice, going outside the system with a voucher. "¦ And of course what Senator Sanders got in return was more VA facilities, which in and of itself [is] not a bad result for anybody."
Sanders is not the glad-handing type, and he's hardly among the members going out for beers in the evenings (or slipping them in during late-night votes). Reed describes Sanders as a senator in his own vein. "I think there are different personalities in the Senate, some really outgoing — I would put myself in the category of not the most outgoing. But you know, he's a gentleman, thoughtful, a leader," Reed said.
"You know, if you want to have a pleasant discussion on not only policy issues but just issues of the day, he's a pleasant guy," Reed added.
But he is not without friends on Capitol Hill and has spent decades building relationships with members that could help him to push a policy agenda through Congress in a way that President Obama has, at least until recently, been reticent to do.
"Clearly if you want to get anything done, you have to work with members of Congress and you have to work with members of both political parties," Sanders said. "I have done that and as president, I certainly would do that. But that's kind of what you have to do — no ifs, buts or maybes."
Asked about his personal relationships with other members, Sanders presented his typical gruffness. "Do I have a personal relationships? Well of course I do; I've known some of these people for 20, 30 years. So of course I do. "¦ If the question is, do I have good friends who are in the United States Senate, then yes. I do."