Benghazi Panel GOP: Top Kerry Aide Must Appear Next Week
Committee Chairman Trey Gowdy says the staffer has to show up Wednesday — unless the State Department turns over more documents.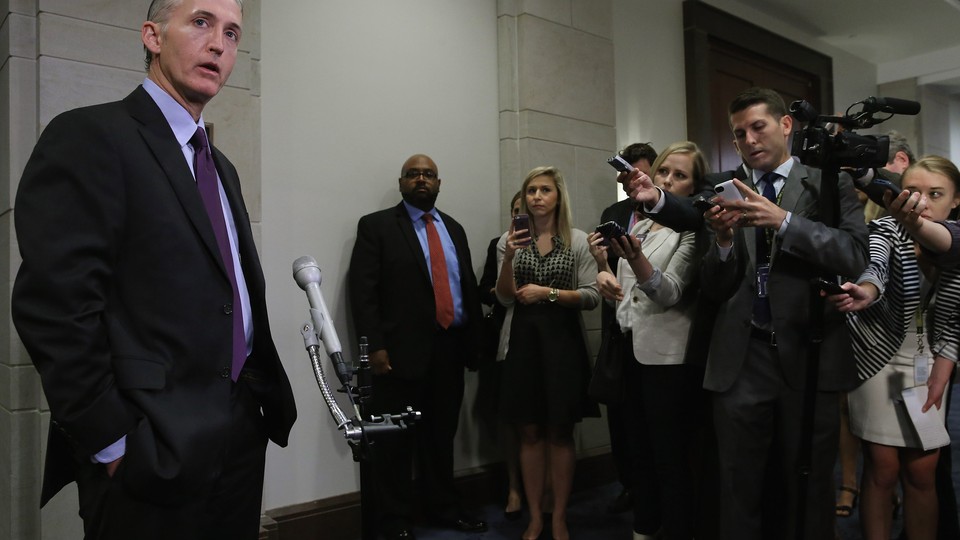 House Republicans say they will force Secretary of State John Kerry's chief of staff to testify next week about Benghazi documents, despite State Department objections that he's busy working with Congress on the Iran nuclear accord.
The GOP-led Select Committee on Benghazi has scheduled a Wednesday, July 29 hearing with Jon Finer to discuss what Republicans say has been inadequate production of documents to the panel investigating the fatal 2012 attacks.
Republicans threatened to subpoena Finer, but also said they would delay his appearance if State makes "substantial" document production beforehand. "If State fails to make this production or if Mr. Finer refuses to come voluntarily, he will be subpoenaed," states the hearing announcement from Chairman Trey Gowdy's office.
The State Department did not immediately respond to the announcement. Gowdy had earlier sought a hearing on Tuesday, July 28, but that would have conflicted with a House Foreign Affairs Committee hearing on the Iran nuclear accord in which Kerry is testifying.
The department, in a letter to Gowdy on Monday, said next week is a critical time for addressing lawmakers' questions and concerns about the nuclear agreement, which Finer has been deeply involved in.
"Your staff recently suggested the Department provide the Secretary's Chief of Staff next week for a hearing before the Select Committee on document production, nothwithstanding his central role in the Iran negotiations and his limited role in document production. This will not be possible," stated the letter from Julia Frifield, assistant secretary of State for legislative affairs.
But Gowdy, in a statement Wednesday, sought to show that he has tried to accommodate the department. Finer had previously agreed to appear before the committee on July 8, but that hearing was delayed at Finer's request, according to committee Republicans.
"When Mr. Finer requested the hearing be delayed to accommodate his work schedule, the Chairman agreed Mr. Finer would not have to travel back to the United States during the pendency of the Iran nuclear negotiations," the hearing announcement stated.
Gowdy also said that he has exhausted other options when it comes to pushing for State to improve its compliance with outstanding document demands.
"Our Committee has tried asking personally. Our Committee has tried letter requests. Our Committee has tried public hearings with other agency employees. Our Committee has tried subpoenas. While the tactics tried have varied, the results have not. Our Committee is not in possession of all documents needed to do the work assigned to us," he said.
The State Department has repeatedly defended its performance in responding to multiple demands for documents. Frifield's letter said the department is "actively working" on preparing more documents to provide to the panel, and working on responses to recent letters that make new requests for documents and information.
"We are making good progress and anticipate making at least one more substantial production and facilitating three interviews before Congress goes on recess," she wrote.