As Highway Bill Inches Forward, House-Senate Collision Looms
The Senate is moving closer to approving a bill that includes an Ex-Im Bank renewal, which House GOP leaders strongly oppose.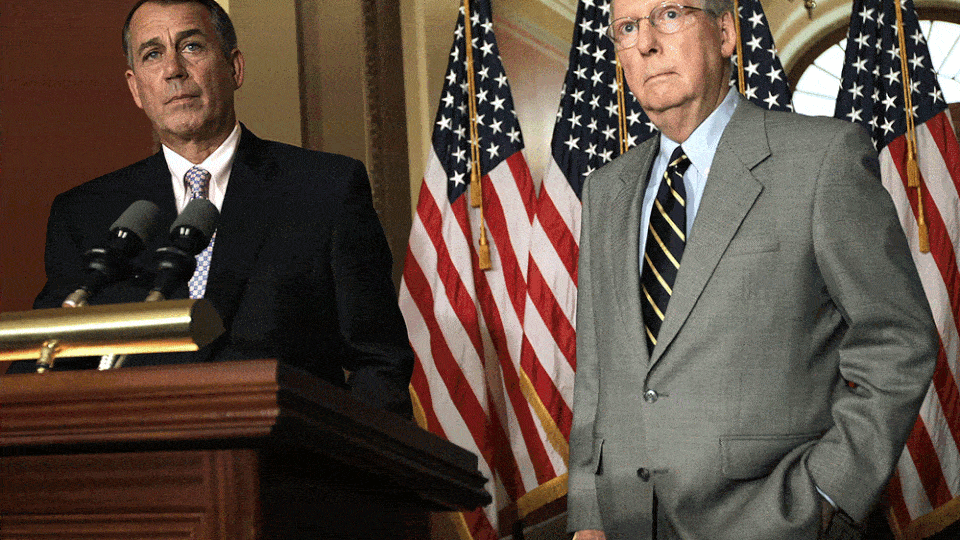 The Senate used a rare Sunday session to move debate forward on its long-term highway bill, setting up a vote this week on the controversial reauthorization of the Export-Import bank that could make the must-pass bill a tough sell with conservatives in the House.
In a 67-26 vote Sunday, the Senate voted to end debate on Sen. Mark Kirk's amendment reauthorizing the 81-year-old bank, which lost its charter to back new loans last month. Supporters have long seen the urgent highway bill as a vehicle for renewing the charter, although House Republican leaders say they don't want to swallow the bank as the price of passing the transportation bill.
The final Ex-Im amendment is set for a vote as early as Monday, and Majority Leader Mitch McConnell said that would open up room for further amendments on the Senate's multiyear transportation bill.
Congress faces a Friday deadline to pass some sort of highway bill before transportation funding expire — whether it's the six-year bill on the Senate floor, a House-passed five-month extension, or a compromise. McConnell, along with bill authors James Inhofe and Barbara Boxer, have said the Senate's long-term bill is the preferable option, even as members from both parties continue to raise questions about its funding measures and policy language.
The potential addition of the Ex-Im bank — which is expected to easily pass, given Sunday's margin — offers up more questions about the bill's future. Sen. Ted Cruz, who like other conservatives opposes the bank as an example of crony capitalism, has fought hard against its inclusion, even accusing McConnell of lying about whether there was a deal to hold a vote on the bank. McConnell, who also opposes the bank, replied to Cruz's charges on Sunday after Utah Sen. Orrin Hatch, the most senior Republican, reminded his fellow senators to abide by the chamber's code of conduct.
"When there is overwhelming bipartisan support for an idea, even if I oppose it, it doesn't require some 'special deal' to see a vote occur on that measure," said McConnell.
House majority leader Kevin McCarthy also has indicated that the House would not pass a bill sent back with the Ex-Im bank reauthorization attached, given that House Financial Services Committee Chairman Jeb Hensarling and most conservatives strongly oppose it, but it's unclear how the House will move forward given the ticking clock.
On Sunday, several other touchy issues were kept off the bill. An amendment from McConnell that would have repealed Obamacare fell by a 49-43 vote — it needed 60 votes to proceed. Sen. Mike Lee of Utah offered up an amendment to stop federal funding to Planned Parenthood in the wake of the release of secret tapes alleging to show that the group profits from the sale of fetal tissue donations. That amendment was ruled out of order, but McConnell has laid a separate Planned Parenthood bill on the calendar.
Cruz's bid to bring up an amendment related to the Iran nuclear deal also was rejected.
Inhofe, an Oklahoma Republican, told National Journal that the system was back to working with Sunday's controversial votes out of the way, and that leadership had been "very generous" in allowing for more amendments — both germane and nongermane — to come up this week.
"I know there are people who have other motives in getting their amendments in, whether it's a presidential run or something else, but my concern is getting a bill," Inhofe said.
But there are still lingering questions about the bill itself that could create problems. Boxer, the California Democrat who helped negotiate the final deal, admitted on the floor that Democrats are "very split here," but urged her colleagues to move forward on the "compromise bill."
Bill authors were up-front that the funding compromise wouldn't cover the full six years, but a Congressional Budget Office score of the bill shows just how much would be needed to get it past the finish line. The report released Friday found that the bill would cost $17 billion compared to current levels and would leave just $5 billion in the Highway Trust Fund at the end of 2018. Another $57 billion would be needed to keep the bill afloat for a full six years.
The various funding measures — which include controversial moves such as cuts to the dividends paid by the Federal Reserve to large banks and sales from the country's petroleum reserve — are meant to supplement the Highway Trust Fund, which is fed by the federal gas tax. That 18.4-cent-per-gallon tax hasn't been raised or indexed to inflation since 1993 and dwindling receipts have left the Highway Trust Fund running dry. Still, raising the gas tax has been a political nonstarter.
The individual pay-fors are a matter of much debate. Energy Committee Chairwoman Lisa Murkowski, for example, has said that a $9 billion pay-for raised by selling oil from the Strategic Petroleum Reserve is shortsighted and has vowed to work to get it out of the bill. Democratic Sen. Ben Cardin of Maryland said that the funding measures "aren't really good revenues," singling out a measure on private debt collection as a concern.
"So I'm not excited about the bill," Cardin said. "If these things can be corrected perhaps I could support it but right now I can't."
Democrats also have raised issues with some of the safety provisions in the bill, hoping to get stronger language on rail safety and auto recalls, among others.
Should a long-term bill move through the Senate, that sets up a collision with the House, which passed a five-month extension to give Ways and Means Chairman Paul Ryan more time to write a tax overhaul package that would help transportation funding. The House has indicated that it wouldn't accept a long-term bill from the Senate, with even Minority Leader Nancy Pelosi saying that the House-passed extension is the preferred option, given the pending deadline.
If Congress does not agree on a transportation bill by Friday, the Transportation Department has said it would have to cut off funding for state agencies at the height of construction season.
---
Alex Rogers contributed to this article