Amid Scrutiny, the NFL Blitzes the Hill
The league is trying to convince Congress that it's taking safety seriously.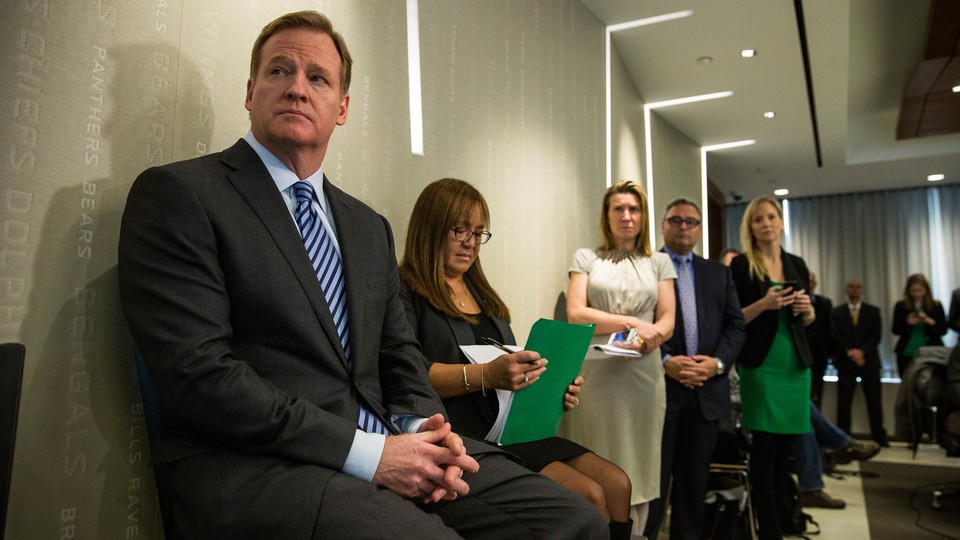 Facing pressure, the NFL is bolstering its defense in Washington.
In a week where the House passed a bill named after a disabled former football star, the league had a heavy presence in the halls of Congress, vouching for improvements to the league's safety standards.
Commissioner Roger Goodell held meetings Monday and Tuesday with members of Congress, in part to tout improvements to the NFL's safety protocols. He was accompanied by Dr. Elizabeth Nabel, the league's first health and medical adviser. On Wednesday, former coaches Bill Cowher and Mike Singletary joined a panel discussion and tackling demonstration in a congressional office building to show off safety improvements in youth football programs.
Minutes before that demonstration, the House passed the Steve Gleason Act, which would require Medicare coverage for speech devices for patients with ALS and other disabilities—such as Gleason, a former New Orleans Saints star. Gleason has said he doesn't know if football caused his ALS, but some have linked head trauma to the disease. The bill has already passed the Senate and now heads to President Obama's desk.
The NFL acknowledged its Capitol Hill outreach was an attempt to be proactive after a long string of bad headlines about long-term health problems among its players and the mishandling of domestic violence incidents last year. That's in part to avoid a scenario like Major League Baseball faced 10 years ago, when players were grilled in congressional hearings over their alleged steroid use. The NFL wants to avoid that kind of black eye.
"The important thing is to provide context that there's a lot going on besides the headlines," said Cynthia Hogan, the league's senior vice president of public policy and government affairs. "[Goodell's] not going to sit back and wait until Congress says they have some legislative or other roles. "¦ He wants people to understand that while Congress is focused on many issues, they can know that we are on our stuff."
In Monday's meeting with the House GOP whip team, members said they pressed Goodell on the safety and domestic violence issues. Rep. Tim Murphy said he questioned the handling of players such as Ray Rice and Greg Hardy, both of whom were suspended after domestic violence incidents. Rice's two-game suspension—later extended indefinitely but cut short after an appeal—sparked a firestorm of negative coverage. Many felt the initial suspension was too light, especially after surveillance video surfaced showing Rice punching his then-fiancée in an elevator.
The NFL has subsequently changed its suspension policies and launched a domestic violence awareness campaign, but that hasn't satisfied Murphy. "I think there needs to be a much more aggressive approach, a much more definitive approach to working on this," he said.
Others were less critical, and said they were happy to hear the NFL was at least trying to address those issues. Rep. Pat Meehan talked about his days as a prosecutor, noting how domestic violence cases would often increase in an area following an NFL team's loss. And as a former college football player, he said he was keenly interested in ways to make the sport safer.
"Why it's important to us is that's sort of leading research, and it then becomes valuable down the line," he said, noting the NFL's concussion studies can benefit youth leagues and even the military. "I don't know that the average member wakes up each day thinking about football injuries, but it's nice to see them taking a stance."
Rep. Jim Renacci, who attended the safety demonstration, said Congress is an important part of the NFL's overall outreach efforts. "Communication with all businesses and entities in this country is important to see what they're doing," he said. "I do believe they're doing everything they can to train, changing their methods of tackling. Those are all important issues. It appears they're looking at safety first."
That response is exactly what the NFL is hoping for. "The health safety issue is something that is of critical importance to us and it's something that members of Congress remain interested in," Hogan said. "The focus of the commissioner and Dr. Nabel was really about health and safety."
Still, the NFL's presence on the Hill was not without scrutiny. UltraViolet, which bills itself as an "online community" committed to fighting sexism, issued a release slamming GOP members for a planned meeting with "domestic-violence excuser Roger Goodell." The meeting, organized by Rep. Cathy McMorris Rodgers, was later canceled when Goodell's schedule became "overbooked," the NFL said.
For now, though, it doesn't look like the NFL will have to worry about congressional hearings in the near future. "I don't know that there was any concern that Congress was going to engage in some kind of oversight, but I do think they looked at this as a place in which you could have another kind of national focus," Meehan said.