Amid Conservative Unrest, McConnell Tightens His Grip
Through "some especially difficult political terrain," the majority leader managed to get nearly everything he wanted in the last week.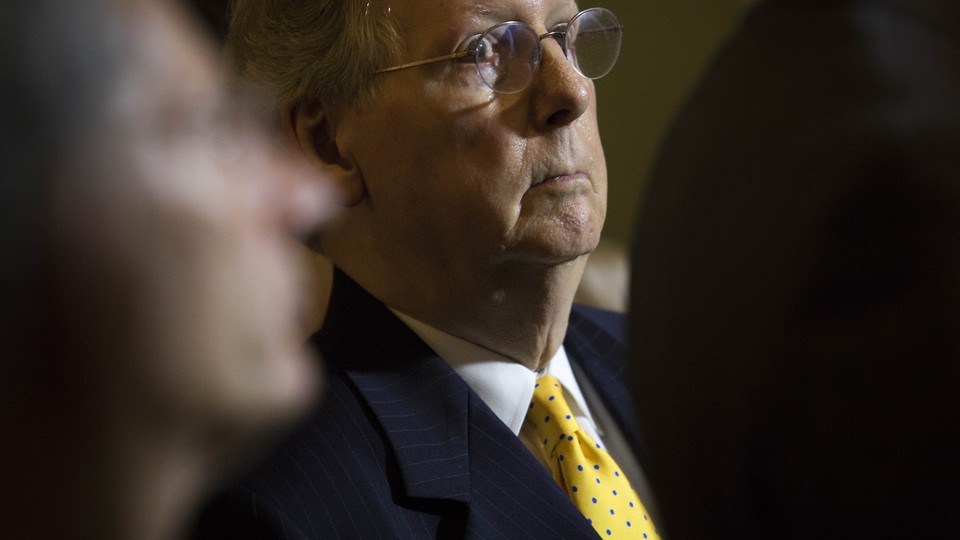 On Friday, one of Senate Majority Leader Mitch McConnell's own members accused him of lying, bringing long-simmering anger with leadership among outside conservative groups and right-leaning media to a boil.
By Monday night, after a floor brawl with conservative members in an unusual Sunday session, a majority of Republicans voiced their support for McConnell on the floor and to reporters, the leader was well on his way to passing the offending piece of legislation despite conservative objections, and one of the frustrated conservative members apologized to him in front of the entire conference.
The last week has, more than others so far this session, demonstrated McConnell's stranglehold on his conference. Even while navigating "some especially difficult political terrain," as McConnell himself described it, the majority leader got nearly everything he wanted and turned the tables on those who fell out of line.
Did McConnell lie to get there? Not exactly. Did he let different audiences believe what they wanted to believe? Absolutely.
The episode typified the kind of political maneuvering that has catapulted McConnell through the leadership ranks during his career and helped him survive election-year battles at home.
At the heart of Sen. Ted Cruz's accusation was a conversation that McConnell had on the Senate floor with Maria Cantwell, Lindsey Graham, and a cadre of other senators on May 21. They had threatened to kill the trade bill, one of the major promises of McConnell's campaign for the Republican Senate majority, unless they were guaranteed a vote on the Export-Import Bank before its authorization ended June 30.
By placating those members, McConnell likely would have enough Democratic votes to pass the trade bill, a key to his early legacy as leader. What was said in that huddle became central to Cruz's "you lie" moment on the Senate floor last week and emblematic of the break between the Republican leader and the far-right wing of his conference.
Just minutes after he left the floor May 21, Graham told National Journal that McConnell had promised to allow a vote to reauthorize the Export-Import Bank in June, which both men expected to fail, and that he was "guaranteed a vote" to actually reauthorize the bank in July. "We'll have a guaranteed vote in July on a must-pass vehicle called the Highway Trust Fund," Graham said at the time. He said it three times in the course of a four-minute interview.
Cantwell walked away with a very different impression. Her office put out a news release that afternoon and reiterated in a tweet that day that she had secured a promise from McConnell that Democrats would get a vote on Ex-Im in June. There was no mention of a July vote.
Graham later softened his original statement, saying that Ex-Im supporters would have the opportunity in July to bring the bill up for a vote as an amendment to the Highway bill, not that McConnell would force the vote.
So, did McConnell, as Cruz suggests, promise a July vote on the highway bill, secure Cantwell's silence, and then lie to his conference about it, saying three times that there was no deal?
What is more likely (and is borne out by conversations with Cantwell, Graham, their staffs, and leadership aides) is that McConnell told them exactly what he later said in public. Members who support Ex-Im would get a vote in June to show support for reauthorizing the bank (that measure went on to earn 65 votes before being pulled from the floor) and then in July they, like all other senators, would be allowed to amend the only must-pass vehicle of the summer session: the highway bill. What would happen to that amendment, and whether it actually would get a vote, was left unsaid.
The move allowed McConnell to secure support for the trade bill, the landmark piece of legislation for the new congressional majority so far. It also allowed McConnell to tell his members, and a frustrated Cruz, that he hadn't technically made a deal; the Ex-Im amendment in July would be treated like all others.
Of course, the Ex-Im measure did get a vote, as did an Obamacare-repeal measure, but neither Cruz's nor Sen. Mike Lee's amendments did. And this is where Cruz finds evidence for his claim: Why, if there was no agreement, did McConnell allow the Ex-Im amendment to come up for a vote?
It's a fair question, and the answer is even more complicated. McConnell decided to allow two amendments to the highway bill, as is his prerogative as majority leader. The first was an amendment favored by Republicans, the ever-popular Obamacare repeal. And the second, Ex-Im, would help secure Democratic votes for the highway bill that many in the conference question. Ex-Im, he said, was the obvious choice, given that it already had the proven support of two-thirds of the Senate.
"McConnell has said ... once a piece of legislation shows that kind of support that one way or the other, it's going to come up for a vote," McConnell spokesman Michael Brumas said.
Of course, McConnell guaranteed the vote that gave Ex-Im that show of support in the first place.
McConnell doesn't want to see the Export-Import Bank reauthorized any more than Cruz does. But he has a firewall in the House, where Majority Leader Kevin McCarthy has said that they will not take up the bill. Going along with the wishes of Ex-Im proponents in the Senate allowed McConnell to get his handcrafted highway bill through the Senate without the fear of actually reopening the bank, since both chambers now plan to pass a three-month highway bill extension.
In the process, McConnell further ostracized Cruz and Lee, who have caused frequent headaches for leadership, from the rest of the conference. Numerous rank-and-file Republicans criticized Cruz for breaking with decorum in calling McConnell a liar on the Senate floor Friday, including some conservative and freshmen members. When Cruz and Lee needed nearly a dozen Republicans to join them in trying to force a vote two days later, they couldn't find them.
Lee, who had planned to continue the fight Monday night and force the Senate to invoke the nuclear option to repeal the Affordable Care Act, instead was forced to apologize to McConnell after an aide sent an email to outside conservative groups encouraging them to score members on whether they sided with Lee on the Obamacare amendment.
In a closed-door reprimanding just hours later, McConnell distributed copies of the email to the entire Republican conference. Rather than press forward with the nuclear option, Lee backed down, telling members he wouldn't press the issue if they'd just agree to use reconciliation to overturn the health care law.
McConnell acceded. Though, as a leadership aide noted later, McConnell hadn't given in much; he'd been vowing to do so since October 2014.