African-American Candidates Enjoy String of Victories in Heavily Latino San Antonio
Rep. Will Hurd and San Antonio Mayor Ivy Taylor both won elections in the past year despite what look like challenging demographics in the area.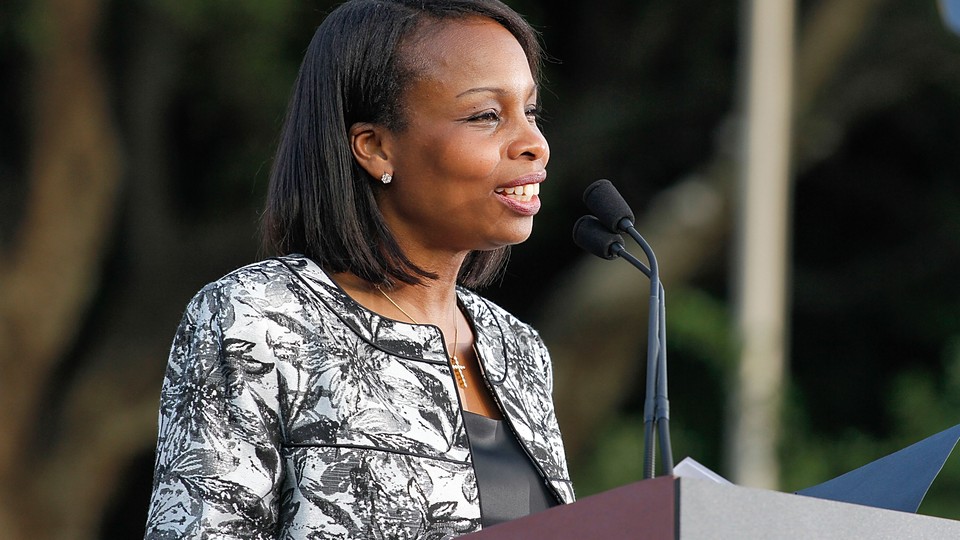 As one of only two black Republicans in the House, Will Hurd has drawn a higher profile than most other freshmen in Congress. But he's notable for other reasons, even on top of his past employment with the CIA: More than 70 percent of his Texas constituents are Latino.
Or, as Hurd puts it, "Nobody ever thought the black dude could win in a Hispanic district."
His San Antonio-area congressional district, which extends into rural West Texas, is among the most competitive in the country, and his upset victory in November stunned even some in his party. Then, last month, voters in the 63 percent-Hispanic city elected their first black mayor, Ivy Taylor, in a nonpartisan race.
In both races, the candidates narrowly edged out Hispanic Democrats: Hurd defeated former Rep. Pete Gallego, while Taylor beat Leticia Van de Putte, a former state legislator and nominee for lieutenant governor. So at a time when Latino candidates are fighting for a greater foothold in elected office, the most-heavily Latino of America's 10 most-populous cities instead elected two African-American candidates to high office in the past eight months.
"They spoke to the Latino community as they did to every other community," said Henry Cisneros, a former San Antonio mayor and Housing and Urban Development Department secretary under Bill Clinton. "They made logical arguments on public policy questions."
Cisneros did not make an endorsement in either race.
The winning candidates, who drew from conservative bases, insist that their coalitions are wider than any one group or party. In both the nonpartisan mayoral race and the partisan congressional election, they identified the same key asset: the ability to run as political outsiders.
"I don't think it's necessarily a trend about African-American candidates," Taylor said. "In my case, I think it was a signal about people wanting to get away from the political machine. I just happen to be black."
But those elections do point to wider difficulties that Latino communities have had translating their growing populations into more Latino elected officials. There are more African-American members of Congress representing the 26 majority-black House districts than there are Latino members representing the 34 majority-Hispanic House districts.
"It's a wake-up call for Hispanic Democrats," said Christian Archer, Van de Putte's campaign manager. "They missed a great opportunity."
In San Antonio, Republican and Democratic strategists say a perfect storm of factors had to break just right for both Hurd and Taylor to win. The same leadership—Republican strategists Justin Hollis and Josh Robinson—headed the campaigns.
Hurd's district is a classic battleground seat that has switched parties four times in the past 10 years. In 2014, Hurd rode a strong Republican wave and capitalized on a ticket-topping Democratic gubernatorial candidate, Wendy Davis, who fared poorly at the polls.
Meanwhile, Hurd and his CIA background were well-suited to a year when national security became a late-breaking campaign issue.
"People voted for Will because they wanted a fresh face in Washington," Robinson said. "He had never served in politics."
Hurd eked out a 2-point win against Gallego, who had represented part of the district in the state legislature for 22 years. In the West Texas seat, about 2 percent of the population is black.
Gallego campaign spokesman Anthony Gutierrez disputed the idea that Hurd had crossover appeal, saying that most minority-heavy communities didn't turn out to vote last year.
"When you crunch the numbers, [Hurd] wasn't winning the Hispanic vote," Gutierrez said. "Hispanics just largely stayed home and the rest of the district decided the race."
In the city of San Antonio, just less than 7 percent of the population is black. Latinos outnumber African-Americans by about 9-to-1. But Taylor, an urban-planning professor, drew support from a unique coalition of blacks and traditionally conservative white voters. Her Christian faith and opposition to a nondiscrimination ordinance also attracted support from the evangelical community, a potent political force in the state.
"They seized on an opportunity to support a candidate that could beat a Democrat and looked first to their religiosity before anything else," said Colin Strother, a Democratic strategist who worked for former Bexar County Commissioner Tommy Adkisson, the fourth-place finisher in the contest's first round.
Taylor's opponent, Van de Putte, also would have made history as the first Hispanic female mayor of the city. After losing in the lieutenant governor's contest to Dan Patrick last year, she was perceived as more liberal than Taylor.
Van de Putte's backers say it was low turnout among Hispanics that hurt her most. The campaign aimed for 40,000 to 45,000 votes on Election Day, but the total number of ballots cast for both candidates was just over 33,000.
Although it isn't clear if Hurd and Taylor's success will translate to other black candidates in the area, there have been signs of progress in the community. In November, Democrat Tommy Calvert became the first black elected to a seat on the Bexar County Commissioners Court. In January, Judge Jason Pulliam became the first black justice to serve on the 4th Court of Appeals.
Hurd, who is readying for a rematch against Gallego, is not surprised at African-American candidates' local successes.
"We knew that if you talked about the issues, then it doesn't matter," he said. "It shows that you have to change how you think about politics and what moves the electorate."