A New Super PAC Filing Reveals Rand Paul Is Getting Some Big Support From Silicon Valley
The Republican candidate has spent months wooing California tech. He's now seeing some payoff.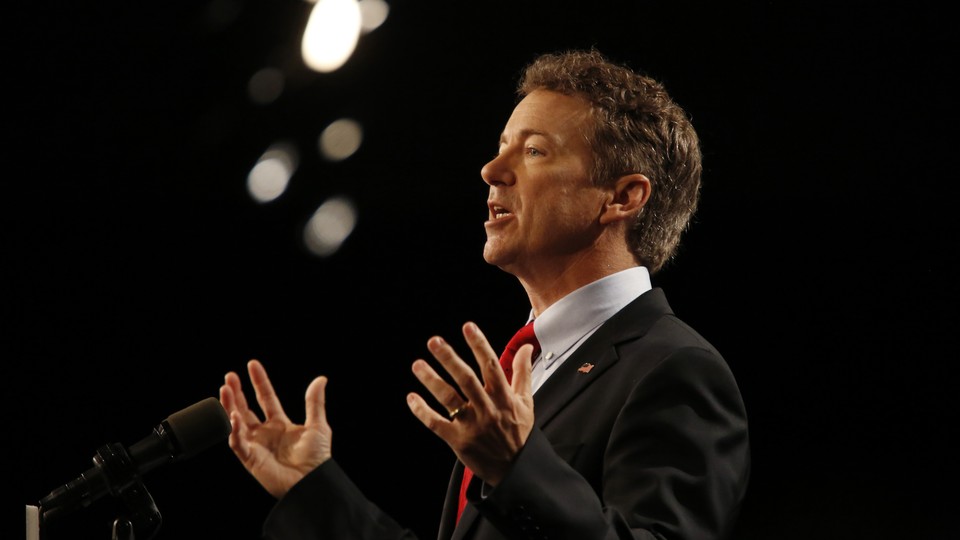 A nascent super PAC founded to support the presidential candidacy of Rand Paul took in about $1.9 million in campaign contributions since its relaunch last month, according to a report filed Wednesday with the Federal Election Commission.
And the vast majority of the money to the organization, Concerned American Voters, came from one individual: PayPal board member and legal marijuana advocate Scott Banister, who gave $1.25 million.
The super PAC was created to help Paul take the Iowa caucuses. Banister's first two contributions, totaling $900,000, came on May 20, before the group's June refresh. The rest was donated in late June.
The angel investor also donated $4,000 since March to another super PAC backing Paul, America's Liberty PAC. That PAC, which has Paul's blessing, raised just $3.1 million on the senator's behalf.
Banister's support for Paul isn't a surprise. In 2014, at San Francisco's libertarian-leaning Lincoln Labs conference, Banister praised Paul, suggesting he's different from your ordinary D.C. politician. "I think politicians usually have so little understanding of this space or they're so not aligned with our interests. I think Rand both gets it and he's very aligned," Banister told Politico at the time.
Back in 2011, Banister contributed to a different Paul, Rand's father Ron, donating to both his presidential campaign and a Ron Paul-supporting PAC. (He threw some money Rand Paul's way, too, that year — less than one year into his Senate tenure.)
Rand Paul has actively been courting Silicon Valley, and the tech world more generally, since he started flirting with a presidential bid. This past May, he opened up his long-planned office in Silicon Valley. "We think it's an environment that's conducive to new ideas and innovation — how to find voters, how to sort data, and how to figure out the best way to maximize voting," Rand Paul said just before officially opening it.
It's been a rough few weeks for the Kentucky Republican. As a whole, the super PACs supporting his presidential candidacy haven't brought in particularly impressive numbers, and there are reports that his campaign is functionally in free-fall as Donald Trump has monopolized the focus of the Republican nomination fight. But this is at least some good news for a candidate who is in clear need of it.