10 Things To Know About Cuban-American Voters
Cubans in the U.S. are far more diverse and dispersed than a decade ago, which is reflected at the ballot box.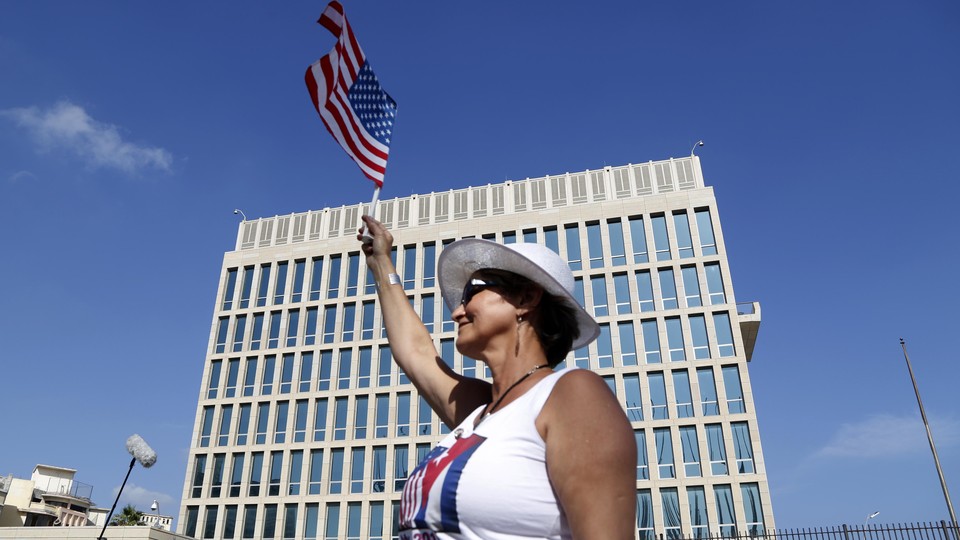 The timing of the renewed ties with Cuba is not accidental. It is due in part to the significant ways the political views of Cuban-Americans have shifted in the last decades. The change gives politicians an opportunity to support the softening of relations, a stance that would have been politically risky with Cuban-American voters a generation ago.
Traditionally, Cuban-American voters have been pegged as universally conservative. That has never been less true than right now.
These are 10 things to know about how Cuban-Americans vote:
1. Their vote is not a given. Just because Republican presidential candidate Marco Rubio is Cuban-American doesn't mean Cuban-Americans would vote for him. A recent Miami Herald poll found Jeb Bush leading Rubio 43 percent to 31 percent among Cuban-American Republicans.
2. They go both ways. Forty-five percent of registered Cuban-American voters surveyed in a 2014 Florida International University poll said they cast ballots for Republican candidate Mitt Romney in 2012, while 34 percent voted to give President Barack Obama a second term.
3. They're split by age. While Republican Cubans might vote for Bush, most Cuban-Americans don't identify as Republican anymore. According to the Pew Research Center, less than half of Cubans living in the United States identified as Republican in 2013, down from nearly two-thirds in 20002. And more than half of Cubans between 18 and 49 lean toward the Democratic Party, compared with 39 percent of those 50 or older.
4. They vote more. According to Pew, Cubans have higher than average voter-turnout rates when compared with the Latino population as a whole. Sixty-seven percent of Cuban-Americans voted in 2012, compared with 48 percent of Latinos overall.
5. Fewer of them hold a political grudge. As the makeup of Cubans in the United States has shifted from those who identify as political refugees to those who come for economic opportunity, Cuban-American views on whether the United States should have political ties with the island have become less hard-line. Nearly 70 percent of Cuban-Americans surveyed in the 2014 Florida International University poll said they would support restoring diplomatic ties with Cuba. That figure jumps to 90 percent among younger Cuban-Americans. Fifty-three percent said they would be likely to vote for someone who supported the re-establishment of diplomatic relations. A new Pew Research Center poll of Americans also found broad support for re-establishing ties, with 73 percent of those surveyed in favor, a 10 point increase from January. Support has increased 16 points from 40 to 56 percent among Republicans during that time.
6. They're mostly over the embargo. Even a majority of Cuban-Americans living in Miami, 52 percent, think the United States should end its embargo of Cuba, according to the survey. That's a sizable shift from 1991, when 87 percent of Cuban-Americans favored the embargo. Americans are broadly in favor of ending the embargo. The Pew survey puts support at 72 percent.
7. They want to fly south. Most Cuban-Americans surveyed—69 percent—in the poll also said they wanted travel restrictions lifted. The vast majority of Americans agree, according to the CBS poll, which found 81 percent of Americans in favor of allowing travel to Cuba.
8. They're pragmatists about sanctions. Seventy-one percent of Cuban-Americans surveyed in the 2014 Florida International University poll think the embargo hasn't worked.
9. They're not a solid GOP voting bloc. As the Brookings Institution notes, more than two-thirds of of the Cubans and Cuban-Americans who live in the United States reside in Florida, and nearly one-in-five Miamians identifies as Cuban. But Cubans now make up less than 30 percent of Florida's Latino voters, and non-Cuban Latinos tend to vote Democratic, along with younger Cubans, which means Republicans do not have a lock on the so-called Latino vote in Florida.
10. They're older than the rest of us. According to Brookings, a greater percentage of Cubans and Cuban-Americans living in the United States is 65 or older than in the general population—17 percent to 14 percent, respectively. Older Cubans are centered in Florida, while younger Cubans are more dispersed. There are sizable Cuban-American populations in the New York and Los Angeles areas, as well.