Youngest Woman Ever Elected to Congress Introduces GOP to Millennials
New York Republican Elise Stefanik holds hearings on "up for grabs" rising generation.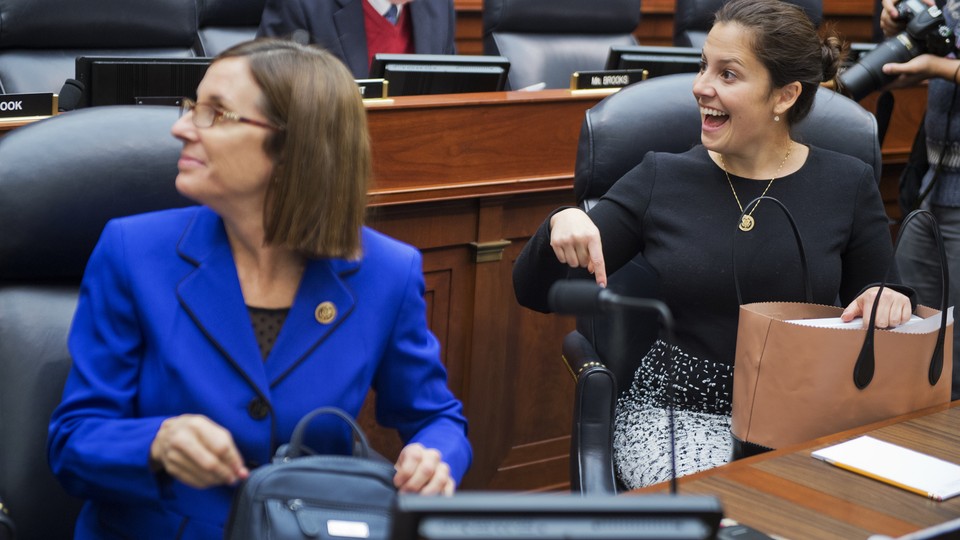 The youngest woman ever elected to Congress wants to introduce her fellow Republicans to a positive, radically disruptive force in politics: her generation.
"In the private sector, we've disrupted entire industries to make sure they're providing the best quality service to customers and the best products. We haven't done that in Congress yet," Rep. Elise Stefanik, from New York, said. "Hopefully, millennials in Congress will bring that spirit of bipartisan solutions to the table."
The 30-year-old Harvard graduate is chairing a hearing for the Republican Policy Committee on Tuesday designed to educate GOP lawmakers about the challenges and opportunities of appealing to young Americans. "Millennials and the GOP: Learning from America's Emerging Leaders to Shape Tomorrow's Republican Agenda" is the first in what Stefanik envisions as a three-part series.
Tuesday's hearing will be a primer of sorts, with a lineup of experts who will describe the demographic, political, and cultural attributes of the nation's largest and most diverse generation. "I want to help Congress put together a vision and set of policies that resonate with my generation," she said.
One of the witnesses is John Della Volpe, the Harvard Institute of Politics pollster who has overseen a 15-year study of millennials. As a Harvard undergraduate, Stefanik served on the student committee that helped write and analyze IOP polling. (Disclosure: Stefanik also served on a panel of students who helped research a book while I served as an IOP fellow in the 2005. I now serve on the IOP board.)
Polling at Harvard and for many other organizations suggests that young Americans are uniquely civic-minded — they volunteer in record numbers, for example — but they're disconnected from politics and government, because they don't think those institutions are a force for good. While strongly supporting Barack Obama in 2008, young Americans seem to be reverting back to their traditional status as a low-involvement, independent-minded voting bloc.
Della Volpe has called President Obama's tenure a lost opportunity.
"Obama had a moment, we all had a moment, between the 2007 and the 2010 midterm elections, to engage the largest generation in U.S. history, and we didn't do it," the pollster said in 2014. "We treated them like any other political constituency, and not like the service-minded citizens they are, and therefore we disappointed millions of Americans."
While millennials favored Democrats in that year's midterms, Stefanik believes there is an opportunity for whatever party adapts to the millennials spirit of bipartisan problem-solving. "My generation is very tolerant and tries to build relationships and build teams," she told me in a telephone interview today.
Stefanik believes, with some support from polling data, that millennials would be open to a rebranded GOP that nonetheless supports limited government and bottoms-up approach to governing. "Millennials are up for grabs if we can actually connect with them on those issues."
She hopes to produce millennial-minded policies in the second and third hearings. While the Republican Policy Committee is an arm of the GOP leadership, Stefanik said Democratic lawmakers are welcome to attend the hearings.
She has already shaken things up a bit. Tuesday's hearing will be live-streamed and has its own hashtag: #GOPFuture.