With Trade Vote Looming, Hoyer Stays on the Fence
The minority whip has defended Democrats on both sides of the issue. Soon he'll have to pick one himself.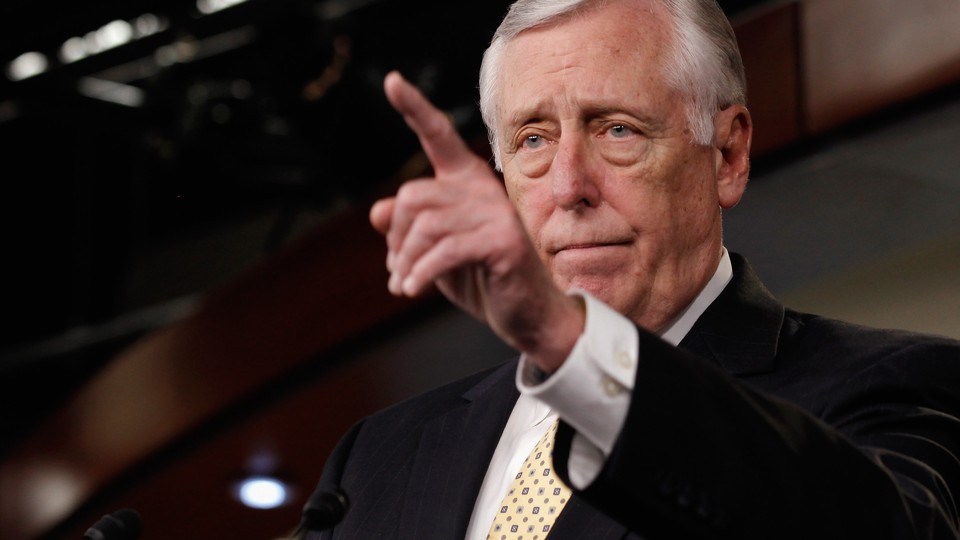 House Democrats' second-in-command is walking a tightrope on the trade legislation that could hit the House floor as soon as this week.
Minority Whip Steny Hoyer has defended the moderate Democrats who have come under attack for supporting the bill, while at the same time downplaying President Obama's struggles with the majority of Democrats who oppose it. All the while, Hoyer has given no signal on how he personally plans to vote.
On the one hand, his support could give cover to enough Democrats to get the bill passed and hand Obama a victory late in his tenure. On the other, it could be tough for Hoyer to vote against the vast majority of his caucus's members—members whose votes he'll need should he run to be their leader someday.
Hoyer says this political calculus plays no part in his thinking. "My vote's going to be made on the substance of what I believe, not on any ramifications that it might have," he said in a Tuesday sit-down with reporters. "I don't mean that it doesn't have ramifications; I presume it does. But nobody's told me anything that would lead me to believe that anybody expects me to cast my vote other than on what I believe."
Both Hoyer and House Minority Leader Nancy Pelosi have largely stayed out of the fray on Obama's bid for Trade Promotion Authority—a measure that would give Congress an up-or-down vote on trade deals but eliminate legislators' ability to tweak or filibuster them. While members have praised the leaders' open-minded, hear-all-sides approach, neither will be able to remain neutral much longer.
Hoyer noted on Tuesday that his record on trade is nearly a mirror image of Pelosi's, even though he is broadly viewed as the more moderate of the two. So far, the two Democratic leaders have kept caucus trade fights mostly internal, avoiding the public battles that have surfaced elsewhere in the party.
When Rep. Alan Grayson called out by name 18 Democratic colleagues for their stance on TPA, he was quickly reprimanded. "I think Mr. Grayson's actions are not helpful and I don't think fair to other members," Hoyer said last week. "I think that members ought to refrain from pressuring their colleagues. They ought to have respect."
He also defended members, including Rep. Ami Bera, who have come under fire from unions and progressive groups for supporting TPA. "Leader Pelosi and I urge members to have respect for one another's positions," he said. "We've also urged our friends in labor to have respect for the decision of members."
This week, he found himself defending the anti-trade Democrats who are opposing Obama. "Democrats are driven much more strongly by the impact on jobs here in America," he said, when asked why Obama's pleas have swayed so few members of his party. "People who are now working are very concerned about the fact that trade bills are not good for them and their job security. Democrats are largely focused on that issue."
Meanwhile, Pelosi has said TPA will need 200 Republican votes to pass. A Pelosi aide characterized that marker as an attempt to put the onus on GOP leaders, minimizing the number of Democrats who have to take a "politically difficult" vote for TPA.
Within the caucus, most members have similarly downplayed trade tensions. Reps. Rosa DeLauro and Barbara Lee—two of the House's most outspoken trade opponents—declined to weigh in on the political fallout for those who support TPA. "I don't think this should be seen as a political vote from any perspective," Lee said.
For now, the White House and anti-trade members are still in persuasion mode. But with pressure building from all sides, Hoyer and Pelosi will soon have to leave one group disappointed—and they might need every bit of the goodwill they've earned by staying out of the fight so far.