Why Hillary Clinton Still Needs Terry McAuliffe
Virginia will be crucial for Democrats in 2016, and its governor is eager to hand Clinton a blueprint to follow.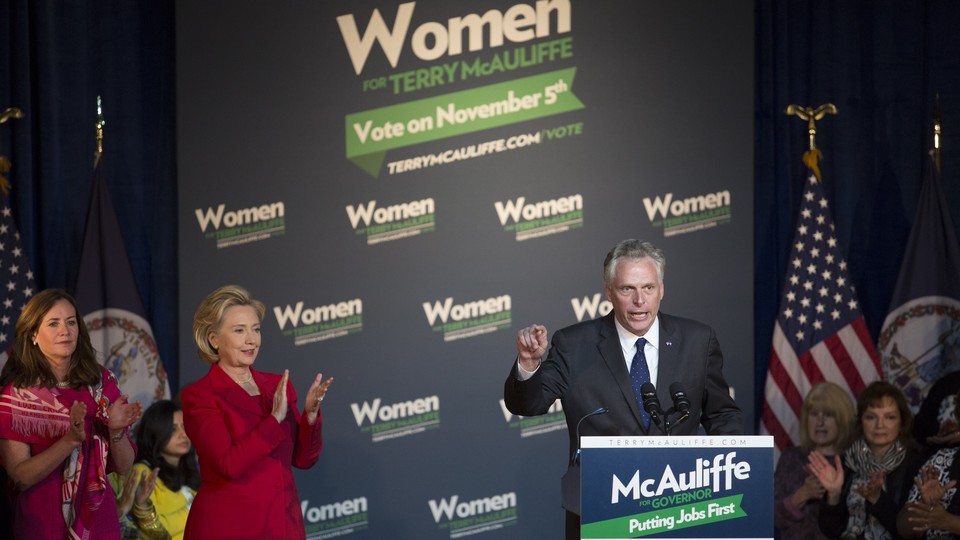 Terry McAuliffe chaired Hillary Clinton's presidential campaign during the 2008 race, and he spent his time doing Terry McAuliffe things: raising untold millions of dollars, jousting loudly on TV with Republicans and, by all appearances, never sleeping.
With Clinton coming to Northern Virginia Friday to headline an event for the state party, McAuliffe is helping her again for 2016, but in a strikingly different role: as the governor of a vital swing state—and a relatively popular one at that—who is more than happy to dispense advice to Clinton and any other Democrats who care to ask.
"In 2007 and '8, I spent 500 days on the road. "¦ I can't do anything like that," McAuliffe said. What he can do, though, is lay the groundwork for next year—he hopes—by winning the Virginia state Senate back this year. Then he can take that political organization, which already overlaps significantly with Clinton's, and put it at her disposal.
"The work we do on the ground for the Senate will immediately flip, become presidential," he told National Journal in an interview earlier this year. "So we're going to do a lot of work this year."
The other way he can help Clinton, McAuliffe argued, is "for me to continue to create jobs. Here is a very pro-business governor who is popular—[that] is a great message. I think if I continue doing what I'm doing and keep people happy and they're happy, that helps her a lot. That really does help her win the state."
Virginia and its 13 Electoral College votes have become a crucial part of Democrats' formula for keeping the White House. The commonwealth is considered a case study for how the party can claw back some of the modernizing New South from Republicans, alongside North Carolina and eventually—Democrats hope—Georgia. A reversal of that narrative in 2016 would be demoralizing for Democrats.
McAuliffe's journey to the governor's mansion has been an odd one. The man who wore a Hawaiian shirt on television, who was linked to some of President Bill Clinton's more unsavory fundraising practices, who had been dismissed as a glorified salesman, now holds the title that once belonged to Thomas Jefferson.
Particularly in the final days of McAuliffe's gubernatorial campaign, when Bill Clinton barnstormed the state with him, McAuliffe held up Clinton's presidency as a governance model he hoped to emulate in Richmond.
McAuliffe didn't just manage—albeit on his second try—to become governor. He's managed to make voters like him. Multiple polls taken this year have pegged his approval rating around 50 percent; Virginians who think he's doing a good job roughly outnumber those who don't by a 2-1 margin.
In McAuliffe's telling, those numbers are the direct result of other metrics—jobs created, deals closed, Virginia exports boosted. The governor's message is incessantly focused on jobs and economic development, and that, he says, is an easy sell that he's happy to share with his peers: "Gina from Rhode Island"—that would be Gov. Gina Raimondo—"called me the other day, asked me how I did it."
Republicans see things very differently. They say the state's economy isn't nearly as vibrant under McAuliffe as he makes it out to be. And if McAuliffe is popular, it's only because he's playing small ball. He's stopped pushing hard for his more controversial proposals, and has little hope of achieving one of his most important campaign planks: expanding Medicaid. In addition to adding low-income Virginians to the insurance rolls, the plan was also meant to free up money from the state budget that McAuliffe wanted to spend on an ambitious education program.
But McAuliffe's hopes ran into an anti-Obamacare GOP wall in Richmond, and his best chance of squeezing the Medicaid plan through dissolved last year when a Democratic state senator, Phil Puckett, resigned under controversial circumstances and flipped the chamber to the Republicans.
He's also mostly avoided fights over divisive social issues, though McAuliffe notes that his election was itself a kind of milestone for a Southern candidate. "It was a very unique campaign for Virginia—gay rights, women's rights. "¦ I called for gun-control legislation. No one's ever run statewide in Virginia and talked about those issues," McAuliffe said.
(McAuliffe did wade into another controversial Southern topic this week, announcing Tuesday that he wants to phase out state-sponsored license plates that include an image of the Confederate flag.)
But he didn't discuss those topics in a vacuum—he is not given to lectures about morality. What he did on the campaign trail, Clinton and other swing-state Democrats might note, was relentlessly link those social issues to economic ones. McAuliffe's biggest selling point, both before and after he was elected, has been his ability to reel big companies into Virginia, just as he's long reeled big donors into the Clinton orbit. Making Virginia inhospitable to women or gay workers, he said, was bad for business.
So does that mean the state is inching inevitably from the purple column to blue? No. President Obama took Virginia in 2008 and 2012, and Democrats have won three of the last four governor's races and four consecutive U.S. Senate contests. But Sen. Mark Warner barely won reelection in 2014, and Republicans—aided by better off-year turnout and gerrymandering—control the General Assembly.
Two April polls—one from Quinnipiac University and another from Christopher Newport University—showed Clinton narrowly leading multiple Republican candidates in hypothetical 2016 Virginia matchups, but the situation inevitably looks different now, with a big, messy GOP field, than it will when there is but one Republican, and both candidates have spent more time in the daily campaign grinder.
"In a presidential year, we're always purple trending blue, because of turnout," McAuliffe said, though that assessment depends on Clinton roughly approximating Obama's astronomical turnout among African Americans and other low-propensity voting groups. That's where he can provide more help: McAuliffe's 2013 campaign borrowed several data wizards from the 2012 Obama effort, and Virginia Democrats have a wide technological and voter-file advantage over their GOP counterparts.
Robby Mook, who ran McAuliffe's campaign, is now doing the same for Clinton. Brynne Craig, who served as McAuliffe's political director, has been on Clinton's staff for more than a year. Michael Halle, who guided turnout operations as head of the Virginia coordinated campaign in 2013, is now working for Clinton in Iowa along with three other McAuliffe alums: Michelle Kleppe, Lenora Hanks, and Kate Cummings. McAuliffe 2013 and Clinton 2016 also share a spokesman, Josh Schwerin, plus several more researchers and digital staffers.
Those advisers, particularly Mook, helped McAuliffe run a far more effective campaign than he did in 2009, and perhaps they can do the same for Clinton in her own second effort. McAuliffe has changed in ways that might be instructive to his friend. He appears to be more organized, more disciplined, and (slightly) less caffeinated.
"You've got to go through this process," he said, adding that this time around, "she is going to be a totally different candidate."