White House Says It's Not Ready to Give Up After Getting Smashed in the House
Josh Earnest says the administration is still hopeful that Trade Adjustment Assistance will pass in a revote next week.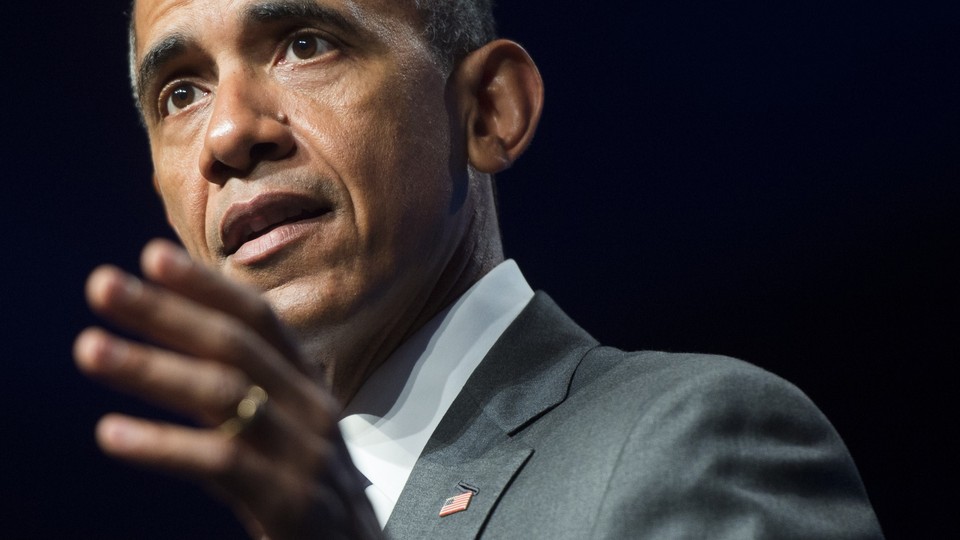 Shortly after House Democrats dealt President Obama's trade agenda an embarrassing blow Friday, Press Secretary Josh Earnest had a decidedly cheerful view of the setback.
"The hardest part has gotten done," Earnest told reporters, asserting that he was "pleased" that the Trade Promotion Authority bill, or fast-track authority, passed in the House.
Less than an hour before, more than 300 House Democrats and Republicans came together to sink Trade Adjustment Assistance, a piece of legislation crucial to the president's trade agenda—and one that's tied to the fate of TPA, which would allow Congress to give a simple up-or-down vote on trade deals such as the Trans-Pacific Partnership. Though TPA passed by a narrow margin immediately afterwards, it still is tied to TAA, which could be put up to another vote next week. Because TAA lost by more than 80 votes Friday, there are no guarantees that a second vote will turn out differently.
Though House rules prevent TPA's passage without TAA, Earnest declined to say directly whether Obama would veto TPA without TAA.
But Earnest said the White House is confident that TAA will pass in a revote. Calling the impediment—specifically, the crafty pairing of the two bills—"the hallmark of a legislative procedural snafu," he said the administration still can make a strong case for passing TAA.
"We're going to go and make the case to them that they should support a policy that they have strongly supported in the past," Earnest said. He argued that those Democrats who voted against TAA Friday had made their point, and could be convinced to swing their votes next week.
The outpouring of votes against TAA wasn't quite the bipartisan effort the president had hoped for.
Obama tied the trade agenda to his legacy, and campaigned fervently to convince House Democrats to support the fast-track bill over the past few months. He ramped up the effort in the past 24 hours, abruptly visiting the Congressional baseball game at Nationals Park on Thursday night (tweeting this gem) and even visiting Capitol Hill on Friday morning to deliver a last-minute plea to a Democratic caucus meeting.
"The president had a productive visit with the House Democratic caucus today," Earnest said. "And he delivered a very strong case about helping those Democratic Members of Congress understand" why TPA is important.
But Obama's closed-door talks with Democrats didn't move the needle far enough. Announcing her "no" vote in a nervous and meandering floor speech just before the vote, House Minority Leader Nancy Pelosi hammered the final nail in the TAA coffin, subverting the White House's very public pleas to support both bills and providing a model for others in the caucus to follow.