White House Isn't Pressuring Companies to Stop Selling Confederate Flag Merchandise
But press secretary Josh Earnest said Tuesday the president welcomes the decisions from Wal-Mart and eBay to do that.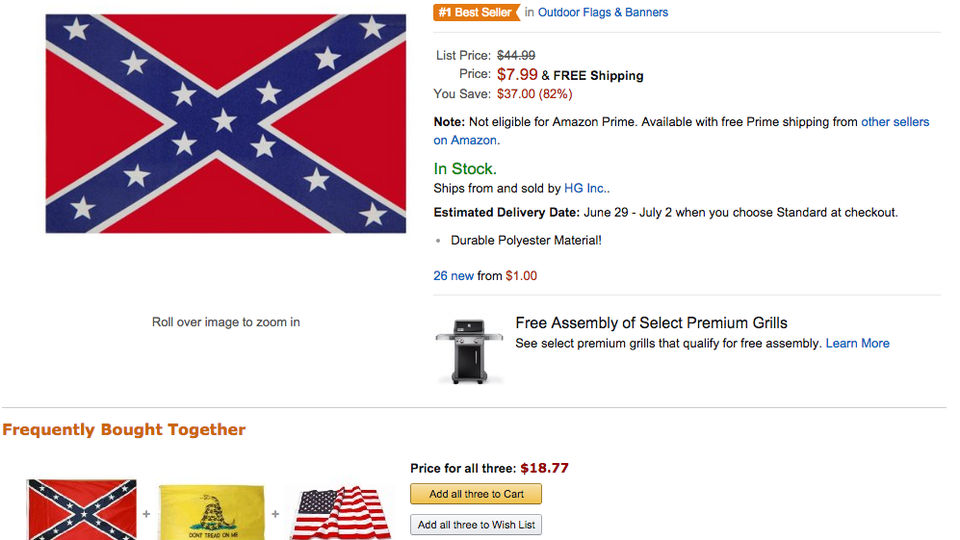 Amazon reportedly joined other top retailers Tuesday and said it will not sell Confederate-flag string bikinis, along with other merchandise bearing the battle-flag image.
While the White House welcomes that decision and others like it, press secretary Josh Earnest said Tuesday that it's up to the company.
"Obviously, this is a decision for individual businesses to make," Earnest told reporters.
Wal-Mart, Sears, and Kmart announced Monday that they would stop selling products bearing the image of the Confederate flag. Tuesday, Amazon followed suit, as did online auctioneer eBay, which announced it would ban the sale of the battle flag and all products bearing its image.
In the last 24 hours, sales of the Confederate flag were up 3,620 percent, according to Amazon.
"The announcements from Wal-Mart and Sears are certainly consistent with the kind of position that the president has taken when it comes to the Confederate flag," Earnest said Tuesday of President Obama's stance that the flag belongs in a museum. "And so we welcome those decisions, but obviously those are decisions that should be made by individual businesses."
The actions come after a white-supremacist gunman killed nine worshippers at a black church in Charleston, South Carolina, last week. After the shooting, photos surfaced showing the 21-year-old posing with Confederate flag images, sparking a renewed debate over the legacy of the Southern symbol. On Monday, South Carolina Gov. Nikki Haley called for the flag's removal from its perch in front of the statehouse building in Columbia, explaining that "the events of this week call upon us to look at this in a different way."