In South Carolina, the debate over whether a Confederate battle flag should fly on its Capitol grounds is serving as a reckoning of its Southern pride with the more racist elements of its history.
That debate is now spilling over into Mississippi, which faces a much larger potential identity crisis.
In Mississippi—the state with the highest proportion of African-American residents—Confederate symbols are incorporated directly on the state flag, which flies in public view in front of courthouses, schools, and other civic institutions. According to the Mississippi code of laws, "The state flag shall receive all of the respect and ceremonious etiquette given the American flag."
In the wake of the Charleston church shooting, state lawmakers in Mississippi are reconsidering whether these Confederate symbols should be held in such high regard.
On Monday night, Philip Gunn, Mississippi's Republican speaker of the House, called for a new flag. "As a Christian, I believe our state's flag has become a point of offense that needs to be removed," Gunn said in a statement. "We need to begin having conversations about changing Mississippi's flag."
Mississippi has had these conversations before. In 2000, after the state's Supreme Court found the flag was inadvertently repealed by a technicality in 1906, the governor appointed a 17-member commission to design a new flag to be put to a vote on a ballot referendum. (See the proposed design below. The commission chose to replace the Confederate battle flag with a circle of 20 stars, to represent the fact that Mississippi was the 20th state admitted into the union.)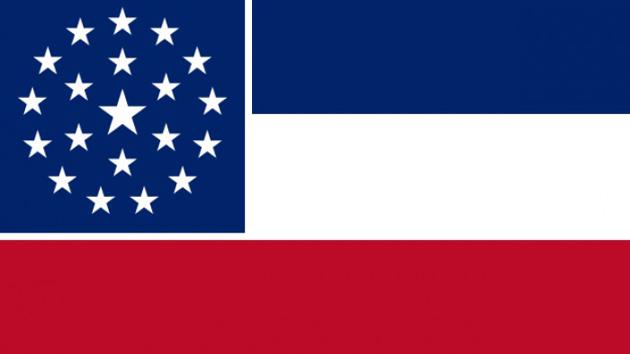 The results were clear: 64 percent chose to keep the design that still flies. "The state is two-thirds white and one-third black, just like the vote split on the flag," a 2001 Los Angeles Times account of the vote noted.