What Republicans Would Give Up to Continue Their Obamacare-Repeal Crusade
The party appears ready to use a technique that would put a repeal bill on Obama's desk, but some are fretting over what it will cost them.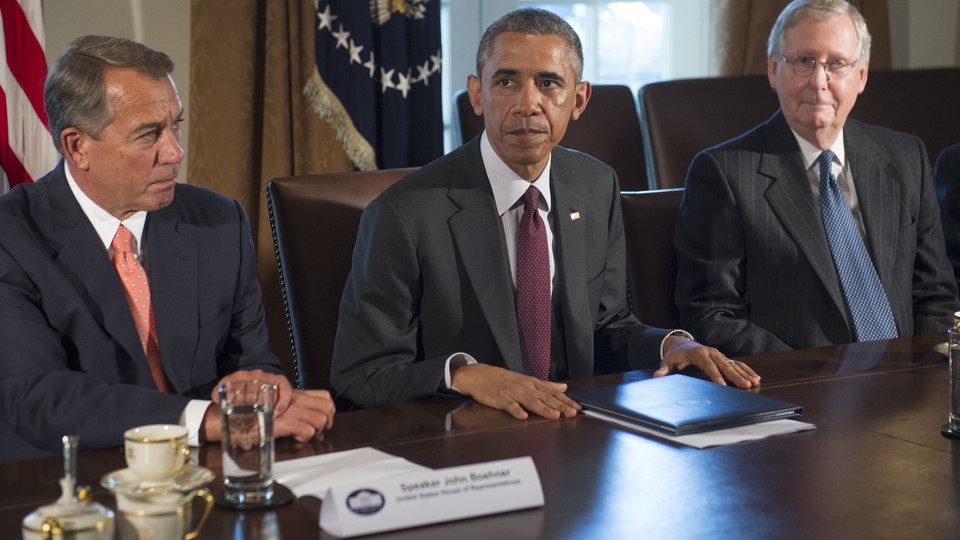 Despite having their Supreme Court hopes dashed, Republicans see a Democrat-proof plan to put an Obamacare-repeal bill on the president's desk. But they still lack a way to overcome President Obama's guaranteed veto, and some in the party are concerned about what another quixotic repeal quest would cost them.
Republicans are looking at using budget reconciliation to repeal some of the health care law's most important features. They included broad reconciliation language related to Obamacare in the budget resolution that passed earlier this year, setting them up to use the move later on. The benefit of the reconciliation is that it can't be filibustered, leaving Senate Democrats without a way to kill the measure.
That's as far as the measure would go: Obama would veto it, and Republicans can't overcome that. But getting the measure that far seems to be enough for some of the GOP's leading voices.
Budget reconciliation, which allows measures to avoid the 60-vote threshold in the Senate, wouldn't allow for full repeal of the Affordable Care Act because it is restricted to spending and revenue provisions. But Republicans could still use it to gut some of the law's central elements.
Using reconciliation to pass Obamacare repeal "has been the plan through the budget discussions, and that is the plan now," Senate Majority Whip John Cornyn said after the Court decision. "We are going to vote to repeal as much of Obamacare as we can. That is the plan. This is not fixable."
House Budget Chairman Tom Price also said after the Court's ruling that he expected Congress to use the process to repeal as much of the ACA as it could. "I would anticipate that we would move in the direction of repealing all of Obamacare that can be repealed through reconciliation," he told reporters.
But if Republicans opt to use reconciliation to go after Obamacare, it means they likely won't be able to use the process to pass something that might actually have a chance of becoming law.
No Republican is likely to vote against repealing the law they hate more than any other, but Rep. Tom Cole, a deputy Republican whip, lamented that the GOP would be forgoing the opportunity to pass something else that would not be dead on arrival when it reaches the White House. "I certainly would favor the repeal of Obamacare, but he's not going to sign that," Cole said. "So to me, it makes more sense to put something that Democrats won't support that he might sign on his desk."
Specifically, Cole named more Medicare means-testing and changes to the way Social Security's benefits are indexed as proposals that Republicans could pursue instead and that Obama might consider approving.
"Both of which would help the country in terms of making it fiscally more secure," said Cole, who made a point to say that the decision largely rests with Senate Republicans. "So why not put something like that, which you might be able to talk the president into, as opposed to something you absolutely won't?"
Others, like Sen. John Thune, have expressed a similar sentiment in the past.
"I'd like to get tax reform done. I think we could do infrastructure in that process. And I think that's something that could actually get enacted.... I mean, we're going to have a lot of Obamacare votes one way or the other," Thune said in January, according to the Associated Press.
The South Dakota Republican did, however, say Thursday after the Court ruling that the Senate "remains committed to repealing this fundamentally broken law and replacing it with patient-centered reforms that work for the American people."
Some members were skeptical that any such compromises could be reached with the White House anyway. "I don't know that he's going to sign anything that we do on reconciliation that would benefit anybody," said Republican Rep Lynn Westmoreland.
And if Republican leadership passed on a reconciliation-to-repeal plan, they'd likely face a revolt from some of the party's most conservative members—a struggle similar to the 2013 fracas in which Sen. Ted Cruz pushed his party to shut down the government unless Democrats agreed to void the law.
Cruz pushed for another repeal effort Thursday. "Absolutely, we should use reconciliation to repeal Obamacare, to place it on President Obama's desk and to force him to veto it," the Texas Republican told reporters. "Because we promised the American people, and it's important that we actually honor the commitments we made to the voters who elected us."
Neither House Speaker John Boehner nor Senate Majority Leader Mitch McConnell committed to using reconciliation to repeal the law after the Court's ruling, though that doesn't mean that they won't. Boehner said at a press conference that Republicans had spent the last few months expecting to win the King v. Burwell case and so they were still adjusting to the new reality.
"Most of the discussion so far was if the Court ruled against the administration in King v. Burwell what the response would be," Boehner said.
Senate Democrats, on the other hand, aren't too concerned with what Republicans decide to do with reconciliation—although they do have a bit of advice: "They can do whatever they want to do. I think they should get real and forget about Obamacare," Minority Leader Harry Reid told reporters at a press conference. "I think they should do something that has some lasting impact, not something the president will veto."
Some Democrats had hoped that the Supreme Court's decision would create a political detente in which the two parties could work together to make some changes to the law. Sen. Heidi Heitkamp said she had a list of changes she'd like to see that Republicans might be interested in getting on board with.
Democratic Whip Dick Durbin said he'd entertain "the restaurant issue," the number of employees and how many hours they work—thresholds that trigger the law's employer mandate.
"I hope we can get beyond this confrontational approach to this bill and we can sit down and do something constructive on a bipartisan basis. I think there are parts of the bill that can be improved and changed, and I hope Republicans will now be willing to talk to us," Durbin said.
If repeal by reconciliation, however, is still the Republican game plan, the optimism starts to evaporate.
"When they are talking about introducing an amendment to repeal Obamacare, I don't know where that advances any of this," Heitkamp said. "I like to say it has been on pause waiting for this decision. The pause button has been lifted. Now it is time to talk about what we need to fix."
---
Fawn Johnson contributed to this article