What Congress Wants to Hear From Pope Francis
Lawmakers are anxious to hear what Francis will say, but they won't tell him what to do.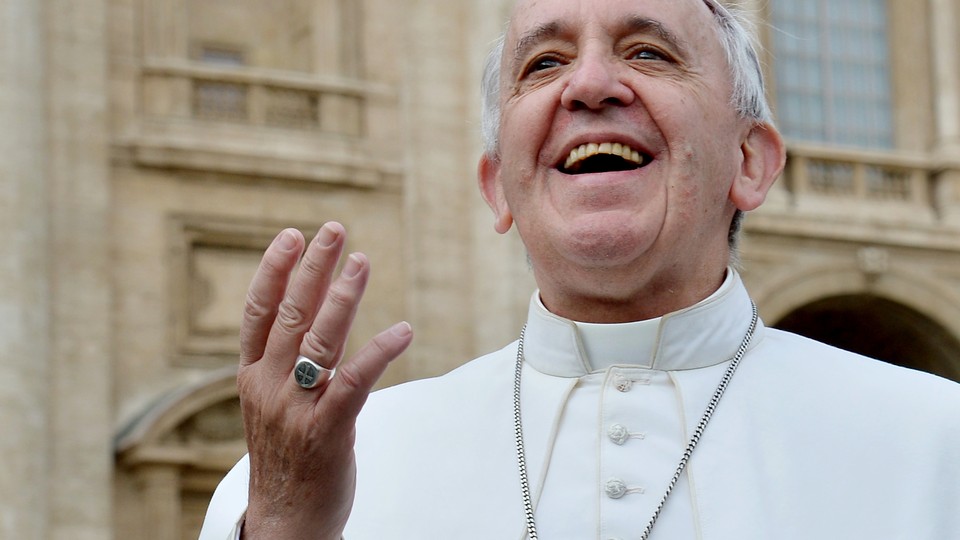 The pope has an audience that's ready and waiting on Capitol Hill.
Lawmakers of both parties and all religions are anxious to hear what Pope Francis has to say when the Vatican officially unveils an encyclical — a rare and powerful Vatican statement — on the environment on Thursday.
With the climate debate calcified — Democrats and the White House continue to push for action to curb greenhouse gases, while Republicans battle environmental regulations and question the causes of climate change — there's even hope that the document might change the conversation around energy and global warming.
A draft that leaked earlier this week calls on governments to curb the use of fossil fuels and rein in carbon pollution to stave off the worst impacts of global warming. That's no surprise, but what else the pope has to say on the environment will make for interesting reading and could have a major impact going forward.
"We hope that the pope gives recommendations on what he thinks we can do," said Sen. Barbara Mikulski in an interview. The Maryland Democrat added that she hopes the pope will look at how people are affected by climate change. "I think that's what we're going to hear, not only on land and rising water, but also its true impact on people."
Senate Minority Whip Dick Durbin of Illinois said that he hopes the pope's message may help make climate change a less divisive and partisan issue, adding that "if he inspires us to consider policy, that will be a very successful effort."
Given the early reviews, even the pope won't be able to slice through the partisanship on climate change.
The leaked draft of the encyclical firmly states that climate change is caused by greenhouse-gas emissions linked to human activities. The vast majority of scientists agree with that claim, but Republican skeptics on Capitol Hill say that the science is far from settled.
Rep. Steve King of Iowa, a practicing Catholic, said he wasn't sure this is an area in which the church should be engaged.
"When you talk about unpredictable science, I have to ask where's the nexus between that and the theology of the Vatican?" King said. "I've studied the science "¦ and I doubt the pope is going to embrace my position. But this is science, not theology."
"I don't agree with the pope," said Sen. James Inhofe of Oklahoma, chairman of the Senate Environment and Public Works Committee and one of Congress' most outspoken climate skeptics. "I'm not a Catholic, but I've got a lot of friends who are, who are wondering: Why all of a sudden is he involved in this? I don't have the answer for that.
"I can't crawl in his mind. He has the right to say anything he wants, but that doesn't change the lack of science," Inhofe added.
The pope has made clear that he hopes his encyclical will pave the way for a strong climate deal later this year when diplomats descend on Paris for United Nations talks.
Sen. Roger Wicker of Mississippi, another climate skeptic, is wary of any kind of international climate deal on par with the Kyoto Protocol, a global treaty that committed industrialized nations to fighting global warming by reining in greenhouse-gas emissions but did not require developing nations such as China to do the same.
"I don't know what the encyclical is going to say, but basically if it advocates a Kyoto-type approach to climate change, I think a lot of needy humans are going to be put out of work," said Wicker. "It concerns me when someone who has a lot of credibility and goodwill takes a position that I think may end up harming people."
By contrast, Democratic Rep. Raul Grijalva, the ranking member on the House Natural Resources Committee, said the document should have a global reach, especially by focusing on the impact on developing countries. With Francis' focus on the poor, Grijalva said the document could lead to meaningful impacts for communities devastated by climate change.
"We're talking about a worldwide reaction to his speech, not just in the United States," Grijalva said. "In the Third World and developing countries, that's where the destruction is occurring. By being an encyclical, it becomes part of the agenda for the pope and the Catholic Church."
And while some Republicans are wary of what the pope might say, others will watch with curiosity and interest.
"I hope he talks about balance — you know, the need for us to have healthy economies, including in developing countries, in addition to addressing environmental concerns," said Sen. Rob Portman of Ohio. "I think they go hand in hand. If you look at the countries that have the best economies, they tend to have the best environmental records as well."
Sen. Thom Tillis of North Carolina said he is "looking forward to reading" the encyclical, adding: "It'll be interesting to read it so I can get some sense of what we're talking about, how it fits with what we're trying to do here, with how to get the environment right but also get public policy right."
Rep. Marcy Kaptur, an Ohio Democrat, said the true impact of the encyclical won't be felt just by influencing the U.N. talks or changing the minds of a few skeptics, but will stretch for generations.
"I doubt it will have a major impact in a chamber like this," Kaptur said, gesturing to the House floor. "But over time, it will. His words will outlive any Congress or any set of political interests, any set of monied interests. This is a statement of values and principles that is philosophical as well as factual."
But some members are looking to the immediate future and hoping that the encyclical can shake up the way Washington deals with climate change and energy.
"I think it will change the debate by lending a moral aspect to it, by bringing discussions into parishes and Catholic schools and universities and societies across the country," Sen. Sheldon Whitehouse, D-R.I., said in an interview.
Sen. Cory Gardner, R-Colo., suggested that the pope's encyclical might even create momentum for a push in Congress to pass comprehensive energy legislation, an effort currently underway in the House and Senate.
"A lot of people have argued that Congress doesn't have a prayer when it comes to passing legislation this year on national energy policy, so maybe this will help us out," Gardner said, while warning that "we can't pursue policies that will hurt our economy."