What Are States With Same-Sex Marriage Bans Doing Now?
While some states' attorneys general have agreed the Supreme Court's decision is final, others are more reluctant to accept.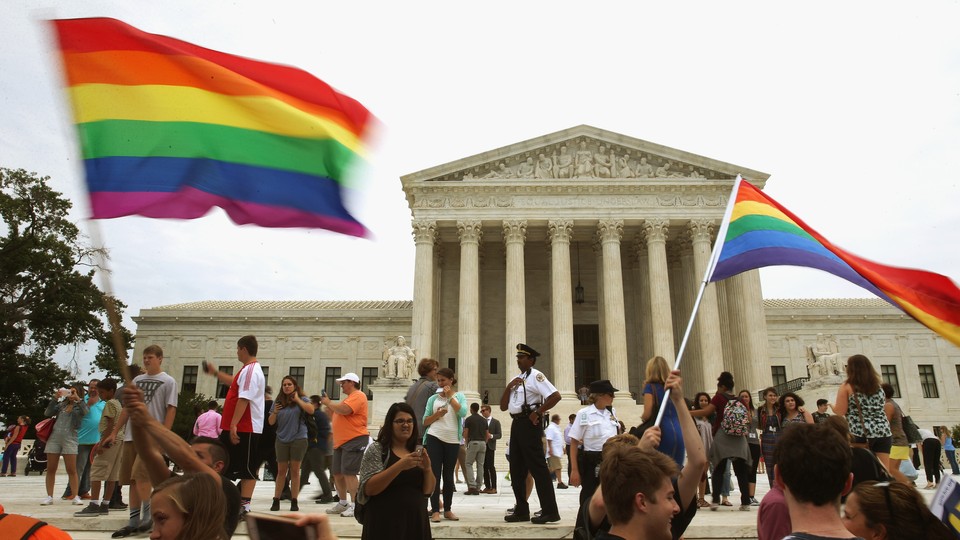 With the Supreme Court's 5-4 ruling Friday morning, same-sex marriage is legal nationwide. For the 36 states, plus the District of Columbia, where such unions are already permitted, the ruling is cause for celebration for the LGBT community, and won't have any actual effect.
But what about the 14 states where gay marriage hasn't been fully implemented—where there are laws banning it, for example, or it's in legal limbo? Governors and attorneys general are facing a decision: Will they abide by the Court's ruling, or will they try to fight it?
Here's what top executives and law enforcement in those 14 states are saying about the historic decision.
Alabama
Like many of his fellow attorneys general, Alabama's Luther Strange is against Friday's decision, according to a local ABC affiliate. But he acknowledges "that the U.S. Supreme Court's ruling is now the law of the land. Short of the passage of a constitutional amendment protecting marriage as between one man and one woman, the U.S. Supreme Court has the final say."
Like many in the GOP—including the party's presidential contenders—Strange emphasized the importance of religious freedom, and said he'll defend Alabamians who act according to their beliefs.
Arkansas
In 2004, same-sex marriage was banned in Arkansas via constitutional amendment. On Friday, state Attorney General Leslie Rutledge acknowledged that the Supreme Court's ruling overturned it.
"I am disappointed that the justices have chosen to ignore the role of the states to define marriage," Rutledge said in a statement. "The justices have issued a decision, and that decision must be followed."
Georgia
"Once the Supreme Court has ruled, its order is the law of the land," Georgia Attorney General Sam Olens wrote in a memo Friday, according to the Gwinnett Daily Post. "As such, Georgia will follow the law and adhere to the ruling of the Court."
He added that "state agencies and employees should immediately review their current practices related to their agency's function and benefits and ensure that their practices conform to the current state of the law."
Kentucky
The ball's already rolling in Kentucky, where Democratic Gov. John Beshear has told county clerks statewide to start issuing licenses. According to the Associated Press, Beshear sent the directive to 120 clerks, who will be receiving gender-neutral marriage forms to use going forward. As the AP notes, Beshear previously defended the state's gay marriage ban. He had to hire outside counsel to argue for the ban in court after the attorney general refused to do so. Beshear's reasoning for backing the ban? He thought the Supreme Court should make the ultimate decision on same-sex marriage legality.
Louisiana
In Louisiana, another state with a constitutional same-sex marriage ban, Republican Attorney General Buddy Caldwell said the state will wait before it starts issuing marriage licenses.
According to the The New Orleans Advocate, the attorney general's office said in a statement that it "has found nothing in today's decision that makes the Court's order effective immediately." Instead, the "office will be watching for the Court to issue a mandate or order making today's decision final and effective and will issue a statement when that occurs."
According to the Advocate, many county clerks in the state are waiting to hear more from Caldwell before they start issuing licenses.
Michigan
Bill Schuette, the state's Republican attorney general, kept things brief in his statement about Obergefell v. Hodges: "We will honor, respect and uphold the decision of the Supreme Court of the United States. We are appreciative that a decision finally has been reached in this very significant issue." He wasn't so zen when it came to the Court's Obamacare ruling yesterday.
Mississippi
Democratic Attorney General Jim Hood said same-sex marriage "is not effective immediately in Mississippi." Last year, a district judge overturned the state's gay marriage ban. Since then, a stay has prevented marriage licenses from being issued.
"It will become effective in Mississippi, and circuit clerks will be required to issue same-sex marriage licenses" when the stay is lifted, Hood said.
"This could come quickly or may take several days," he said. "The 5th Circuit might also choose not to lift the stay and instead issue [an] order, which could take considerably longer before it becomes effective."
Gov. Phil Bryant, a Republican, said the Supreme Court "has mandated that states must comply with federal marriage standards—standards that are out of step with the wishes of many in the United States and that are certainly out of step with the majority of Mississippians."
Missouri
Both Missouri's governor and attorney general are Democrats, and they came out strongly in favor of the ruling. Missouri's constitution has banned same-sex marriage since 2004.
"The history of our country has always been one of moving toward inclusion and equality," Missouri Attorney General Chris Koster said in a statement. "I applaud the Court for their courage and strong sense of fairness. Missourians should be seen as equals under the law; regardless of their gender, race, or whom they love."
Gov. Jay Nixon concurred in a statement: "In the coming days, I will be taking all necessary and appropriate actions to ensure this decision is implemented throughout the state of Missouri."
Nebraska
In Nebraska—which the Associated Press said "has had one of the most restrictive same-sex union bans in the country"—Attorney General Doug Peterson criticized the Supreme Court, saying justices had crafted a "new constitutional right based upon sexual choices." But he affirmed that "[r]ecognizing the rule of law, the State of Nebraska will comply with the ruling" and state officials "will not enforce any Nebraska laws that are contrary to the United States Supreme Court's decision in Obergefell." Governor Pete Ricketts similarly said the state will "respect" the Court's ruling.
Marriages licenses already are being issued in some counties.
North Dakota
Republican Attorney General Wayne Stenehjem acknowledged that the Supreme Court "overrides any conflicting state, constitutional, or statutory provision," according to the Grand Forks Herald. In 2004, 73 percent of North Dakota voters approved a state constitutional amendment that banned same-sex marriage.
North Dakota Gov. Jack Dalrymple, also a Republican, issued a similar statement. "The U.S. Supreme Court has ruled that same-sex marriage is legal throughout the nation and we will abide by this federal mandate," Dalrymple said, according to the Herald.
Ohio
Based on Gov. John Kasich's reaction to the Friday ruling, his administration won't try to defy the Court's decision. "I've said all along that when the Court makes a decision, we abide by the law of the land," he said. "And they made their determination and—just move on. It doesn't mean I'm not disappointed, I am, but the decision has been made."
His attorney general, Mike DeWine, said that while "Ohio argued that the Supreme Court should let this issue ultimately be decided by the voters, the Court has now made its decision." Indeed, marriage ceremonies already have begun in the state.
South Dakota
In South Dakota, officials will immediately adhere to the Court's ruling, said Attorney General Marty Jackley, who personally opposed the decision. But county officials, he said, may need some time before they can start issuing marriage licenses, depending on their jurisdiction's size. Ahead of the ruling, Gov. Dennis Daugaard said he believes same-sex marriage should come "through the democratic process, rather than the courts," but would follow the Court's decision, according to the Rapid City Journal.
Tennessee
Just hours after the Supreme Court decision, same-sex couples were married in Nashville, according to The Tennessean. Gov. Bill Haslam, a Republican, said in a statement that Tennessee will "comply with the decision and will ensure that our departments are able to do so as quickly as possible." According to The Tennessean, "an email went out to county clerks about 10:30 a.m. saying they did not need to wait for more directives."
Texas
Before Friday's ruling, Republican Attorney General Ken Paxton was well-prepared: He advised county clerks ahead of time not to start handing over marriage licenses to same-sex couples until his office issued specific instructions. The Texas Tribune reports that Paxton's office plans on releasing such guidance later Friday afternoon.
"No court, no law, no rule, and no words will change the simple truth that marriage is the union of one man and one woman," Paxton said in a statement shortly after the ruling was announced. His state has had a constitutional gay marriage ban since 2005. He called the ruling "a radical departure from countless generations of societal law and tradition."
However, many county clerk offices are not waiting for Paxton's directions. According to The Statesman, one clerk in Travis County, which encompasses Austin, started issuing marriage licenses at 10:30 a.m., just minutes after the ruling was made public.