What a Top Wisconsin Democrat Learned From Scott Walker
And his warning to the rest of the GOP's 2016 field.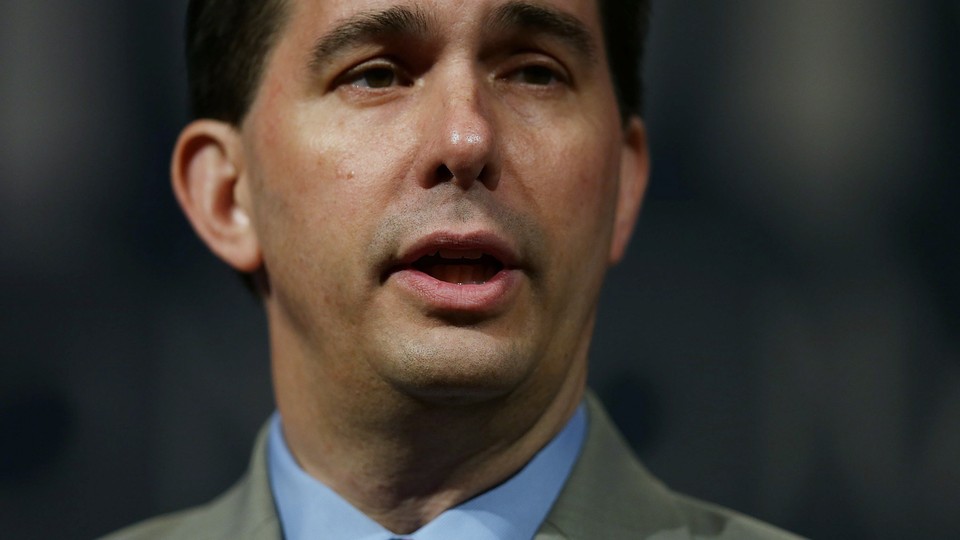 MILWAUKEE—Few state party chairs have ever had a tenure like Mike Tate. The man who led Wisconsin Democrats for the past six years watched his party lose to Scott Walker in three elections, including a recall of their own making. He watched a liberal icon, then-Sen. Russ Feingold, lose to a tea-party-backed Republican, Ron Johnson. And most consequentially of all, he watched the Walker-led GOP break the traditional backbone of the Democratic Party—unions—in a set of once-unthinkable legislative actions.
There have been successes during the past years, too, as Tate pointed out during his farewell address to the party on Friday. But few Democrats know better about the deep setbacks the party has suffered in the states since President Obama took office. For all the legislative success the party has enjoyed at the federal level, Republicans have had major policy victories of their own in statehouses across America. And many times, their success was enabled by the public's antipathy toward Obama's and the Democrats' national agenda.
The 36-year-old sat down with National Journal to talk about his years as party chairman a day before he officially ended his chairmanship, which began in 2010 when he was just 30. What follows is an edited transcript of that conversation, in which Tate discussed whether race played a role in the backlash to Obama, how unions can regain their strength, and why Democrats would be fools to underestimate Scott Walker.
(RELATED: He Shall Not Be Moved)
NJ: You've been chairman for all of Scott Walker's time as governor. What's it been like?
Tate: It's been a wild ride. It's probably some of the most historic times Wisconsin has ever seen. I take the long view. Obviously, there's been some tough losses. But if you told people six years ago that Tammy Baldwin would be in the United States Senate, they wouldn't have believed it. I'm proud of the role we played in helping reelect the president; I think that's a really key thing. Especially if you realize that came just a few months after we lost that recall election to Scott Walker.
But clearly we've had some tough defeats.
What's it been like in a state like Wisconsin?
Obviously we've seen this, and I think it's always easy to say this in the moment, but I don't know that there's ever been a more vitriolic reaction to a sitting president. Obviously, you go back to President Clinton, and you know, there was all this, 'Oh, the Republicans hate him' and everything else. And with President George W. Bush, 'Oh, the Democrats hate him,' and there's all this antipathy and everything else.
I just feel like this is a different level. And maybe history will render a different judgment on that, but I think that we've really seen this sort of reactionary pushback to the president. And look, on some level, it's absolutely racially motivated. Without question. But I think it is too shortsighted for that to be the only answer, the easy answer.
(RELATED: Trouble Ahead, Trouble Behind for GOP's 2016 Governors)
Is it as simple as racism on the part of some people who oppose the president?
Let me be really clear: I don't think there is anyone in America that would or should disagree that racial tension plays a role in the antipathy we see toward the president. But I think that's almost too easy an answer. I really do.
I remember back to '09 when he got sworn in. I knew people, there were stories about this at the time, people who were Republicans at that time, people who voted for John McCain, who felt a sense of pride, a sense of accomplishment, that, 'Hey, you know what, this may not be my guy or my party, but we made history here, this is a step forward for this country.' A lot of those people have gone on to be very vitriolic toward the president, and I don't think it's because of his skin color.
The changing demographics of this country have a lot to do with it. There's sometime in the very near future, where we're going to a majority minority country. As much you could read racial tension in there, I think it's more people are always afraid of change.
How did Scott Walker keep winning in Wisconsin?
I'll preface this by saying that there are Republicans who I just disagree with, but who I think are good people, patriots, and get up every day and do what they think is the right thing. I think Paul Ryan has a strong moral compass. It may point in the opposite direction as mine, but I believe he gets up every day and does what he thinks is best.
(RELATED: Scott Walker Digs in on How His Experience With Unions Shows He Won't 'Back Down' to ISIS)
I think Scott Walker has no moral center. I think he has no moral compass. And one of the reasons that has allowed Walker to succeed is his ability to let it blow in the wind. This is a guy who is about to sign a 20-week abortion ban, who ran an ad in the governor's race "¦ who made it seem like he's a pro-choice governor. It's the audacity he has.
I do think, as much as people hate to hear this, for a guy who has thrived on being underestimated his whole career, he has some real talent.
Could he win the presidency?
I don't think he has the caliber or the qualification or the capacity to be a good president of the United States. Do I think he can be the nominee, and he can mount a serious and credible campaign? Absolutely.
What would you tell the Clinton campaign if they asked for your advice about Walker?
Don't take this guy lightly. He's extremely effective. This is a guy who is able to walk the walk of a guy who says, 'Ahh geez, shucks, I just bought this sweater for $1 at Kohl's,' but is able to go into the most far right organizations and communicate with them that he's their guy. I think Scott Walker on the ticket would be a motivator for the Republican base in a way Mitt Romney wasn't, and a way John McCain wasn't.
With that said, I think Hillary still wins.
What about the emails?
I don't think [average] people care at all where Hillary Clinton kept her email. And I don't think those people care at all where money came from for the Clinton Global Initiative, which by the way, has been one of the most important driving forces of humanity around the world in the last century.
I get that it's what we talk about at this point in the game. And I think it's fair game. But I think the fact that these issues are being litigated now means a year from now we won't be talking about them at all.
How important are labor unions still to the Democratic Party?
Incredibly important. Despite anything that's happened and what anyone says, I actually think, I've always believed that organized labor is the backbone of the Wisconsin Democratic Party.
How does labor regain its strength?
If you go through history, there's been periods when labor and capital have been at odds with each other. And there always come these periods of time when capital sort of gets a head up on labor. And what it takes is, it goes on for a period of time and people become frustrated and dissatisfied, and they work and they work, and one leader comes around and crystalizes the movement, and we see forward progress. That may be a long way of saying I don't have specifics to your question. But what I'm telling you I believe is, despite shrinking numbers, labor unions are more important today than they were 10 years ago. That we're going to see resurgence in organized labor.
But let me be very clear, and I'd say this to my friend in organized labor: Their business model needs to adapt and evolve.