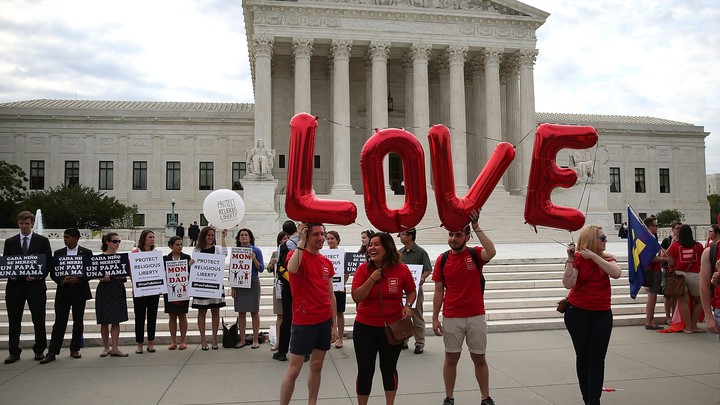 The Supreme Court ruled Friday that same-sex couples have the right to marry in all 50 states. And members of the 2016 presidential field have a lot to say about it. While most candidates (or presumed candidates) weighed in soon after the ruling, a few of them—including Sen. Rand Paul—have yet to make a public statement about the Court's decision.
SUPPORTING THE RULING
Proud to celebrate a historic victory for marriage equality—& the courage & determination of LGBT Americans who made it possible. -H

— Hillary Clinton (@HillaryClinton) June 26, 2015
Proud. pic.twitter.com/9J44PCYeuQ

— Hillary Clinton (@HillaryClinton) June 26, 2015
"This ruling is an affirmation of the commitment of couples across the country who love one another," Clinton said in a statement. "It reflects the will of the vast and growing multitude of Americans who believe that LGBT couples deserve to be recognized under the law and treated equally in the eyes of society."
But she said the "struggle" isn't yet over:
"[W]hile we celebrate the progress won today, we must stand firm in our conviction to keep moving forward," she said. "For too many LGBT Americans who are subjected to discriminatory laws, true equality is still just out of reach. While we celebrate today, our work won't be finished until every American can not only marry, but live, work, pray, learn, and raise a family free from discrimination and prejudice."
So grateful to the people of MD for leading the way on this important issue of human dignity and equality under the law. #MarriageEquaility

— Martin O'Malley (@MartinOMalley) June 26, 2015
Reminded of Will and his moms on the day we passed marriage equality in MD. There's no greater human right than love. pic.twitter.com/xg5X0HhP2j

— Martin O'Malley (@MartinOMalley) June 26, 2015
"Today, the Supreme Court affirmed that marriage is a human right—not a state right," O'Malley said in a statement. "I'm grateful to the people of Maryland for leading the way on this important issue of human dignity and equality under the law. The American Dream is strongest when all are included."
(RELATED: Watch These Two GOP Presidential Candidates After the Supreme Court's Gay Marriage Decision)
In contrast to Clinton's mixed record on gay marriage, Sen. Bernie Sanders has been a champion of the cause for most of his political career. In 1996, he voted against the Defense of Marriage Act, and he voted for same-sex marriage legalization in 2009.
"This decision is a victory for same-sex couples across our country, as well as all those seeking to live in a nation where every citizen is afforded equal rights," Sanders said in a statement. "For far too long, our justice system has marginalized the gay community, and I am very glad the Court has finally caught up to the American people."
Congratulations to Supreme Court on today's good ruling for marriage equality! #chafee2016

— Lincoln Chafee (@LincolnChafee) June 26, 2015
AGAINST THE RULING
The presidential candidate and former Florida governor took a relatively moderate tack compared to his fellow GOP contenders on the ruling.
"Guided by my faith, I believe in traditional marriage. I believe the Supreme Court should have allowed the states to make this decision," Bush said in a statement. "I also believe that we should love our neighbor and respect others, including those making lifetime commitments. In a country as diverse as ours, good people who have opposing views should be able to live side by side. It is now crucial that as a country we protect religious freedom and the right of conscience and also not discriminate."
Bush's fellow Floridian called marriage "the most important institution in our society" and said the Court had overstepped its bounds. Still, he asked Americans on both sides of the debate to respect one another.
"While I disagree with this decision, we live in a republic and must abide by the law. As we look ahead, it must be a priority of the next president to nominate judges and justices committed to applying the Constitution as written and originally understood," he said. "The next president and all in public office must strive to protect the First Amendment rights of religious institutions and millions of Americans whose faiths hold a traditional view of marriage. This is a constitutional duty, not a political opinion."
The senator from South Carolina followed suit, calling himself a "proud defender of traditional marriage," but went on to say that but said he will "respect the Court's decision."
"Given the quickly changing tide of public opinion on this issue, I do not believe that an attempt to amend the U.S. Constitution could possibly gain the support of three-fourths of the states or a supermajority in the U.S. Congress," Graham said in a statement. "Rather than pursing [sic] a divisive effort that would be doomed to fail, I am committing myself to ensuring the protection of religious liberties of all Americans."
Louisiana Gov. Bobby Jindal—who formally announced his presidential campaign Wednesday—was the first Republican candidate to come out with a forceful statement against the Court's ruling:
"The Supreme Court decision today conveniently and not surprisingly follows public-opinion polls, and tramples on states' rights that were once protected by the 10th Amendment of the Constitution. Marriage between a man and a woman was established by God, and no earthly court can alter that," Jindal said in a statement.
"This decision will pave the way for an all-out assault against the religious-freedom rights of Christians who disagree with this decision," he continued. "The government should not force those who have sincerely held religious beliefs about marriage to participate in these ceremonies."
In a statement, the Wisconsin governor called the ruling a "grave mistake" and said the American people should support a constitutional amendment that would "reaffirm the ability of the states to continue to define marriage."
"The states are the proper place for these decisions to be made, and as we have seen repeatedly over the last few days, we will need a conservative president who will appoint men and women to the Court who will faithfully interpret the Constitution and laws of our land without injecting their own political agendas," Walker said.
Today, 5 unelected judges redefined the foundational unit of society. Now it is the people's turn to speak #Marriage

— Rick Santorum (@RickSantorum) June 26, 2015
The Court is 1 of 3 coequal branches of government & they have an imperfect record. Stakes are too high to cede marriage to unelected judges

— Rick Santorum (@RickSantorum) June 26, 2015
The entrepreneur-turned-formal presidential candidate blamed the wrong person for the ruling's outcome:
Once again the Bush appointed Supreme Court Justice John Roberts has let us down. Jeb pushed him hard! Remember!

— Donald J. Trump (@realDonaldTrump) June 26, 2015
Justice John Roberts actually opposed the Obergefell v. Hodges ruling.
This flawed, failed decision is an out-of-control act of unconstitutional judicial tyranny --> http://t.co/WMborH3TxB #SCOTUS

— Gov. Mike Huckabee (@GovMikeHuckabee) June 26, 2015
Huckabee, a former Arkansas governor, called the ruling "one of the court's most disastrous decisions."
"This ruling is not about marriage equality, it's about marriage redefinition. This irrational, unconstitutional rejection of the expressed will of the people in over 30 states will prove to be one of the court's most disastrous decisions, and they have had many," Huckabee said in a statement. "I will not acquiesce to an imperial court any more than our founders acquiesced to an imperial British monarch. We must resist and reject judicial tyranny, not retreat."
The former HP executive's statement on the Supreme Court's decision also was mixed. Though she said she's always supported "equal benefits and rights" under the law, "I do not agree that the Court can or should redefine marriage."
"This is only the latest example of an activist Court ignoring its constitutional duty to say what the law is and not what the law should be," Fiorina said in a statement posted to Facebook. "I believe that responsibility should have remained with states and voters where this conversation has continued in churches, town halls, and living rooms around the country."
My statement on today's #SCOTUS ruling pic.twitter.com/UalM0QnBuF

— Carly Fiorina (@CarlyFiorina) June 26, 2015
Agree w Alito: "All Americans... should worry about what the majority's claim of power portends." #SCOTUS http://t.co/xckkwMv205

— Carly Fiorina (@CarlyFiorina) June 26, 2015
I'm a firm believer in traditional marriage, and I also believe the 10th Amendment leaves it to each state to decide this issue. #SCOTUS

— Rick Perry (@GovernorPerry) June 26, 2015
In a statement, Perry said he's "disappointed" in the Court's decision.
"I fundamentally disagree with the court rewriting the law and assaulting the 10th Amendment," the former Texas governor said. "Our Founding Fathers did not intend for the judicial branch to legislate from the bench, and as president, I would appoint strict constitutional conservatives who will apply the law as written."
In a news conference about the New Jersey state budget Friday, the governor—who's slated to announce his presidential decision Tuesday—said he hasn't had a chance to look at the ruling yet.
"Let's all take a deep breath and digest it "¦ before we decide what to do next," Christie said.
"I believe marriage is between one man and one woman," he continued. "Those changes should be done by a vote of the people," not by the legislature or the courts. Although he hadn't fully read the ruling, Christie said he agreed with Justice Roberts' line of thinking in his dissent. See more here:
The conservative neurosurgeon has said that he won't be talking about gay marriage anymore, but he made an exception on Friday to weigh in on the Supreme Court's ruling.
"While I strongly disagree with the Supreme Court's ruling, their ruling is now the law of the land," he said in a statement. "I support same-sex civil unions but to me, and millions like me, marriage is a religious service, not a government form."
Asked for his reaction by the Dayton Daily News in his native Ohio, Kasich said he's "obviously disappointed."
"I've always felt that marriage is, you know, one of these traditions between a man and a woman, but the Court has spoken," the presumed candidate said. "And I've said all along that when the Court makes a decision, we abide by the law of the land. And they made their determination and—just move on. It doesn't mean I'm not disappointed, I am, but the decision has been made."
The Texas senator and former Supreme Court attorney waited until Friday afternoon to publically react to the Court's ruling. At a small gathering of supporters in Sheldon, Iowa, Cruz called the ruling "the very definition of lawlessness."
Ted Cruz: "Here at home we saw a decision from the United States Supreme Court that is the very definition of lawlessness."

— Teddy Schleifer (@teddyschleifer) June 26, 2015
In first comments, Cruz calls the decision bald "judicial activism" by "five unelected judges." "It has nothing to do with the constitution"

— Teddy Schleifer (@teddyschleifer) June 26, 2015
Ted Cruz on gay marriage: "The decision this morning I think will renew the press for an Article Five convention."

— Teddy Schleifer (@teddyschleifer) June 26, 2015
Ted Cruz, former Supreme Court attorney, on gay marriage: "The court has thrown its very legitimacy into question."

— Teddy Schleifer (@teddyschleifer) June 26, 2015
Cruz also talked about the ruling on Sean Hannity's radio show Friday afternoon, calling this time "some of the darkest 24 hours in our nation's history." Via Andrew Kaczynski:
We will update this story as more comments come in.
Prior to today's 5-4 ruling, same-sex marriage was legal in 36 states and Washington, D.C. Justice Anthony Kennedy, writing the majority opinion for the court, said it's "demeaning to lock same-sex couples out of a central institution of the nation's society." In the dissent, Justice John Roberts said that "five lawyers have closed the debate and enacted their own vision of marriage as a matter of constitutional law."
In a statement, Republican National Committee chair Reince Priebus echoed Roberts' sentiment, saying the Court had "spoken with finality" on gay marriage. He said the Court had ignored states' rights and reaffirmed his party's firm belief in "traditional marriage," but acknowledged Americans' "diversity of opinions."
"We should respect the sincerely held religious views of our fellow citizens, just as we respect those on the winning side of this case," Priebus said.
While most presidential contenders can only talk about the decision, two governors in the 2016 GOP field—one declared, Bobby Jindal of Louisiana, and the other presumed, John Kasich of Ohio—have the potential to influence how same-sex marriage is implemented in their respective states, where such unions were previously illegal.
We want to hear what you think about this article. Submit a letter to the editor or write to letters@theatlantic.com.
Emma Roller
is a former staff correspondent for
National Journal
.