Watch These Two GOP Presidential Candidates After the Supreme Court's Gay Marriage Decision
If the Supreme Court rules that same-sex marriage should be legal in every state, Bobby Jindal and John Kasich will have to decide whether to implement or delay the decision.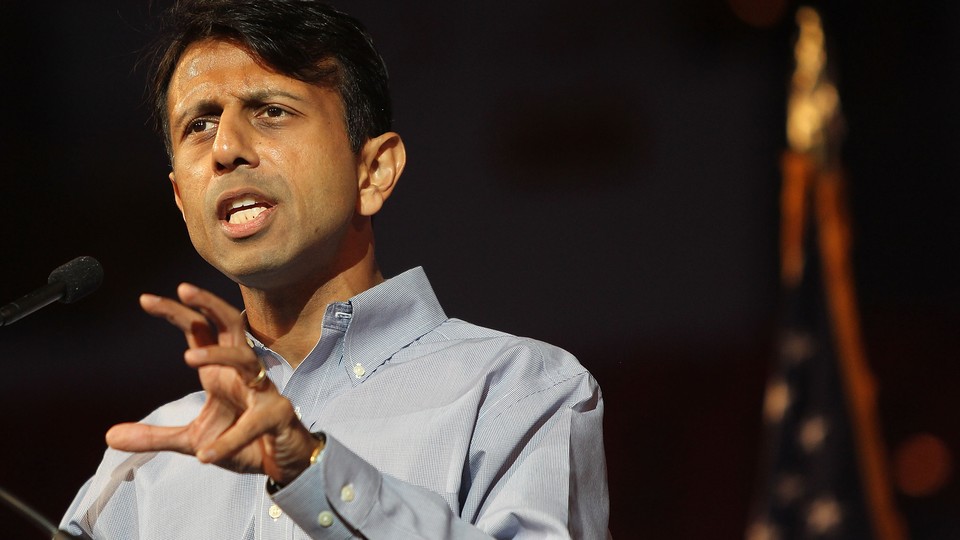 Every 2016 presidential hopeful will undoubtedly have something to say when the Supreme Court issues its decision on gay marriage. But two candidates actually could affect implementation of the ruling if it legalizes same-sex marriage nationwide. That's because Louisiana Gov. Bobby Jindal and Ohio Gov. John Kasich lead two of the 13 states where gay marriage is not yet legal, and they could have an opportunity to define themselves against their 2016 rivals on the issue.
Neither governor would be able to do anything to stop same-sex marriage in their state if the Court rules it is a constitutional right. But they could take actions to speed up or delay implementation of the ruling—actions that would surely become a topic of the presidential campaign over the next year.
"I think there will be extra pressure on [Kasich] to respond swiftly, whereas for Jindal, obviously his politics are a little bit different than Ohio," said Sarah Warbelow, the legal director for the pro-gay marriage Human Rights Campaign. Because of Louisiana's more conservative political environment, Warbelow said, "Jindal's got wiggle room for shenanigans."
Such "wiggle room" would set Jindal apart in the GOP presidential field: Gay marriage already is the law of the land for the other governors in the presidential race, New Jersey Gov. Chris Christie and Wisconsin Gov. Scott Walker, meaning Jindal would be the only one able to act to delay a policy that Republican primary voters oppose. But such a move would put the governor on the wrong side of national opinion: 60 percent of Americans believe same-sex marriage should be legal, according to a May Gallup poll.
According to Warbelow, there are three routes Jindal, Kasich, or a governor in any other state where gay marriage is not yet legal could take in response to a ruling leading to nationwide gay marriage rights.
The simplest: They could simply implement the ruling by issuing an executive order calling on clerks to begin issuing licenses and state agencies to start recognizing marriages from other states.
The second path would be to remain silent. But when Alabama Gov. Robert Bentley took that route this year, some felt his absence from the public dialogue contributed to the confusion that engulfed the state after a federal judge struck down the state's gay marriage ban. The state Supreme Court reacted by attempting to halt the issuance of same-sex marriage licenses.
There's one more option: "active delay," an attempt to delay same-sex marriages from starting immediately in the state. The main way to do that, Warbelow said, would be to ask a district court judge to issue a final order on the legal question before local clerks can start issuing marriage licenses or recognizing marriages from other states. Warbelow said that move could delay the process by "potentially weeks."
Jindal may be the candidate more likely to take that path, though his advisers are not tipping his hand. Jindal's office directed questions to Kyle Duncan, the lawyer hired by the state to represent it in same-sex marriage litigation. Duncan said the state's course after the court issues its decision would be totally dependent on the scope of the ruling.
"You'd have to see how the ruling is written because it's actually a fairly complex set of issues, and you would have to look at see how the ruling is written, so I just can't comment on that," Duncan said.
Jindal has been an aggressive "one man, one woman" advocate as he has courted the votes of social conservatives. Louisiana's political climate doesn't place any particular pressure on the governor to move with the national tide—a poll conducted in early 2015 by Louisiana State University showed 51 percent of Louisianans still opposed gay marriage, and Jindal hasn't hesitated to push past the boundaries of public opinion when opportunities have emerged.
This spring, two hours after the Republican-controlled Louisiana legislature rejected a religious freedom measure—which many interpreted as a way to allow businesses to discriminate against gays and lesbians—Jindal issued an executive order that accomplished the same objectives laid out in the bill. Jindal's move came after similar measures sparked backlash in Indiana and Arkansas.
Kasich, meanwhile, told reporters in Iowa on Wednesday he supports traditional marriage, but said, "we'll abide by it" if the Court rules in favor of same-sex marriage. Most public polls show more Ohio voters than not supporting gay marriage, and home-state Sen. Rob Portman came out in support of it in 2013. Kasich could build on the centrist profile he's already cut for himself as he weighs a presidential bid by quickly implementing the ruling.
Ohio also is the only remaining presidential battleground where same-sex marriage is not yet legal, and it is home to Jim Obergefell, the lead plaintiff in the case pending before the court, Obergefell v. Hodges.
Kasich spokesman Rob Nichols declined to speculate on how, exactly, Kasich would go about responding to a favorable ruling, saying "We're content to wait for the Court." Portman's office also declined to comment.
Kasich's predecessor, former Democratic Gov. Ted Strickland (who is running for Senate), urged Kasich to comply, and quickly.
"I had the great privilege of spending some time with Jim Obergefell last weekend during Pride celebrations in Columbus, and I so admire his courage," Strickland told National Journal. "There's absolutely no question that marriage equality is long, long overdue. I believe the Supreme Court will rule on the right side of history, and when they do, I urge Governor Kasich to act quickly to right this wrong—Ohioans have waited far too long for equality already, and they shouldn't have to wait a minute more."