Watch President Obama Call Jim Obergefell to Congratulate Him on the Gay-Marriage Ruling
"I couldn't be prouder of you and your husband," the president told the plaintiff in Friday's historic gay-marriage ruling.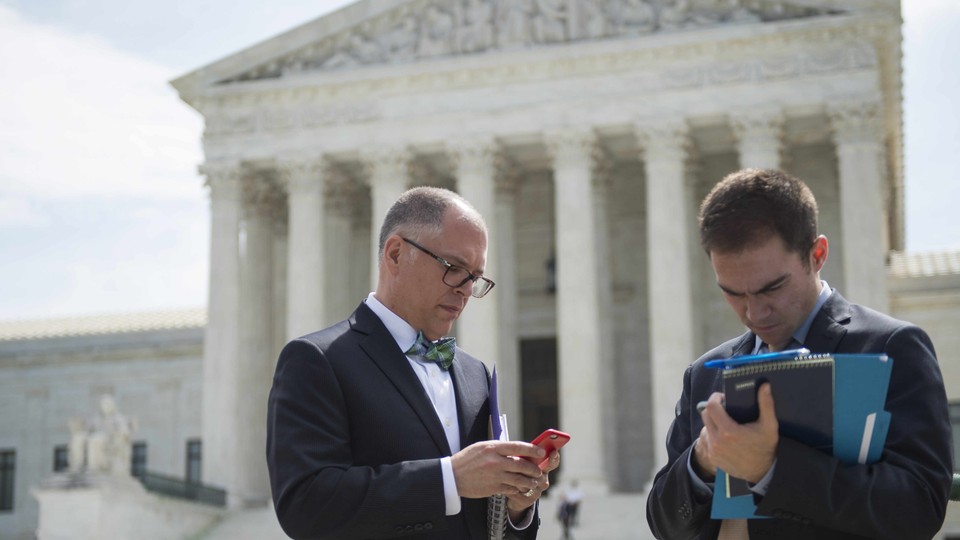 Jim Obergefell was standing on the steps of the Supreme Court when he got a call from the president of the United States.
Friday has been possibly the most momentous day of Obergefell's life: The Supreme Court ruled in favor of his case—Obergefell v. Hodges—and in doing so legalized same-sex marriage for gay couples nationwide.
As Obergefell stood on the steps of the Court, he received a call from the White House. CNN quickly dispatched a camera to get footage of the call.
"I just want to say congratulations," President Obama told Obergefell. "Your leadership on this, you know, has changed the country."
"It's really been an honor for me to be involved in this fight and to have been able to fight for my marriage and live up to my commitments to my husband," Obergefell responded. "I appreciate everything you've done for the LGBT community, and it's really an honor to have become part of that fight."
It's not uncommon for the president to call someone like Obergefell, a citizen from Cincinatti who has found himself at the center of the political spotlight. But it's pretty rare to see that phone call transpire on live television.
"Not only have you been a great example for people, but you're also going to bring about a lasting change in this country. And it's pretty rare where that happens," Obama said. "I couldn't be prouder of you and your husband."