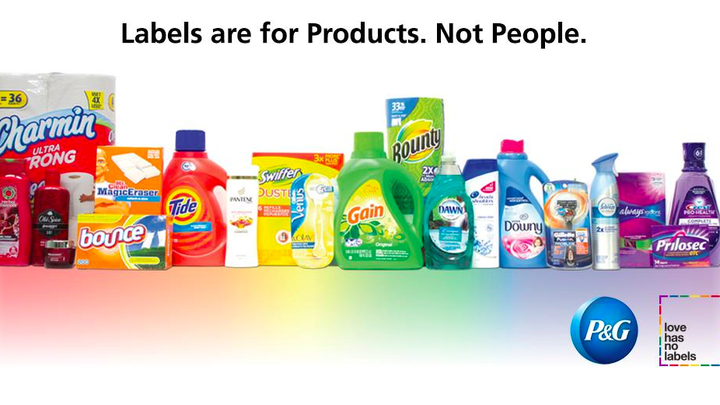 What do Procter & Gamble products like Tide laundry detergent and Charmin toilet paper have to do with marriage equality? Apparently a lot.
Following the Supreme Court decision on Friday legalizing same-sex marriage across the country, major companies started tweeting out their support, along with some product placement. One of those companies was Procter & Gamble, which made a rainbow with its many products, saying, "Labels are for Products. Not People."
We support and respect everyone's right to be who they are. #LoveWins #LoveHasNoLabels #PrideMonth2015 pic.twitter.com/Ti1wWmKfCd

— P&G (@ProcterGamble) June 26, 2015
Procter & Gamble is one of 379 employers who signed an amicus brief in March urging the Supreme Court to strike down same-sex marriage bans across the country. There was a heavy burden placed on both employees and employers because of inconsistent marital laws across state lines, the brief argued. Procter & Gamble had come out in favor of same-sex marriage just three months before then.
"We have an unwavering commitment to treat everyone with respect," a spokesman said at the time. "We support every individual's right to be who they are; that includes the right to marry whomever they choose and have that union recognized legally."
Other companies who joined in on the amicus brief were Delta Airlines, New York Life Insurance, Target, Ben & Jerry's, and Marriott International. It's no coincidence, then, that many of those companies were tweeting their support on Friday.
Today we join our employees and customers in celebration of marriage equality: http://t.co/5Vf4lNmyTs #LoveWins pic.twitter.com/NnWfT3AvqV

— Delta (@Delta) June 26, 2015
There's no better time than now to start planning your forever together. #LoveIsLove http://t.co/zYmyMsuHAX

— New York Life (@NewYorkLife) June 26, 2015
Here's to having, holding and marrying who you love. #takepride #SCOTUSMarriage pic.twitter.com/8NLGee0Rl0

— Target (@Target) June 26, 2015
LOVE wins!!! #LoveIsLove #MarriageEquality pic.twitter.com/Myt9cwFB7d

— Ben & Jerry's (@benandjerrys) June 26, 2015
#SCOTUSMarriage #LoveTravels pic.twitter.com/UEUtgzEMjG

— Marriott Internat'l (@MarriottIntl) June 26, 2015
From this day forward… #loveislove pic.twitter.com/TrSHAl8mat

— Macy's (@Macys) June 26, 2015
#LoveIsLove pic.twitter.com/Hl9c3mYlX9

— AT&T (@ATT) June 26, 2015
Obviously, these tweets show the companies care about their employees and the burdens of different marital laws nationwide. But this is also a pitch to consumers to buy their products. It's about brand loyalty, in many ways—not just for gay and lesbian consumers, but also for socially conscious consumers. And consumers are looking for companies that are socially conscious, according to Nielsen.
Not only do 57 percent of Americans support same-sex marriage, but an astounding 73 percent of millennials support same-sex marriage, according to Pew. Those are consumers who will be consuming for many, many years to come.
Because these companies think that the next time you see Downy fabric softener, you might see marriage equality.
We want to hear what you think about this article. Submit a letter to the editor or write to letters@theatlantic.com.