Victory on Trade at Hand for Obama, GOP Leaders
Key White House priority nears the finish line as McConnell praises the president for "speaking truth to power to his base."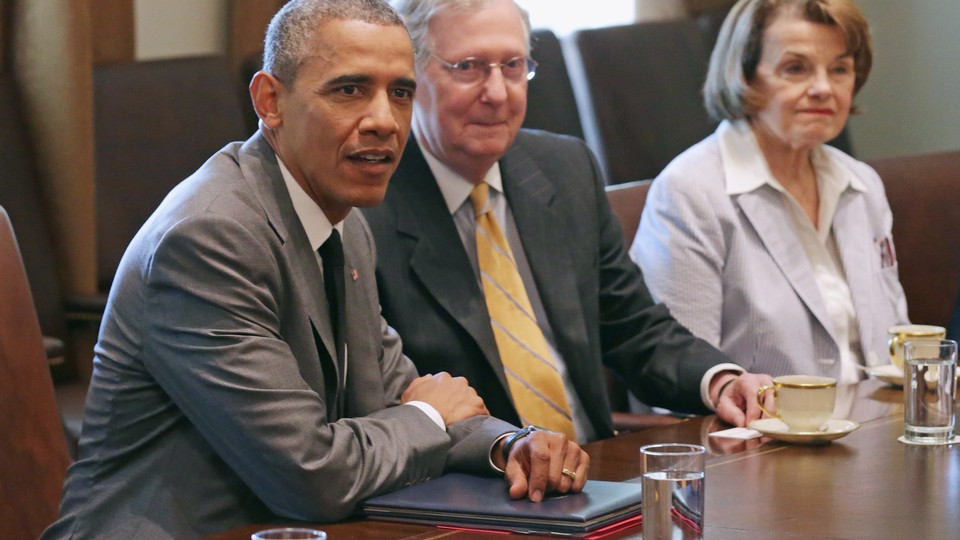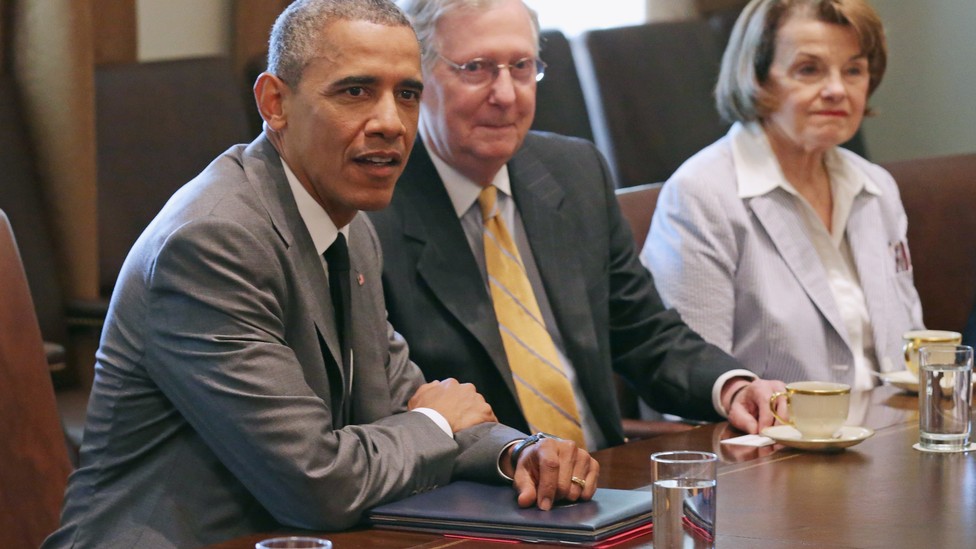 The long, arduous process of passing landmark trade legislation through Congress is nearly over, putting President Obama and congressional leaders one step closer to a rare, significant, and bipartisan legislative victory.
The Senate concluded its work on trade Wednesday afternoon, passing Trade Promotion Authority legislation on to Obama's desk and returning a Trade Adjustment Assistance bill promoted by Democrats in both chambers back to the House, where it is now expected to pass as early as Thursday.
House Democrats had defeated the TAA bill last month in the hopes of killing the TPA, or "fast-track" bill that would set up an expedited and amendment-free approval process for an eventual trade deal with Asia-Pacific nations. But with that measure now headed to Obama's desk, Democrats would like to see TAA, which would provide relief to U.S. workers hurt by the forthcoming trade deal, join it. Even House Minority Leader Nancy Pelosi, who previously voted against both TPA and TAA, announced Wednesday that she would support the worker-assistance measure.
"Achieving this positive outcome was never going to be easy, but it proves that the power of a good idea, no matter where it comes from, can win out over the stasis of gridlock," Senate Majority Leader Mitch McConnell said. "That's why Republicans were glad to accept President Obama's support in advancing a principle we've long believed in. "¦ We're grateful for the president's efforts to help us move this idea forward, and we applaud him for speaking truth to power to his base."
Disagreements between the two parties over the bills, and the decreasing size of the pro-trade caucus within the Democratic conference in both chambers, forced a lot of legislative maneuvering in the House and Senate over the past several weeks. It also put Obama on the phone, and on a few occasions in the room, with his Democratic colleagues on the Left urging them to lower their opposition to the trade deal.
In the end, most Senate Democrats bucked their president's wishes, but not enough to defeat the fast-track deal, as 13 Senate Democrats voted with their Republican colleagues. "Well, we fought it, and it is worth fighting. And we don't win every fight," said Sen. Richard Blumenthal of Connecticut. "But this measure provides for a secretive agreement rushed through the Congress without sufficient input from United States senators and inadequate protection for working men and women, the environment, and public safety."
The Senate's passage on Wednesday, and the expected conclusion of the trade debate in the House later this week, represents a major victory for Obama, as well as for House Speaker John Boehner and McConnell, both of whom listed trade as one of the few issues they expected could get through the new Republican Congress and earn the president's signature.
But it's a big loss for liberal Democrats, who fought against giving the president fast-track authority on trade. Sen. Chris Murphy of Connecticut said after the vote Wednesday that there were few "silver linings" in the fight, but added he was hopeful that by showing resolve now, liberals would have a greater influence in the ongoing negotiations over the Trans-Pacific Partnership and the Transatlantic Trade and Investment Partnership with the E.U., which have not yet concluded.
"Hopefully, we've ... hardened the resolve of our negotiators," Murphy said. "So all of us are hoping against hope that we get good agreements, and maybe these will be a little bit better after having this fight over our values."
At the very least, Murphy noted, "there's no doubt that this is a much better TPA than we've had in the past. The president's not wrong that this is the most progressive TPA that the Congress has viewed." But, he added: "I still don't understand why we have a fast-track for trade, but not for immigration reform or energy reform or tax reform."
Sen. Sherrod Brown of Ohio said the debate let trade opponents explain their positions — though he noted that the trade votes had their share of procedural maneuvers in order to get TPA and TAA across the finish line.
"I think we explained this very well. The public clearly [is] with us. That's why they played such games on which way they structured it in the House," Brown said, adding: "The more light that shines on the agreements, the less the public likes it. That's why they move these things so fast. That's why we're here today doing this quickly."
After failing to pass a full trade package through both chambers earlier this year, Boehner and McConnell promised Democrats in their respective chambers that if they just passed the TPA bill (which Republicans favor) they would find a way to get TAA onto Obama's desk as well. That shook out a few Democratic votes in the Senate on Wednesday, which will pave the way for passage in the House later this week.
Also on Wednesday, the Senate voted to go to conference with the House to sort out the two chambers' differences on a customs-enforcement bill that was originally part of the trade package. The measure includes several enforcement measures to prevent nations involved in the trade deal from unfairly disadvantaging U.S. companies, but it also includes a currency-manipulation-enforcement measure offered by Democratic Sen. Chuck Schumer of New York that has been criticized by the White House.
This article has been updated.
---
Rachel Roubein contributed to this article