UN Climate Chief to Big Oil: Talk Isn't Enough
The official trying to shepherd a new global climate pact tells six companies that the world "˜wants to be proud of your actions.'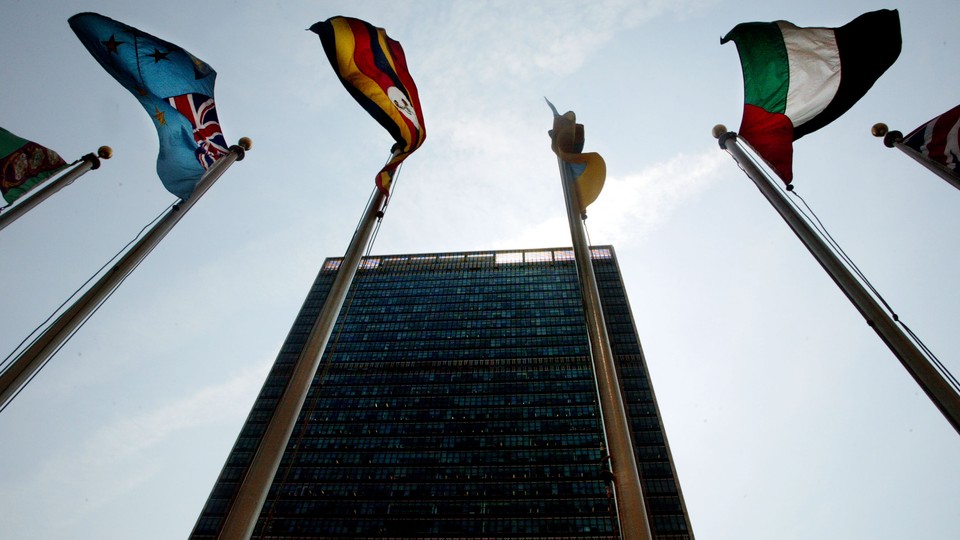 The United Nations official who is convening international climate change talks has a message for big oil-and-gas companies that claim to support tougher carbon-pollution policies: prove it.
Christiana Figueres on Thursday responded to Shell, BP, and four other companies that jointly called for wider adoption of carbon pricing—a broad term for policy plans such as carbon taxes or cap-and-trade systems. "The world wants to be proud of your actions at this time of crisis and I look forward to your giving us every reason to be," Figueres, whose formal title is Executive Secretary of the U.N. Framework Convention on Climate Change, wrote in an open letter.
The companies, in a May 29 letter to Figueres, called on governments to introduce national and regional carbon-pricing policies where they don't already exist, and for creation of an international framework to eventually link national programs. They offered to "open direct dialogue with the U.N. and willing governments," a pledge that arrives ahead of high-stakes international talks in Paris late this year to finalize a global climate accord.
In response, Figueres' letter notes that she has worked with the companies during her U.N. tenure and says she's "confident" that their effort is genuine, but adds: "I hope you can understand that governments and civil society also need to be reassured of your sincere commitment."
Figueres then offers a challenge: "So I would call on you to ensure that henceforth your government engagement is clearly focused on the outcome you have sought in your letter to me: an ambitious, long term policy framework on climate change that will guide us promptly and resolutely toward a low carbon economy."
Her letter in response calls on the six companies, which are based in Europe but operate worldwide, to get specific about what they'll bring to the table.
"I would like to use our conversations to discuss the design of international systems and linkages and also to learn from you about details on pricing and timing principles. I would be interested in your thoughts regarding what price of carbon would be needed to achieve particular outcomes such as fuel switching, and [carbon capture and storage]. This type of detailed dialogue between government and industry has not occurred in this way before and will be an important step on the road to an effective global agreement," she states.
The late May letter from the companies—which also included Total, Eni, BG group, and Statoil—has gotten a lot of attention.
Just this week, Chuck Schumer, who will become the top Senate Democrat in 2017, cited it in predicting that U.S. carbon tax proposals could gain political traction if Hillary Clinton wins the White House and Democrats reclaim the Senate.
But Figueres has a record of skepticism about the role of the fossil fuel industry in helping to achieve steep emissions cuts—she has repeatedly supported efforts to convince institutional investors, churches, and universities to divest their holdings in the industry.
Her letter notes that G-7 nations have publicly supported "decarbonization" of the global economy by the end of the century, and then calls on the companies to explain how they'll be a part of that process: "Given this ambition, I would encourage you to plan for these long term scenarios by setting out how you will transition your companies to meet the challenges of the 21st century."