McKinney, Texas, and the Racial History of American Swimming Pools
Backyard pools and private clubs only proliferated after municipal pools were forcibly desegregated.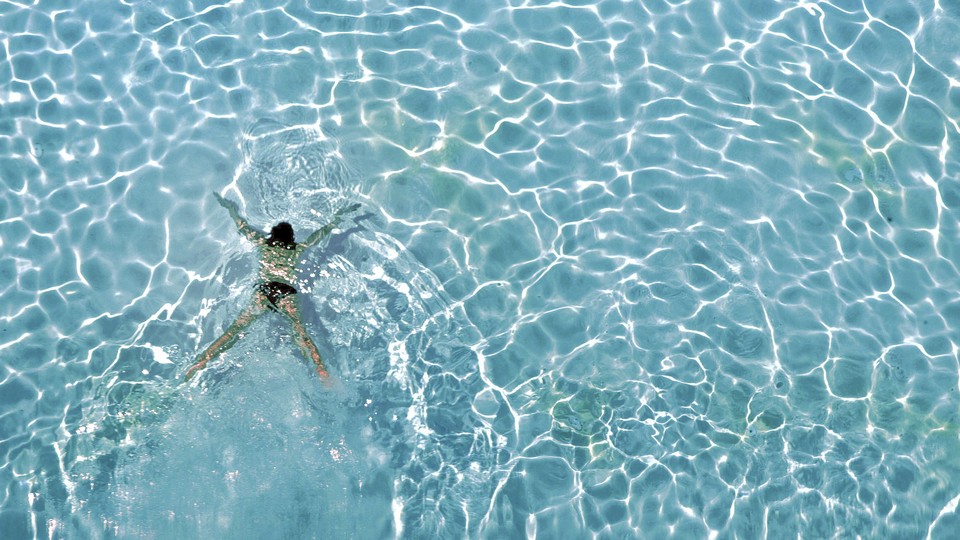 On Friday, a large group of teens gathered for a pool party in the city of McKinney, Texas. Shortly thereafter, someone called the police. And by Sunday night, as footage of the police response spread across the internet, the McKinney Police Department announced it was placing Eric Casebolt, the patrol supervisor shown in the video, on administrative leave.
It is the latest in a string of incidents of police using apparently excessive force against African Americans that has captured public attention. And it took place at a communal pool—where, for more than a century, conflicts over race and class have often surfaced.
The video shows a foul-mouthed police corporal telling the young men he encounters to get down, and the young women to take off, although far more obscenely. When several seated young men appear to ask, politely, for permission to leave, he explodes at them: "Don't make me fucking run around here with thirty pounds of goddamn gear in the sun because you want to screw around out here." The corporal was white. The young people he detained were, almost without exception, black.
The video next shows him repeatedly cursing at a group of young women, telling them to move on. Then he wrestles one to the ground. As bystanders react in horror, and several rush toward the young woman as if to her assistance, he draws his sidearm. They flee. He returns to the teenager, wrestles her back down, forces her face into the ground, and places both knees on her back.
The McKinney police said, in a statement, that they were called to respond to the Craig Ranch North Community Pool for a report of  "a disturbance involving multiple juveniles at the location, who do not live in the area or have permission to be there, refusing to leave." They added that additional calls reported fighting, and that when the crowd refused to comply with the first responding officers, nine additional units were deployed.
The mayor, Brian Loughmiller, described himself as "disturbed and concerned," and the police chief vowed "a complete, and thorough, investigation."
Like many flourishing American suburbs, McKinney has struggled with questions of equity and diversity. The city is among the fastest-growing in America, and its residents hail from a wide range of backgrounds. Formal, legal segregation is a thing of the past. Yet stark divides persist.
In 2009, McKinney was forced to settle a lawsuit alleging that it was blocking the development of affordable housing suitable for tenants with Section 8 vouchers in the more affluent western portion of the city. East of Highway 75, according to the lawsuit, McKinney is 49 percent white; to its west, McKinney is 86 percent white. The plaintiffs alleged that the city and its housing authority were "willing to negotiate for and provide low-income housing units in east McKinney, but not west McKinney, which amounts to illegal racial steering."
All three of the city's public pools lie to the east of Highway 75. Craig Ranch, where the pool party took place, lies well to its west. BuzzFeed reports that the fight broke out when an adult woman told the teens to go back to "Section 8 housing."
Craig Ranch North is the oldest residential portion of a 2,200 acre master-planned community. "The neighborhood is made up of single-family homes," says the developer's website, "and includes a community center with two pools, a park and a playground." Private developments like Craig Ranch now routinely include pools, often paid for by dues to homeowners' associations, and governed by their rules. But that, in itself, represents a remarkable shift.
At their inception, communal swimming pools were public, egalitarian spaces. Most early public pools in America aimed more for hygiene than relaxation, open on alternate days to men and women. In the North, at least, they served bathers without regard for race. But in the 1920s, as public swimming pools proliferated, they became sites of leisure and recreation. Alarmed at the sight of women and men of different races swimming together, public officials moved to impose rigid segregation.
As African Americans fought for desegregation in the 1950s, public pools became frequent battlefields. In Marshall, Texas, for example, in 1957, a young man backed by the NAACP sued to force the integration of a brand-new swimming pool. When the judge made it clear the city would lose, citizens voted 1,758-89 to have the city sell all of its recreational facilities rather than integrate them. The pool was sold to a local Lions' Club, which was able to operate it as a whites-only private facility.
The decisions of other communities were rarely so transparent, but the trend was unmistakable. Before 1950, Americans went swimming as often as they went to the movies, but they did so in public pools. There were relatively few club pools, and private pools were markers of extraordinary wealth. Over the next half-century, though, the number of private in-ground pools increased from roughly 2,500 to more than four million. The declining cost of pool construction, improved technology, and suburbanization all played important roles. But then, so did desegregation. As historian Jeff Wiltse argues in his 2007 book, Contested Waters: A Social History of Swimming Pools in America:
Although many whites abandoned desegregated public pools, most did not stop swimming. Instead, they built private pools, both club and residential, and swam in them …. Suburbanites organized private club pools rather than fund public pools because club pools enabled them to control the class and racial composition of swimmers, whereas public pools did not.
Today, that complicated legacy persists across the United States. The public pools of mid-century—with their sandy beaches, manicured lawns, and well-tended facilities—are vanishingly rare. Those sorts of amenities are now generally found behind closed gates, funded by club fees or homeowners' dues, and not by tax dollars. And they are open to those who can afford to live in such subdivisions, but not to their neighbors just down the road.
Whatever took place in McKinney on Friday, it occurred against this backdrop of the privatization of once-public facilities, giving residents the expectation of control over who sunbathes or doggie-paddles alongside them. Even if some of the teens were residents, and others possessed valid guest passes, as some insisted they did, the presence of "multiple juveniles…who do not live in the area" clearly triggered alarm. Several adults at the pool reportedly placed calls to the police. And none of the adult residents shown in the video appeared to manifest concern that the police response had gone too far, nor that its violence was disproportionate to the alleged offense.
To the contrary. Someone placed a sign by the pool on Sunday afternoon. It read, simply: "Thank you McKinney Police for keeping us safe."