This Is Why Paul Ryan Didn't Run for President
Instead of roaming the campaign trail, the Ways and Means Chairman is exactly where he wants to be—in the middle of simultaneous policy fights on trade and health care.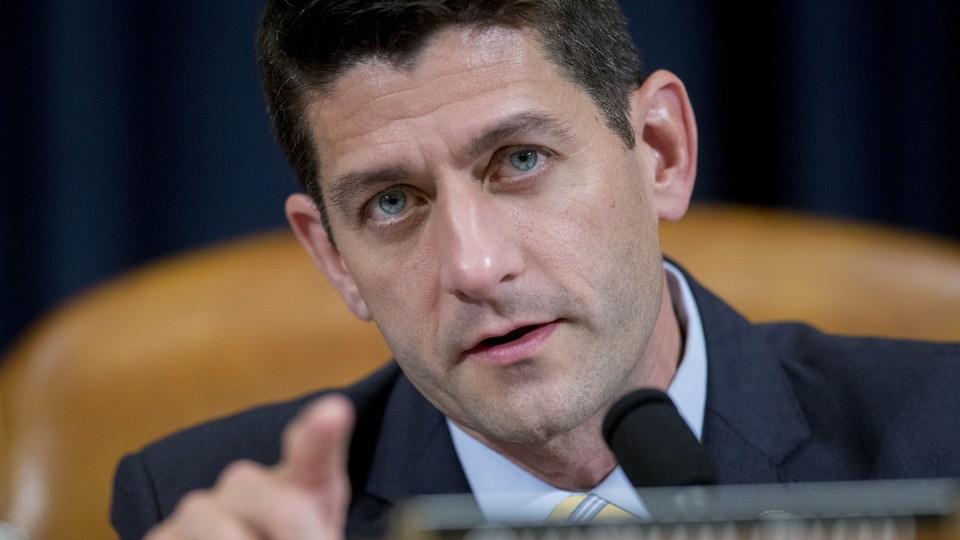 Paul Ryan is seemingly in the middle of every legislative mess at the moment—and that's right where he wants to be.
He's just finished helping to wrangle enough conservative and Democratic votes to pass a Trade Promotion Authority bill out of the House of Representatives, a key legislative win for himself and President Obama. Now Ryan is shouldering his party's next big burden as he leads the effort to construct the Republican contingency plan if a core piece of the Affordable Care Act is gutted by the Supreme Court in the coming weeks.
Political prognosticators spent years wondering if Ryan would turn his 2012 vice presidential bid into his own campaign for the White House. But the Wisconsin Republican has made himself more politically relevant by staying just where he is.
He could have done anything after running with Mitt Romney three years ago. He had a high name ID, national fundraising network, and connections in both conservative and establishment circles. But those who know him aren't surprised he instead ended up with the Ways and Means gavel, dictating the new GOP Congress's path forward on the biggest issues of the day.
"I told him this at the time. If he wanted to run for president, then I thought the best thing for him to do would be to leave Congress, go write a book, go make some money, go build a network, and avoid the day-to-day grind," Rep. Tom Cole, a deputy Republican whip, said in an interview. "Well, he obviously didn't take that advice. I think this is what he wants to do."
"In this field, he would have been at the top of the field. He had name ID and a national fundraising network. He had everything," Cole said. "And yet, 'Well, I think we have the chance to get some really big things done on policy. We can get trade. We can get tax reform.' He puts that first."
Ryan didn't just decide to skip a 2016 presidential run; he has also ruled out serving in the House elected leadership. He explained why in an interview with National Journal last fall.
"I've never wanted to be speaker," Ryan said. "I know myself very well, and I know where I'm happy. ... I like spending my time on policymaking."
Among his colleagues on Capitol Hill, Ryan has stockpiled an invaluable currency. He's got respect. Somehow he has managed not only to be the architect of policies and thought papers, but he has convinced Republicans in all corners of the party to get on board even when that meant working with an untrusted president. When Ryan introduces a new legislative plan, he also has a plan to market it. From budget to trade, many in the conference say Ryan spends countless hours on outreach. Several members of the Freedom Caucus said when they were trying to make up their minds on trade, there were few who hadn't heard personally from Paul.
"Politics is about two things. It is about broad ideas and mass messaging, but it is also about retail politics, door-to-door, handshake to handshake, and he is doing this big-time on TPA," said Rep. Mark Sanford, a Republican from South Carolina who ultimately decided to support TPA.
For many presidential candidates on Capitol Hill, entangling themselves in the substantive issues of the day is messy. For Sen. Marco Rubio, his work on immigration reform has often been seen as a hindrance as he moves ahead in the GOP primary. For Sen. Rand Paul, who had built his reputation as a civil-liberties stalwart, there was more safety in railing against a reform bill than attaching his name to it. In politics, being on record can be detrimental to your presidential aspirations.
But now that Ryan is not running for higher office, he is free to pursue controversial policies. He's able to wheel and deal and find middle ground because he is not beholden to anything but his own desire for productivity.
"Here, he and the president were on the opposite sides of one another in a national campaign, and the president's had no greater friend and advocate for TPA to enhance his authority than Paul Ryan," Cole said. "It shows you Paul's North Star really is policy."... If you can come to a common agreement, he is more than happy to work with people who have been adversaries in the past and will be in the future."
When Ryan was negotiating the trade deal, Rep. Pat Tiberi, the chairman of the Ways and Means Subcommittee on Trade, said he often would watch Ryan work personally with members to get them to "yes." He recalled one specific instance when Ryan won over conservative Steve King's support by allowing him an immigration amendment on the currency bill.
But beyond that, Tiberi says Ryan's managed time after time to prove "his word is gold."
"He is not dismissive of people's opinions even if he thinks their opinions are crazy and full of misinformation," Tiberi said. "If you actually want to vote for an issue, whether it is TPA today, the doc fix, tax reform in the future—if you want to get to 'yes,' Paul is the guy."
Yet even as the trade drama draws to an end, there will be no rest for Ryan. Any day now, the nation's high court could rule that the Affordable Care Act's tax subsidies are illegal in more than 30 states, putting insurance for more than 6 million people at risk.
Ryan was the one who outlined a not-yet-finalized plan and took questions at a closed-door meeting with GOP lawmakers Wednesday. It will be yet another test of his leadership among House Republicans. He must unite the conference behind a fix that prevents catastrophe for millions of Americans while also satisfying the conservative desire for vengeance if the GOP's most-hated law is vulnerable.
It's been on his agenda since March when he, Energy and Commerce Chairman Fred Upton, and Education and the Workforce Chairman John Kline released their initial draft. In the interim, he has had to save the trade legislation from procedural missteps and also helped to end a despised congressional tradition, the Medicare "doc fix."
It sounds like almost too much for any one legislator to handle, but Ryan's allies say he characteristically isn't sweating it.
"He always keeps it cool, always keeps his sense of humor, and keeps his eye on the big picture on all these issues," said Rep. Kevin Brady, who chairs the Ways and Means health subcommittee. "Because he has credibility across our conference spectrum, people have confidence he's listening, he cares, and he's trying to find the right position, and that trust really gives him influence beyond just the chairmanship."