This Is Why Bringing a Gun-Control Debate Back to Congress Could Be Impossible
After Sandy Hook, senators are too busy and too divided to entertain another long gun debate.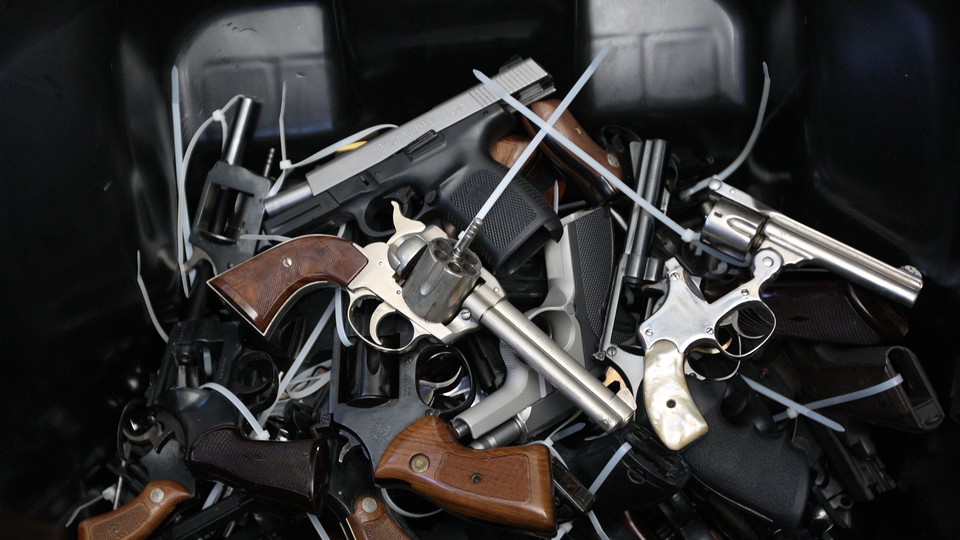 A pair of bipartisan senators have said they would still like to see more stringent background checks for the people who buy guns. But even they don't expect to get very far.
Democratic Sen. Joe Manchin of West Virginia and GOP Sen. Pat Toomey of Pennsylvania said that after last week's shooting at a historically black church in Charleston, South Carolina, they still feel the urgency to close the so-called gun-show loophole and crack down on unregulated firearm sales online.
There's only one problem. In the two years since the Senate failed to pass a similar measure they sponsored, the obstacles standing in their way to gun reforms have only grown. Two years ago, the Senate was controlled by sympathetic Democratic leaders. Now it is run by Mitch McConnell, who once hoisted a firearm into the air at a conservative convention in order to prove his allegiance to the National Rifle Association. And a few of the sympathetic Democrats—such as North Carolina's former Sen. Kay Hagan, Louisiana's Mary Landrieu, and Colorado's Mark Udall—have been replaced with Republicans.
While Manchin says he still stands by the background-check bill he fought for in 2013 after the Sandy Hook Elementary School shooting in Newtown, Connecticut, he's still not sure that he or Toomey have the ability to overcome a 60-vote threshold and make it law.
"I've talked to my friend Pat Toomey," Manchin told National Journal on Wednesday. "We are still working on the votes. Right now, we are in a different position, being in the minority. We have fewer Democrats."
Manchin says that the senators have to wait and see if "people want to do the most reasonable thing." When asked if he was undertaking a serious effort, Manchin said, "It is always serious.
"If people would just read the bill we have, it's not gun control; it is just gun sense," he said.
Yet there is still a lot of convincing to do.
"Colorado is a very pro-Second Amendment state," said Sen. Cory Gardner, the freshman from Colorado who replaced Udall, a background-check supporter. "The debate would be better served if we focused on [mental health] legislation."
Sen. Jeff Flake of Arizona, who was lobbied personally by former congresswoman and shooting survivor Gabby Giffords during the 2013 gun debate, says he'd be very surprised if the issue made its way back to the Senate.
"The likelihood of something getting through the House and the Senate is extremely low," Flake said. "I think McConnell or Boehner are unlikely to entertain something that is just going to play out without getting anything done."
It appears that focusing on mental health is still the most likely way to push a change through in Congress. But more gun laws seem to be impossible. Many Republicans argue now—as they did two years ago—that more could be done to enforce gun laws already on the books.
"We have had 80,000 people fail a background check; 44 were prosecuted," said Republican Sen. Lindsey Graham of South Carolina. "Adding to the system that doesn't work does not make sense to me."
Even those sympathetic to rehashing the debate are dubious that a new vote could yield different results. Sen. Susan Collins, a Republican from Maine who voted in support of the legislation in 2013, said she still supports it, but is not that optimistic about a revival, nor does she believe the Senate really has the time to prioritize background checks at the moment.
"My vote would be the same," Collins said. "I thought the compromise that Senator Toomey and Senator Manchin came up with was fair and did not in any way infringe on the rights of law-abiding gun owners. But there is an awful lot of work and legislation that has already been reported that I think it would be difficult to push aside in order to make room for this."
There is one scheduling loophole, however, that some gun-reform-minded senators are hoping could be used to force the issue in a Republican-controlled Congress.
In the Senate, McConnell has made a major push to have a more transparent and open floor debate. That—at times—has imperiled the Senate from getting its work done by a deadline. But it also allows the possibility for an amendment process in which interested parties could introduce a background-check bill as an amendment on another upcoming bill.
"I don't think [McConnell] will do it willingly, so what you do is you put it up as an amendment," said Minority Whip Dick Durbin of a future background-check bill. "You kind of dig in. You say 'I am not moving until you give me a vote.' It takes patience and fortitude, but it can work."
But staffers say that Manchin and Toomey are not likely to formally reintroduce their bill or anything like it unless they have the support to ensure it gets beyond a symbolic vote in the Senate. During his podcast interview with Marc Maron on Friday, even President Obama acknowledged that changes in background checks and gun laws likely are an impossible lift in the final two years of his presidency.
"Unfortunately, the grip of the NRA on Congress is extremely strong," Obama said. "I don't foresee any legislative action being taken in this Congress, and I don't foresee any real action being taken until the American public feels a sufficient sense of urgency and they say to themselves, 'This is not normal.'"
Just the prospect of reengaging on an issue as divisive as guns dredges up a lot of emotion in the Senate.
"It was wrenching," said Sen. Patrick Leahy, the former chairman of the Senate Judiciary Committee, of the 2013 debate he helped lead. "I am a gun owner, so I am not doing it from some obscure view. It tore the heck out of me. That is why I personally tried so hard to get it through. We spent hundreds of hours on it."