This Is Ground Zero for the Supreme Court's Obamacare Decision
More than half of Florida's 1.3 million Affordable Care Act enrollees receiving subsidies on the federal exchange hail from nine South Florida congressional districts.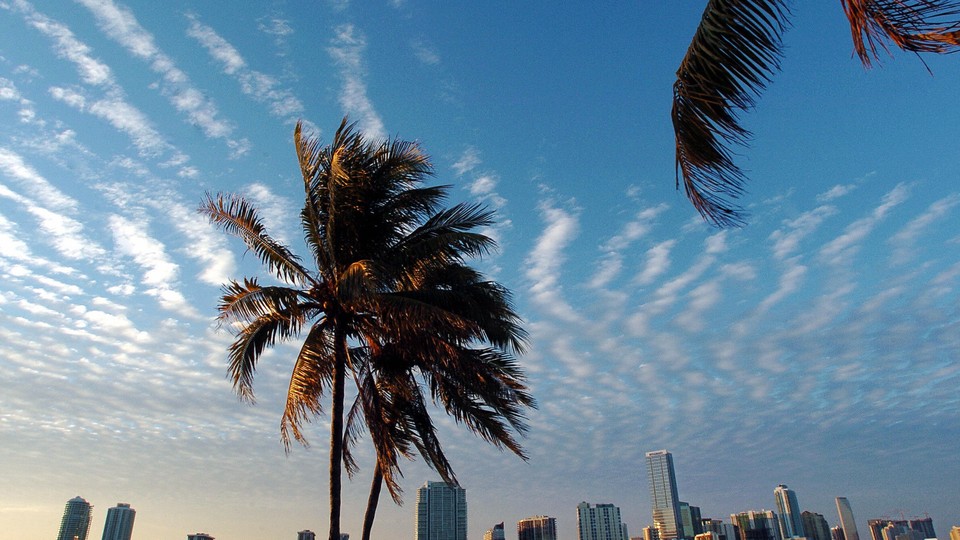 As the Supreme Court mulls whether to strike down Obamacare insurance subsidies in 34 states, no state has more at stake than Florida.
In total, about 1.3 million people Florida residents—or about 7 percent of the state's total population—are getting Affordable Care Act subsidies to buy health insurance through the federal exchange, according to estimates compiled by the pro-ACA group Families USA. The group derived its estimates from Department of Health and Human Services data from early spring, pulling state- and zip-code-level numbers on consumers receiving premium tax credits and allotting the proper zip codes to their apportioned congressional districts.
While the effects of a subsidy shut-off will be felt most acutely by the people attempting to pay for health insurance, the effects will spill over into the political sphere. And there again, the largest shockwaves will likely be felt in Florida. On the statewide level, it will be a major point of contention as presidential candidates grapple in a state that typically goes a long way toward picking the next president.
And on the congressional level, members will have to face down large number of constituents asking how they have been put in a position in which they're legally required to buy health insurance that the federal government itself has determined they can't afford without subsidies they'll no longer get. That will be a particularly poignant complaint in South Florida, home to all of the nation's top nine congressional districts in terms of subsidy recipients on the federal exchange.
Republican Rep. Mario Diaz-Balart's district contains 91,000 individuals both on the federal exchange and receiving subsidies, more than any other in the country. Freshman Republican Rep. Carlos Curbelo's South Florida district houses about 83,000 subsidy recipients. Curbelo, who rode the Republican wave into office over then-Democratic Rep. Joe Garcia last November, is one of 25 Republican House members who represent a district that President Obama won in the 2012 election. And his district is one of just a few that voted for Obama in 2012 by a greater margin than it did in 2008.
Republicans are taking two steps to prepare for any political fallout. First, they're blaming President Obama and Democrats for passing the law, saying Obamacare—rather than the conservative-backed legal challenge to it—is responsible for putting Floridians in this position. And second, they're proposing legislative alternatives that would provide a somewhat softer landing for those cut off from the subsidies while also providing for a full or partial repeal of the law as a whole.
House GOP leaders last Wednesday proposed continuing the subsidies until the end of the year while also attempting to repeal the individual and employer mandates. Under the proposal, states could choose to opt out of Obamacare the following year, with the entire program sunsetting by 2017. A day after House Republicans presented their proposal, Diaz-Balart introduced his own bill, which would extend the tax subsidies and maintain the current rates of premiums until 2017 and repeal the Affordable Care Act by May of that year.
"With the King v. Burwell ruling quickly approaching, I introduced legislation that would allow my constituents and Americans across the country to keep their premiums while House Republicans work on a real and permanent solution," Diaz-Balart said in a statement. "I am committed to continue working with my colleagues in order to get this done. Americans deserve access to the care they need, from the doctors they choose, at a price they can afford."
If the Court nixes the subsidies, Curbelo said he would support the House GOP leadership's plan to temporarily extend them and work toward phasing out requirements under Obamacare. "It's very encouraging that we have come up with what I think is a good solution," Curbelo said in an interview last week with National Journal. "I think, from what I can tell, most people are satisfied with the alternative that's been crafted."
Of the 283 congressional districts that use the federal exchange and have subsidized enrollees, 200 are represented by Republicans. An analysis by the Urban Institute found that 6 in 10 of those receiving help from the government to pay for health insurance are white and from the South, both important voting blocs for the party.
Some members represent populations with as few as 5,000 enrollees that use these subsidies, as is the case for Republican Reps. Steve King of Iowa and Evan Jenkins of West Virginia. Most congressional districts in states without their own exchanges are limited to fewer than 50,000 people. (Some zip codes were not included in Families USA's analysis because they had fewer than 51 people receiving the compensation, potentially underestimating the impact of the ruling by undercounting the number of people in rural areas.)
While Republicans are looking for a temporary adjustment, Obama said earlier this month that "Congress could fix this whole thing with a one-sentence provision," including language in his health care law that would allow subsidies in every state.
Democratic members have been relatively quiet about how they'd respond to the ruling to aid enrollees who rely on the subsidies to pay for their mandated health plans. They, along with the White House, would prefer a no-strings-attached bill reinstating the subsidies should they be struck down.
"If the court makes the wrong decision, however, more than one million Floridians could lose their subsidies, including more than 80,000 residents in my own district, many of whom are immigrants," Democratic Rep. Frederica Wilson, who represents another South Florida district, said in a statement. "Republicans say they are working on alternative plan, but will it provide access to the same level of affordable, quality health care?"
---
Dylan Scott contributed to this article