This Industry Is About to Get Regulated by The EPA. Why Isn't Anyone Mad?
The EPA just might thread the needle with an 18-wheeler.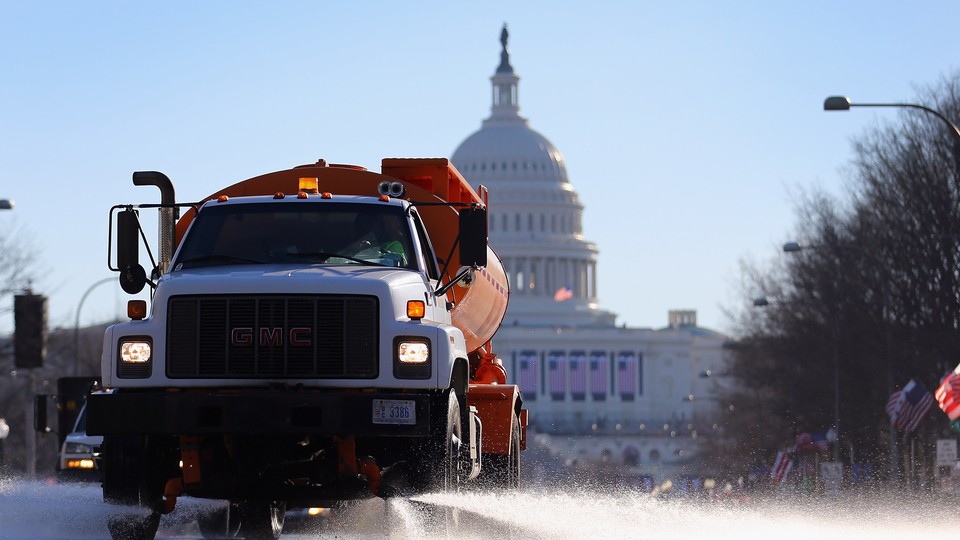 Typically, when an industry is facing a fresh round of Environmental Protection Agency regulations, the conversation is about job losses, regulatory overreach, and how quickly a federal court can issue an injunction.
So with heavy-duty trucks about to face EPA fuel-efficiency rules for the second time in five years, where's the sturm und drang?
Sources familiar with discussions about the rule tell National Journal they expect to see an overall requirement of a 40 percent increase in fuel economy compared to 2010 levels by 2027. And industry officials are excited because they hope it will save truckers at the pump.
"This is one of the few rules that actually gives us something back in terms of profitability," said Glen Kedzie, vice president of environmental affairs for the American Trucking Associations. "We operate on razor-thin margins "¦ so of course we have concerns, but we're in favor of anything that can save on fuel bills."
Trucks make up just 4 percent of the traffic on the road, but EPA says they account for 20 percent of the greenhouse-gas emissions from vehicles.
As with the first phase of the standards, implemented in 2011, the rule will impose different efficiency goals for truck bodies and engines, although this phase will also include trailers for the first time. Because the rule will be covering a range of vehicles, from garbage trucks to 18-wheelers, the EPA is expected to have specialized emissions standards for different sizes and styles of trucks (the mileage of a truck varies widely based on its design and what it's carrying).
That leaves open a lot of details and potential pitfalls and not every company will be in shape to meet the standards painlessly. But, overall, industry leaders think they can comply with what the EPA throws at them. In fact, they're ready and waiting.
"Any time we talk about greenhouse-gas emissions, we're ultimately talking about saving fuel, which drivers and fleet owners and consumers all want," said Brian Mormino, executive director of worldwide environmental strategy and compliance for engine-maker Cummins Inc.
For Cummins, a regulation that sets a long-term schedule for efficiency improvements means a guaranteed set of buyers of their fuel-efficient parts for years to come. Fleet owners already looking to cut their fuel costs are on board with a rule that makes their vehicles more efficient. And truck manufacturers get to please their buyers while improving their own image.
It's a far cry from, say, the coal industry, which has been so determined to kill the administration's rules limiting emissions from power plants that it sued even before the rules were final.
The secret? According to industry sources, communication and understanding by the EPA.
"They've done extensive outreach with almost everyone, from suppliers to transmission builders, tire folks, manufacturers, fleet managers, environmental groups," said Kedzie. "They're actually going to sites to see how fleets operate firsthand; they're going to dealerships and technology labs."
Previous EPA regulations had forced truck manufacturers to trim back on emissions of certain pollutants, like nitrogen dioxide or particulate matter, as part of federal air-quality standards. That was a heavy lift for engine manufacturers who had to install expensive filtering equipment.
But the efficiency standards have been better received, in large part because they reach a goal the industry had already been working towards. The first phase of the standards was built largely out of the SmartWay program, a voluntary partnership started in 2004 between major corporations and the EPA to discuss environmental improvements. Members—which included trucking groups and major fleets like Pepsi and FedEx—were encouraged to test strategies like efficient tires and aerodynamic design to clean up tailpipes.
That meant that when the first round of efficiency regulations—requiring an improvement of 10 to 20 percent by model year 2018, depending on the vehicle size—were passed in 2011, the technology had been largely road-tested and the regulation more or less codified what the industry was already doing.
This time around, it's not all low-hanging fruit. Manufacturers say there are still aerodynamic and design improvements to be made, but they'll also be looking for changes to engines and transmissions or even a transition away from diesel to take a bigger bite. The new regulations on trailers will also mean a whole new set of improvements to the backs of trucks.
The technology is sure to be expensive—on the line of tens of thousands of dollars for a new truck—but fleet operators say the cost can be offset over the long term by the fuel savings. And the technology is not all on the road today, which makes the structure of the regulations so important, said Mihai Dorobantu, director of technology planning and government affairs for Eaton Corp.
"It takes a while for manufacturers to debug and make their technology reliable," said Dorobantu. "It takes a while for fleet managers to find out where the technology fits and actively produces a benefit, but once they understand this, the market can flip over quickly. These rules give us that ramp-up period."
There are concerns about whether the rules will be too stringent for smaller truck fleets that may not be able to afford expensive new engines, and there will be lots of details in the rule that the industry may find too extreme.
But the overall expectation is that the industry won't be pushed too far outside of its comfort zone. So are environmentalists worried the EPA is taking things too lightly?
"The agency's decision to try to thread the needle is critical, and our impression is that they have done and will do that," said Therese Langer, director of the clean-transportation program for the American Council for an Energy-Efficient Economy. "We'll have to take a wait-and-see attitude, but I would not assume it's going to be insufficiently stringent just because the industry was involved in discussions."
One potential giveaway came in the timeline. Greens had hoped that the standards would set a limit by 2025 to get the environmental gains sooner rather than later. Although the timeline has not been confirmed by EPA, sources in the industry and green sector say they expect it will go to 2027, but with a slightly higher target.
"It might be a little later than we would have liked, but I think everyone agrees that this technology is possible," said David Cooke of the Union of Concerned Scientists. "A delay of two years means two more years of emissions that could have been prevented, but if it makes a more workable rule, then it's a trade-off we're willing to have."