The Truth About Obamacare's "Double-Digit" Premium Increases
They're not quite a myth, but they're not as common as many would have you believe.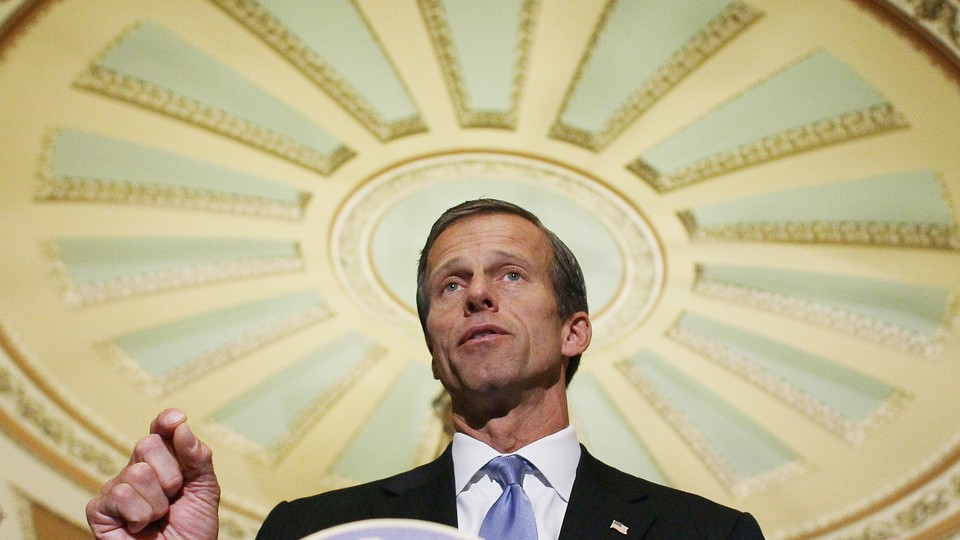 Consumers are facing a "double-digit" increase in their insurance premiums come 2016, and Obamacare is to blame for it.
That argument has become a favorite of Republicans in recent weeks, ever since the beginning of June when insurers reported how much they planned to charge next year. Sen. John Thune was the latest Wednesday, when the South Dakota Republican took to the Senate floor to call Obamacare a failure and cite "rate increases of 20, 30, even 40 percent" as evidence.
The GOP complaint is at least partially accurate: Some consumers will indeed face more than 10 percent increases and, in some of those cases, new Affordable Care Act regulations will be partly or fully responsible. But it's also incomplete, as the rate hikes promised by Republicans are the exception, and nonpartisan analysis of next year's prices predict that most Americans will see their bills rise by far less.
Preliminary 2016 premiums for benchmark silver plans in exchanges grew by 4.4 percent in major metropolitan areas in 11 states, including the District of Columbia, according to analysis by the nonpartisan Kaiser Family Foundation. While this is much lower than the numbers being tossed around the Senate floor, it's a sharper increase than last year, which saw premiums climb by 2 percent nationwide.
An Avalere Health analysis released this month found similar results. Silver plans on exchanges (the plans of choice for more than two-thirds of enrollees) are expected to increase 5.8 percent in the eight states thatAvalere examined.
"While recent public attention has focused on a subset of plans that filed for premium increases of 10 percent or more, these data reveal that most plans are proposing more modest increases," said Caroline Pearson, senior vice president at Avalere. "Notably, final premiums could be even lower than those proposed."
Insurers are required to report proposed increases of 10 percent or more by June 1, and they're subject to review by the state or federal government. Rates lower than 10 percent and not subject to review don't have to be posted until open enrollment begins. That means in most states, only the most extreme cases of premium hikes are seen at the reporting deadline. (Some states provide access to all proposed rates, which Kaiser used for its study.)
Insurers determine premium rates by looking at their claims data from the previous year and adjusting their premiums accordingly. They also take into account other factors, such as expected increases in health care costs and who they think will enroll the next year.
In some ways, this is an annual event: Insurers propose premium rates (specifically those greater than 10 percent), the rates incite panic, and then often they come down. But this is the first year that insurers have proposed rates under the ACA with claims data to inform them. Since the exchanges began operation in January 2014, this is the first year that insurers have a complete set of data on how much health care their enrollees used by the rate-proposal deadline.
And while Obamacare has reshaped the insurance market, not all premium increases can be laid at the law's feet. Insurers' uncertainty over upcoming conditions, along with rising health costs in general, contribute to more expensive premiums. "Insurers may have data "¦ but they still have to look into their crystal balls and project how many people will enroll next year and what those enrollees will look like," said Larry Levitt, senior vice president at Kaiser.
But while Republicans are cherry-picking cases to make their argument, they're not making them up entirely. In a House Ways and Means subcommittee meeting Wednesday, lawmakers pointed to instances where insurers were seeking drastic increases. For example, in Maryland, two of eight options in the individual market are seeking more than a 30 percent increase, and a third option is seeking a 26.7 percent premium hike.
"Many of the proposed increases are eye-poppingly huge," said subcommittee Chairman Peter Roskam.
Looming over the discussion of next year's insurance rates is a Supreme Court decision that will go a long way toward determining what price insurance consumers can afford. In King vs. Burwell, the justices will decide whether the Affordable Care Act as written allows the IRS to distribute insurance subsidies to people in states that are on the federal exchange. Should the court rule that the IRS is in the wrong, an estimated 6.4 million people across 34 states will lose those subsidies.
And if that happens, all bets on next year's premiums are off. Many subsidy recipients will be unable to afford insurance, leading the healthiest among them to drop out. The remaining pool of unhealthy people will see their premiums rise yet again, prompting more people to drop out, and restarting a cycle known as the insurance market "death spiral."
A separate Avalere study found that consumers would face average annual premium increases of $3,300 this year if the court rules in favor of King.
"These rates are premised on the assumption that the court will side with the government. If the court signs with the challengers, all bets are off," Levitt said. "There's no doubt that we'd see some insurers pulling out of the market and the ones that stay would raise rates significantly next year."