The 'Run Warren Run' Effort Ends With This Awkward Family Photo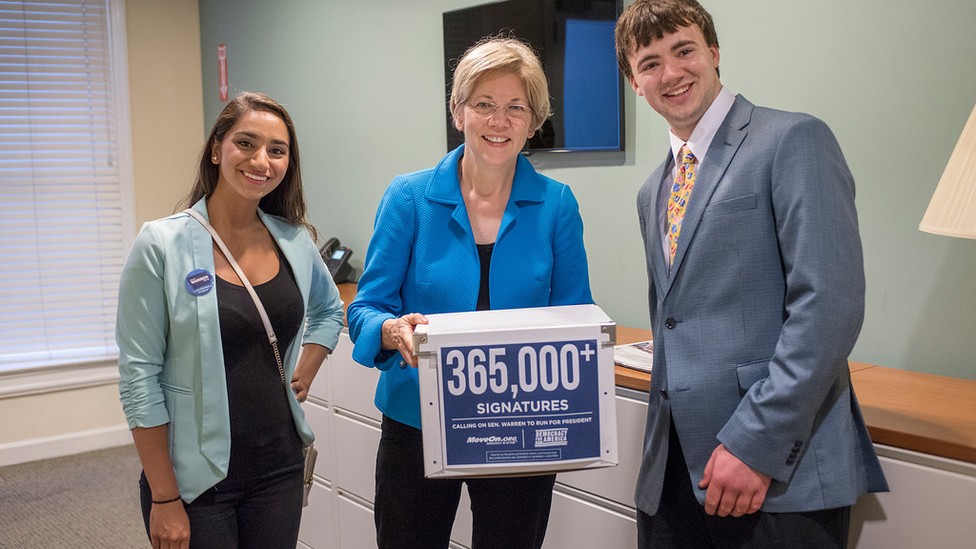 After constant pleading by liberal groups encouraging her to run for president, the least Sen. Elizabeth Warren could do is hold a box for them.
Last week, Run Warren Run, which was led by progressive groups MoveOn.org and Democracy for America, announced it would suspend its campaign for a Warren candidacy. On Monday, members of the draft effort delivered to Warren's office a box of more than 365,000 signatures in support of a potential run. Pictured are Saba Hafeez, a member of MoveOn.org from Iowa, and August Tucker, an 18-year-old high school senior from Portsmouth, New Hampshire. who drove an hour each way to volunteer for the effort three times a week.
Although she has been being adamant about not pursuing a White House run, the senator from Massachusetts was a good sport and took a photo with the two who were dropping off the box full of signatures.
MoveOn.org and Democracy for America said they will focus on promoting Warren and the ideas she champions, such as stopping the 12-nation Trans-Pacific Partnership, where Warren has emerged as the chief critic of the White House.
This is how the Warren presidential draft ends—not with a bang, but with a box.