The Program That Teaches Refugees How to Code
Refugees come to the U.S. with few resources and fewer job prospects. Until now.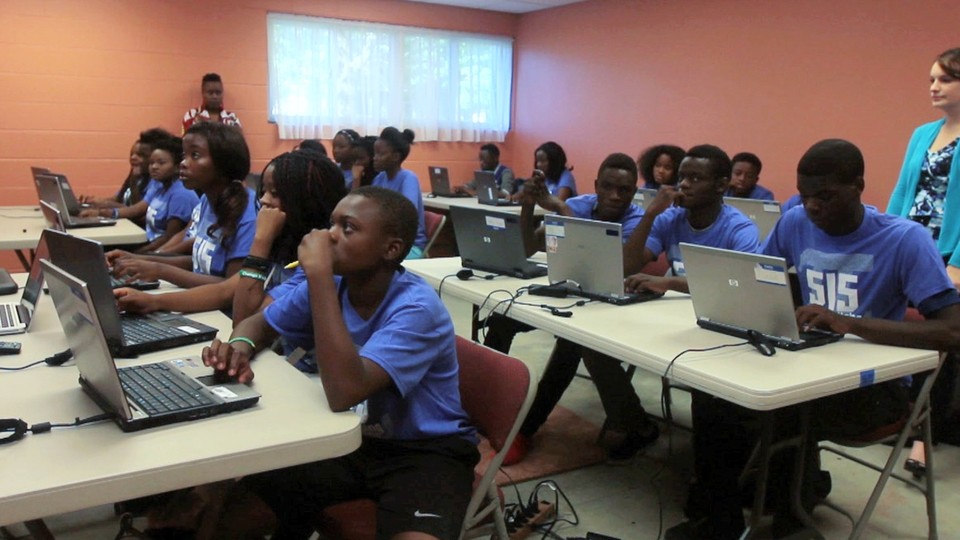 DES MOINES, Iowa—Computer jargon is not for the faint of heart, but Dieudonne Samuel follows the lesson with ease, typing a series of brackets and letters that somehow translate into a newly created website. This process of breaking down the page to its core components makes sense to him. He used to take apart electronics to see how they were put together, a baffling curiosity and mastery for a boy who just a decade ago lived in a refugee camp in Mozambique.
"First I'm going to type in Python," says Matt Brown, a lanky Iowa State graduate student leading the tutorial, referencing a programming language. "It's going to run our program."
Samuel and 19 other young African refugees open the application and start typing. Almost immediately hands go up asking for help. Brown and other volunteers weave around this basement room in Zion Lutheran Church on the north side of Iowa's capital. A river of computer cords and the deafening gossiping of teenage girls augment the smallness of this room that houses the Pi515 program, that teaches computer programming to students from the large refugee community in Des Moines.
"Have you heard in class about something called an integer?" Brown asks.
"Yes," shout a few.
"In your computer, these are a big deal."
Slowly the students start to get it. Their shoulders relax and they show off their creations to each other. Brown calls it the aha! moment. "I love to see it in their eyes," he says. "So many of these kids use the Internet, they have smartphones, they're interacting with technology everyday. But when they actually get a chance to understand the inner workings, it shows them they have the potential of producing it."
It's that confidence that makes this nonprofit so invaluable to refugees. Their weekly gathering builds skills in computer coding and the ability to envision a STEM career that so many who fled war-torn countries may have lacked.
Samuel's dream of becoming an engineer now doesn't seem farfetched. He's bright and ambitious, passionate about dancing and music. "My parents wanted us to have a better education, and a better education means a better life," says Samuel, who was born in the Democratic Republic of the Congo. "This makes you think. It's new. It's interesting. For me, it's fun."
The next generation of poverty is dotted with refugees whose thin string of opportunity snapped in one-bedroom apartments crammed with families of eight and the meagerness that comes from bare-bones government support. Iowa has done more than most states to help refugees, taking in thousands over the past 40 years since the fall of Saigon. In the process, Des Moines has become home to Vietnamese, Bosnians, Sudanese, and many others who have fled global conflicts and arrived in the American heartland.
They are the reason Nancy Mwirotsi launched the coding program in April 2014. Pi515—shortened for "Pursuit of Innovation" and the local area code—is still a small operation, relying on volunteers and 20 laptops donated by Tech Journey, a local nonprofit. In an era of tech startups and the economy dominated by Silicon Valley corporations, parents across the country are shelling thousands of dollars for private computer coding lessons for their children. They know the field is quickly expanding with well-paying jobs. But lower-income children don't have access to this sort of training.
Too many American high schools still lack quality computer science programs, which could prepare students to pursue college degrees in the field. This is what inspires programs such as Pi515 or Yes We Code, an organization that aims to teach 100,000 low-income children coding skills by partnering with Facebook and Google. They put disadvantaged students on a better path at an earlier age.
Mwirotsi starts working with students in seventh grade, and keeps them in the program year-round. (Many other coding programs there are seasonal.) If she doesn't stick with them, she says, they'll drop out.
"These kids are very smart; they're very talented," she says. "They only thing is, they don't have the support that other kids have. They're coming from low-income homes. Their parents work very far from here. English is a second language."
Mwirotsi emigrated from Kenya in 1997. Her African heritage is a bond for many of these students, something that becomes beautifully apparent when they sing a Swahili spiritual "Hakuna Mungu Kama Wewe" after the day's lesson. A single mother, Mwirotsi looks at her students as her children.
"I've worked with these kids basically since they came to this country, making sure they had clothing, making sure if they had a doctor's appointment we were able to take them, even food," says Mwirotsi, just before driving several of her students home in a church van.
Coding is the future, she says, and if you get them started young enough, it can set students up for success. Right now, Mwirotsi has about 30 students in the program, but hopes to expand her classes soon. The program just recently received 20 more computers from an anonymous donor. She's still operating the program without pay, like her volunteers.
Samuel, who is 18, will pursue an engineering degree at the University of Iowa, fulfilling the promise that brought his family here. That's the kind of success that makes teaching a class full of restless teenagers easier for Brown.
"We have get it into their head that they can go to college and they're smart and they can do this," the graduate student says. "A lot of these people don't have a mom and dad who both went to college. From this, I hope they can see that's definitely in their future."
---
Mauro Whiteman (Video) contributed to this article