The Majority Whip's Liaison to the Right and Other Power Players
Laura Trueman, Rajesh De, and Janine Smith are profiled.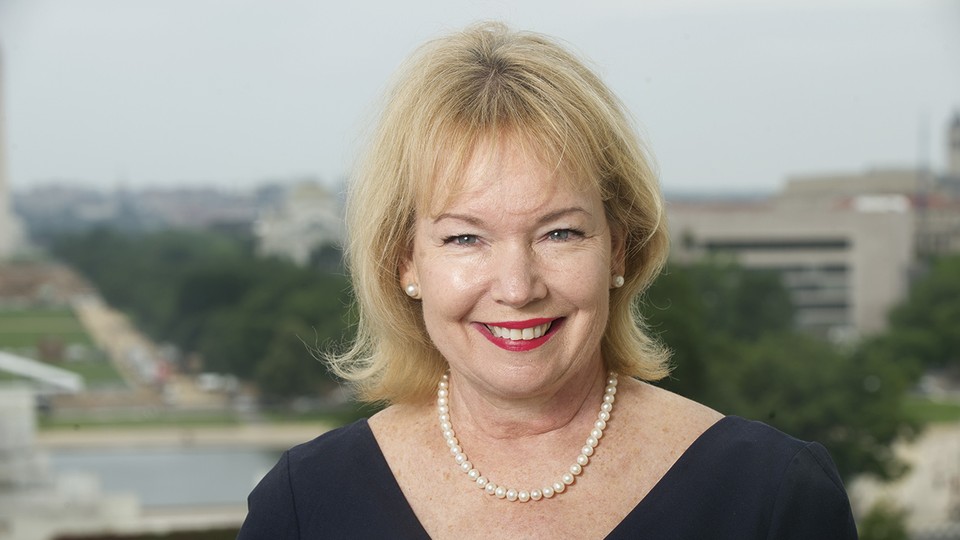 HILL PEOPLELaura TruemanOffice of the Majority Whip Laura Trueman is the senior policy adviser and conservative-coalitions coordinator for House Majority Whip Steve Scalise. (Chet Susslin)
As Louisiana Republican Steve Scalise's new senior policy adviser and conservative-coalitions coordinator, Laura Trueman might be best described as his liaison to the Right. When Scalise became House majority whip last year, his mandate was to bridge the divide between conservatives and party leaders; Trueman's job, which she began June 8, entails not only advising Scalise on all things moving through the House judiciary and education committees but also serving as a "two-way communication channel" between the lawmaker and House conservatives. That means "understanding what conservatives of all stripes are feeling and thinking," as well as communicating Scalise's priorities to them. Before coming to the Capitol, Trueman, 57, spent five years at the conservative Heritage Foundation as director of strategic operations. A native of Fort Myers, Florida, Trueman has been in D.C. since 1981. "I came to Washington to make the world a better place, and I'm still working on it," she tells me. "It's taking longer than I thought."
AT THE BARRajesh DeMayer Brown Rajesh De leads the global privacy and security practice for Mayer Brown. (Chet Susslin)
In 2012, after several crazed years working as staff secretary to President Obama, Rajesh De decided to try to "restore some balance" to his life by taking a job as general counsel for the National Security Agency. Former NSA contractor Edward Snowden quickly put an end to that dream. Three frenzied years later, De is trying again, this time joining global law firm Mayer Brown as a partner in their D.C. office. "Some of the post-Snowden crisis mentality—we'd kind of moved past that," De says of his departure from the NSA in March. "It was no longer irresponsible to leave." De, 41, now leads Mayer Brown's Privacy & Security practice, helping clients manage cyber-risks "holistically"—which includes everything from performing privacy assessments to handling data breaches. The Philadelphia-born De isn't new to Mayer Brown; he was a partner in the firm's litigation practice from 2006 to 2009, and his new job, he says, "felt like coming home."
CORPORATE LIFEJanine SmithHershey Company Janine Smith is the vice president of government affairs for the Hershey Company. (Chet Susslin)
She was maybe an hour into her work with the Hershey Company in 2013 when Janine Smith, then a lobbyist in the D.C. office of Akin Gump Strauss Hauer & Feld, had her aha moment. "The company leadership was visionary and smart and thoughtful on how to position themselves in the global government-relations space," she tells me. "I saw immediate synergies where I could be of assistance." Earlier this month, Smith, 43, began work as the chief lobbyist for Hershey, where she helps direct the company's government-relations strategy. High on her list is looking at "how to be more transparent with consumers about what they are  eating" while still "making sure that those ideas reflect the constraints of what business can actually do" with regard to costs and production. Before entering the lobbying world, the native of Flossmoor, Illinois, served as an associate dean at Rutgers School of Law, Camden, in New Jersey.