The Justice Department Has Opened a Hate-Crime Investigation Into Charleston Shooting
Attorney General Loretta Lynch called the shooting "barbaric" in a press conference on Thursday.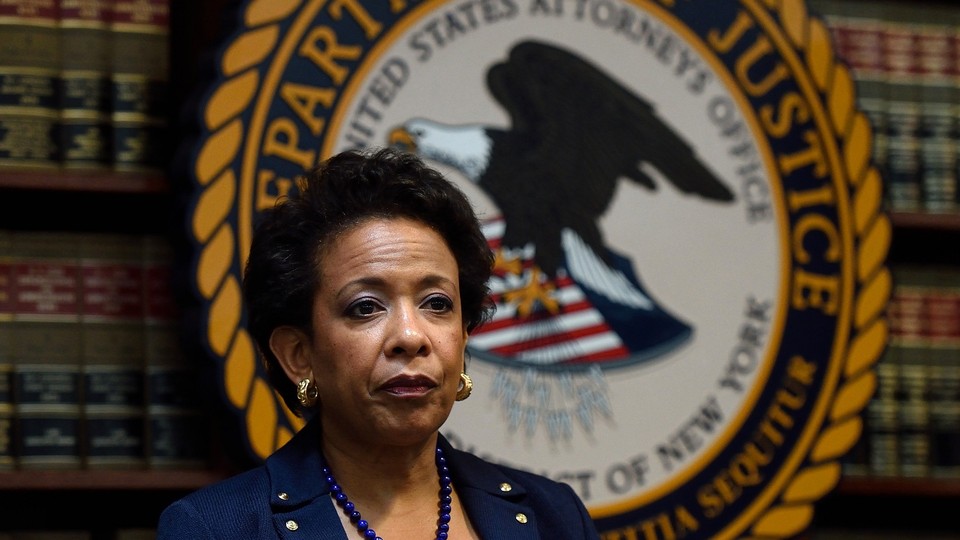 In a press conference on Thursday, Attorney General Loretta Lynch called Wednesday night's shooting at a historically black church in Charleston, South Carolina, "heartbreaking" and "deeply tragic."
Lynch announced that the Justice Department has opened a hate-crime investigation into the case, in which the 21-year-old white male suspect opened fire on the Emanuel AME Church and killed nine black congregants, including the church's pastor, Clementa Pinckney.
"We stand ready to offer every resource, every means, and every tool that we possess in order to locate and to apprehend the perpetrator of this barbaric crime," Lynch said. "Acts like this one have no place in our country and no place in a civilized society, and I want to be clear, the individual who committed these acts will be found and will face justice."
Just after Lynch finished her statement, news broke that the suspected shooter, 21-year-old Dylann Storm Roof, had been apprehended by police in Shelby, North Carolina.
During a Q&A session with reporters, Lynch confirmed that police have a suspect in custody, but she added that they will not be discussing details of the investigation at this time.
"We will now be looking at all of the facts, all of the motivations, all of the things that led to this individual, if he is in fact the shooter, to commit this crime, and they will determine which are the best ways in which to prosecute the case," Lynch said.
Lynch said she is unsure whether she will be visiting South Carolina, but members of DOJ's Civil Rights Division and Community Relations Services are on the ground in Charleston.
"Even as we struggle to comprehend this heartbreaking event, I want everyone in Charleston and everyone who has been affected by this tragedy to know that we will do everything in our power to help heal this community and make it whole again," Lynch said.
A reporter asked FBI Director James Comey, who was also present at the press conference, whether they knew anything about Roof's motivation, where he bought the gun, and whether there were any threats made against the church ahead of time.
"I'm not going to walk all the way over to give you a nonanswer. I'll let the boss give you the same answer," Comey said, referring to Lynch.