The Iowa Straw Poll Is No More
On Friday, the Iowa GOP unanimously struck down the less-than-prescient presidential poll.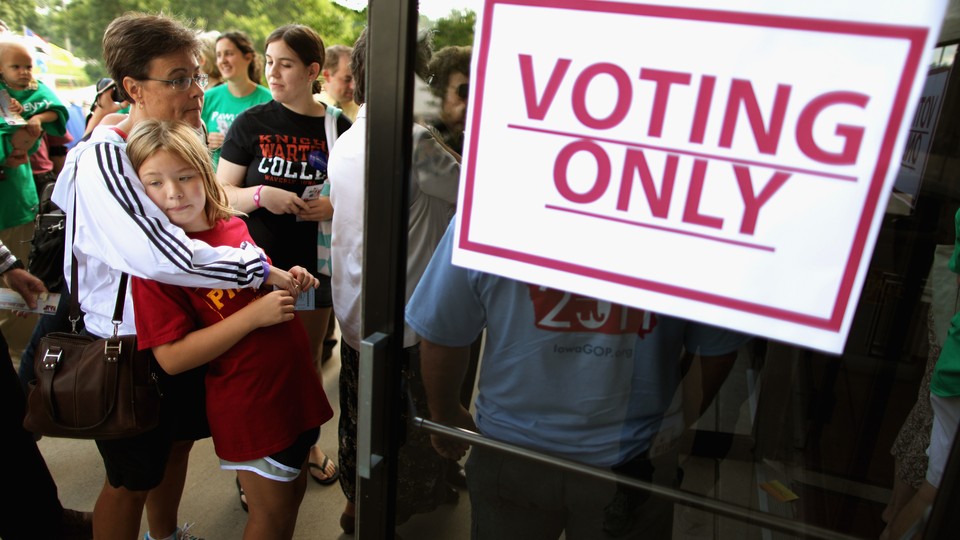 The Iowa straw poll—long an object of fascination for political reporters and presidential campaign strategists alike—has been canceled, according to The Des Moines Register's Jennifer Jacobs.
On Friday, the Iowa State Republican Party voted unanimously to end the poll, which has been a dubious predictor of which Republican is most likely to win the party's presidential nomination. Since 1979, the poll has correctly predicted the Republican nominee twice—Bob Dole, who tied with Phil Gramm in the 1995 poll, and George W. Bush in 1999.
"I've said since December that we would only hold a straw poll if the candidates wanted one, and this year that is just not the case," Iowa GOP Chairman Jeff Kaufmann said in a statement released Friday. "This step, while extremely distasteful for those of us who love the Straw Poll, is necessary to strengthen our First in the Nation status and ensure our future nominee has the best chance possible to take back the White House in 2016."
Mitt Romney won the poll in 2007, which you could argue was a prescient pick; he ended up being the nominee the following cycle. In 2011, Rep. Michele Bachmann—a tea-party favorite, but a candidate with little mainstream appeal—ended up winning the Iowa Straw Poll over Romney.
The poll's cancellation may be bad news for long-shot candidates like Bachmann, for whom the poll could help bolster their campaign for a few more weeks. But it's great news for Erick Erickson, the editor of RedState, who is hosting a gathering of seven potential candidates the weekend when the straw poll would have taken place.
"Iowa Straw Poll cancelled," Erickson tweeted on Friday. "RedState Gathering gets bigger this year."
Unlike Republicans in the state, Iowa Democrats have not conducted a straw poll as part of their side of the Iowa caucuses.