The G-7 Climate Pledge Could Just Be the Beginning
Leaders called for zero carbon emissions Monday, but the path to get there is hazy.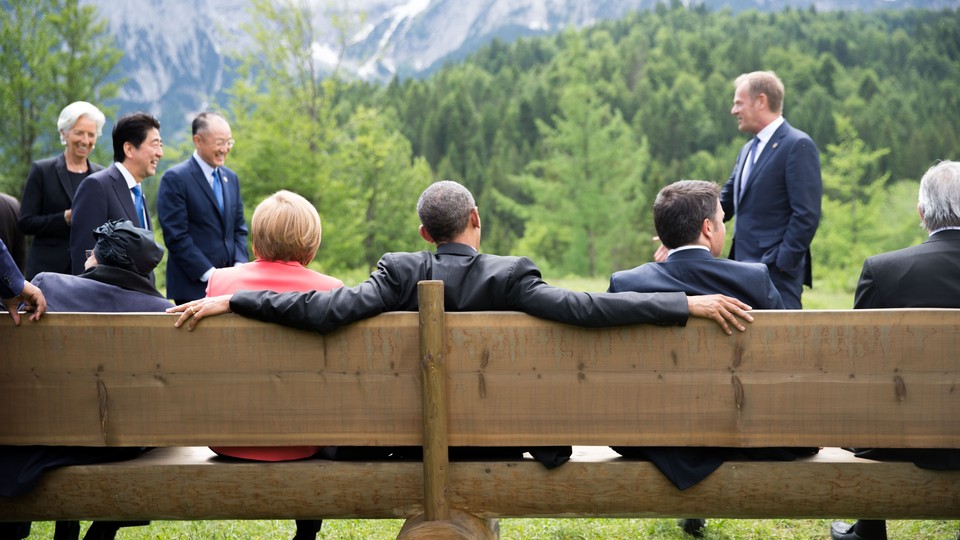 World leaders at the G-7 summit on Monday made one of the boldest declarations yet in the fight against climate change when nations endorsed a goal of zero carbon emissions worldwide by the century's end.
That goal—and the fact that countries such as Japan and Canada that have long been hesitant to commit to substantial carbon cuts signed onto it—signals momentum in the lead-up to make-or-break United Nations Paris climate talks later this year. The rallying cry will also send a signal to world markets that the days of unchecked emissions from coal and natural gas could be numbered.
"I think this increases the chances for success in Paris to have major economies engaged on this now and to see leaders like Angela Merkel really pushing for climate action," said Jennifer Morgan, the global director of the World Resources Institute's climate program.
But while the intent may be bold, nothing about the G-7 declaration is binding. And Monday's pledge contained few details on how the seven nations plan to push the rest of the world to dial back greenhouse-gas emissions. As a result, whether the commitments will translate from words on a page into concrete action remains unclear.
"The conversation has shifted to a discussion about how to decarbonize the entire global economy," Jamie Henn, a spokesman for grassroots environmental group 350.org said. "World leaders have pointed to the destination, but there's a lot more to be done on how we're actually going to get there."
Monday's G-7 declaration provides a rough outline of what the seven major economies—including the United States, Britain, Canada, Japan, and Germany—say they would support in a Paris climate agreement, how they plan to rein in emissions on their own, and how they will help developing nations curb greenhouse gases.
The seven nations affirmed that a Paris agreement should keep global temperatures below a rise of 2 degrees Celsius, a key benchmark that scientists say must be avoided to stave off the worst impacts of global warming, and called for decarbonization of the global economy over the course of this century.
Each country pledged to help provide financial support to developing nations as they work to cut emissions. World leaders also committed to transforming their energy sectors by 2050 in line with the goal of achieving a low-carbon global economy.
"We continue to make progress toward a strong global climate agreement this year in Paris," President Obama said during a press conference delivered in Germany at the conclusion of the summit.
Environmental campaigners hope that the G-7 pledge will jump-start efforts in each of the seven nations to drastically cut emissions and transition to renewable energy and away from fossil fuels.
"To achieve a transformation of each country's energy sector will take hard work, and it will have to start immediately. That's not something you can put off," said Samantha Smith, the head of World Wildlife Fund's global climate and energy initiative. "We think that pledge is really important."
But skeptics say that a lack of details create uncertainty.
"They talked about an energy transformation, but they really did not say what they mean by that," said Karen Orenstein of Friends of the Earth. "'Transformation' is a huge catchphrase and it can mean so many different things to different people. So I wouldn't assume that means these countries will go fossil-fuel free or get to zero carbon emissions in short order."
Despite the pledge from the G-7 nations to keep a rise in global temperatures below 2 degrees Celsius, many scientists say we are currently on track to blow past that benchmark. And Orenstein noted that the declaration did not spell out how nations would achieve the 2 degree target.
In addition to skepticism that his efforts on climate go far enough from some environmental campaigners, Obama faces fierce opposition from Capitol Hill Republicans as he works to shore up a legacy on climate and the environment.
Senate Majority Leader Mitch McConnell has accused the president of waging a "war on coal" by attempting to regulate carbon emissions from the nation's fleet of power plants and vowed to fight against the effort every step of the way.
McConnell has called on states not to comply with the president's power-plant regulations, which also face a litany of challenges in court.