The Anti-Trade Democrats' Last-Ditch Message: Don't Trust The GOP
Fast-track foes are trying to convince Senate Democrats not to believe Republican leaders' pledges to bring up a worker assistance bill.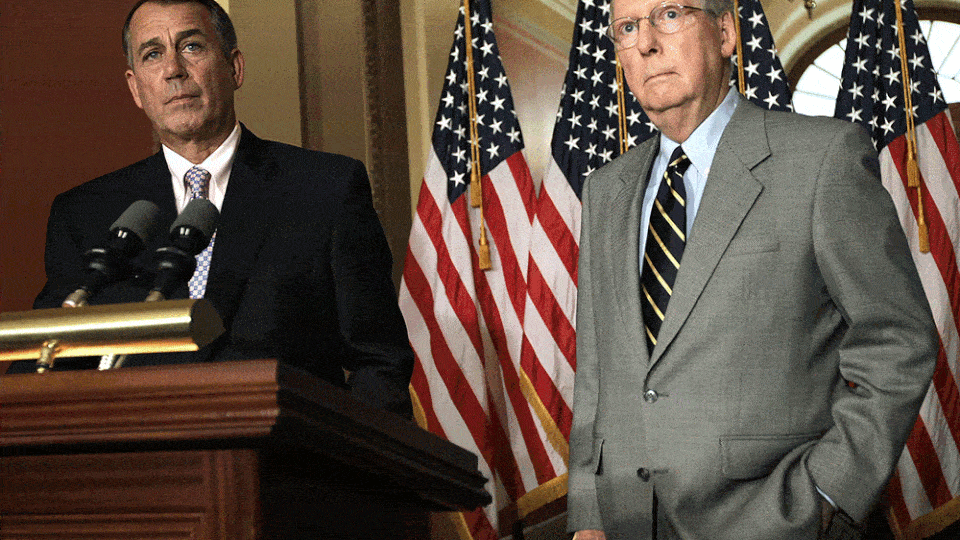 With all eyes on the Senate after Trade Promotion Authority passed the House last week, anti-trade representatives have been lobbying their Senate counterparts with one message: You can't trust Republicans.
Liberals in the House aren't giving up hope that President Obama's trade agenda can be defeated. But they concede that the bill's fate is largely out of their hands now.
"We're just hoping that folks on the Senate side are looking at this with the same level of skepticism that we are," said an aide to a progressive House member, who requested anonymity to discuss strategy. "How many times have [Republicans] said one thing and gone the other direction?"
It's not clear whether Senate Democrats are buying that message. "I think everybody's being straight with each other," said Sen. Ron Wyden, who helped shepherd TPA through the Senate as part of the original package.
At issue is the GOP's plan to bring TPA to passage. After House Democrats scuttled a previous attempt to pass the bill by voting down an attached aid measure, Republicans separated the bills and publicly promised Democrats a separate vote on the aid bill once TPA passes.
"We are committed to ensuring both TPA and [Trade Adjustment Assistance] get votes in the House and Senate and are sent to the president for signature," House Speaker John Boehner and Senate Majority Leader Mitch McConnell said in a joint statement last week. "And it is our intent to have a conference on the customs bill and complete that in a timely manner so that the president can sign it into law."
Some liberals aren't buying it. Obama has told members he will sign TPA if it comes to his desk, the aides said, despite the White House's insistence that he won't support any "strategy" that gives him TPA without TAA.
This seems to be the "free the hostage" approach espoused by pro-trade Democratic members such as Rep. Gerald Connolly. Essentially, Obama knows he can't get TAA as long as House Democrats still can use it as a tool to block TPA — keeping both stuck. But by pledging to sign TPA without condition, Democrats will lose their leverage and be forced to drop their opposition to TAA.
That reality, progressives say, is why it's so important for the 14 Senate Democrats who voted for the TPA/TAA bill to block the clean TPA. "That's a calculation that every Democratic senator has to make," said the progressive aide. "The idea of signing TPA without TAA leaves a lot of folks behind. "¦ The fact that this is going through and the way it's going through leaves us no security [on TAA]."
McConnell tried to address that Monday, telling members that TPA and TAA would both pass the Senate within the week, as long as those who voted for the initial trade package didn't change their votes. "I don't want anyone to think that we're getting TPA done this week with a promise to get TAA done at some other time," he said. "With just a little more trust, a little more cooperation, and simply voting consistently, we'll get there."
The Democrats say they're not convinced GOP leaders will keep their pledge to bring TAA up for votes, and even if they do, it might still fall short. The first time TAA came before the House, 86 Republicans voted in favor — but many of them did so knowing that TAA needed to pass to give TPA a chance. If TPA already is signed, Democrats worry that many of them could drop off the aid bill. "What motivation does any House Republican have to vote for it at all?" asked the progressive aide. "What reason do they have to vote for TAA once TPA is law? ... You think you're going to get 30 Republicans on board? I think the math is off."
The aide pointed to the stance of conservative groups such as the Heritage Foundation and Club For Growth, who have opposed TAA, and cited other instances where he believed Boehner had backed down from his commitments.
"President Obama saying he would sign [TPA] before TAA has passed has potentially put TAA at risk of going down," said Lori Wallach of Public Citizen, one of the outside groups opposing TPA. "House Republicans have no incentive at all to vote for TAA. "¦ It could actually provide Republicans the opportunity to carry off the hostage for good."
TAA has traditionally passed with largely Democratic support, though it would need 30 or so Republicans to join the House's 188 Democrats. Many expected the Democrats who opposed it the first time to back down once it could no longer be used to block TPA. But not everyone is convinced that will happen. "You're going to see a few people [switch], I don't think it's going to be a lot," said a second progressive aide. "Folks are going to stick to where they have been. If they go down, at least they're going to go down fighting."
That's a sharp contrast to the message of Rep. Steve Israel, who said opposing TAA after TPA's passage is the "quintessential cutting of our noses to spite our face."
Meanwhile, four Democrats have written a letter opposing the GOP strategy of attaching TAA to a trade preferences bill that previously enjoyed wide support. None pledged to vote against it, however.
Some of the uncertainty around a potential TAA revote may be because some members don't expect it to happen. "A lot of the House Democrats don't believe that the Senate Democrats are going to take the risk [on a clean TPA], given that it's such an unlikely prospect that a TAA ... bill could get through the House," Wallach said.
All the talk of procedure will become secondary if the Senate passes TPA, but for now liberals in the House are using it to raise doubts about Republicans' trustworthiness — and pressuring Senate Democrats to vote no.