Telecom Industry Backs Internet Subsidies for the Poor
Republicans and telecom companies are at odds over the FCC's plan to expand the 'Obamaphone' program.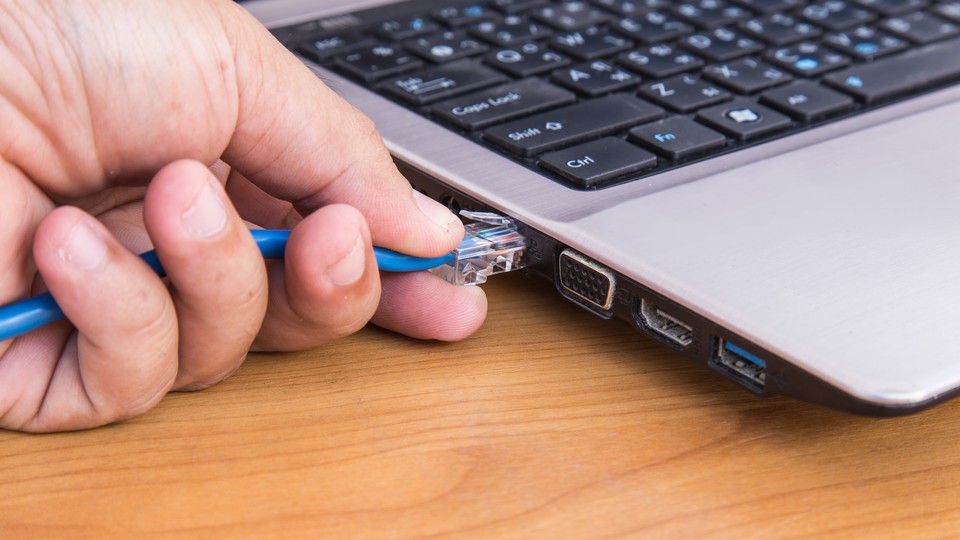 Republicans and Internet providers are united in their hatred of the Federal Communications Commission's new net neutrality rules. But the FCC is winning some rare praise from telecom companies for its most recent proposal: government subsidies for Internet access.
FCC Chairman Tom Wheeler announced last week that he plans to help low-income Americans get online by expanding his agency's Lifeline program, which currently only covers phone service. Conservatives often mockingly refer to Lifeline as the "Obamaphone" program (even though it was created during the Reagan administration).
"We believe the Lifeline program could, and should, support broadband service," Jim Cicconi, the top lobbyist for AT&T, wrote in a blog post Monday. "We ought to trust eligible consumers to choose which benefit, voice, data, or a combination of both, best meets their needs."
Although cellular companies already can get Lifeline funding for basic phone service, it doesn't cover smartphone data plans.
The Senate Commerce Committee's subcommittee on communications will hold a hearing Tuesday to examine the program. Scott Bergmann, the vice president of regulatory affairs for CTIA, a cellular industry lobbying group, will testify that his association is "committed to this evolution" to subsidizing Internet service. He will also urge the FCC not to cap the size of the program, saying that a strict budget would be "counterproductive" for helping people get online.
Public interest advocates also support the FCC's plan, arguing it will help poor people apply for jobs, get an education, and stay in touch with their families.
Jessica Gonzalez, the general counsel of the National Hispanic Media Coalition, who is also scheduled to testify at Tuesday's hearing, cautioned that public interest groups and the telecom industry could eventually disagree over details as the FCC finalizes the changes to the program. But for now, she said, she's happy to be on the same side as the telecom companies.
"It's one of those beautiful moments where industry and the public interest align, if only for a brief moment in time," she said.
Democratic Sens. Cory Booker and Chris Murphy, and Democratic Rep. Doris Matsui, introduced legislation Monday that would direct the FCC to move ahead with its plan to subsidize Internet access.
Republicans, however, have been skeptical of the FCC's proposal, pointing to evidence of widespread waste and fraud in Lifeline. The program, which costs about $1.7 billion per year, is funded through fees on monthly bills.
During Tuesday's hearing, Sen. Roger Wicker, a Mississippi Republican and the chairman of the communications subcommittee, will cite a recent government audit criticizing the FCC for not doing more to protect federal money.
"Before again expanding the program, we need to consider what problems remain and how we can address them since consumers are bearing the cost of funding the program with increasing phone bills," Wicker will say, according to a copy of his prepared remarks.
Sensitive to the criticism of the program, the FCC is trying to keep the costs under control. The agency's proposal wouldn't necessarily give consumers a larger subsidy every month—it would just let them use that subsidy (currently $9.25) towards a smartphone data plan or home Internet connection instead of voice service if they want.
So the FCC's plan wouldn't automatically funnel billions of new federal dollars to the Internet providers. But it could still encourage more low-income consumers to sign up for Internet and data plans, ultimately meaning more customers and more revenue for those companies.
The agency also is proposing measures to crack down on waste and fraud. For example, the companies, which get more funding for enrolling more people, would no longer be in charge of verifying that someone is eligible for the program.
That's fine with companies like AT&T, who say verifying eligibility is burdensome and just opens them up to liability. "Administrative burdens on carriers today are huge, and innocent mistakes can lead to disproportionate punishment—which in turn discourages carrier participation," Cicconi wrote in his blog post.
AT&T has some experience with that "disproportionate punishment." The FCC hit the company with a $10.9 million fine last month for overbilling Lifeline.